Loft conversion ideas for your home
A loft conversion is an ideal way to add the sought-after space that so many homeowners crave.  Whether you want an extra bedroom, dream bathroom, home office or just another living quarters to escape too, a loft conversion will be worth the investment.  First off, check your loft head height is suitable for conversion, and check whether or not a conversion carried out on your property falls within permitted development guidelines.  If you're good to go, you might want to ponder some of the conversion ideas outlined below.
Escape to an extra living space
Adding living space with a converted loft could provide another great area to socialise with friends, which can be particularly important if you live with teenagers! Having another living area eliminates the need to compromise with other family members on whether you can have friends over, and when!  It also provides an extra space in your home where members of your household can go to unwind and recharge their batteries – an invaluable addition in this day an age when our lives are becoming more and more hectic. Maybe you have dreamed of a home cinema to relax and watch the latest blockbusters? Maybe a peaceful library or reading room is more your style?  Maybe you just want an extra living room furnished with sofas, chairs, an extra-large TV, boardgames and plenty of quiet to while away your free time? Whatever your need, we can accommodate.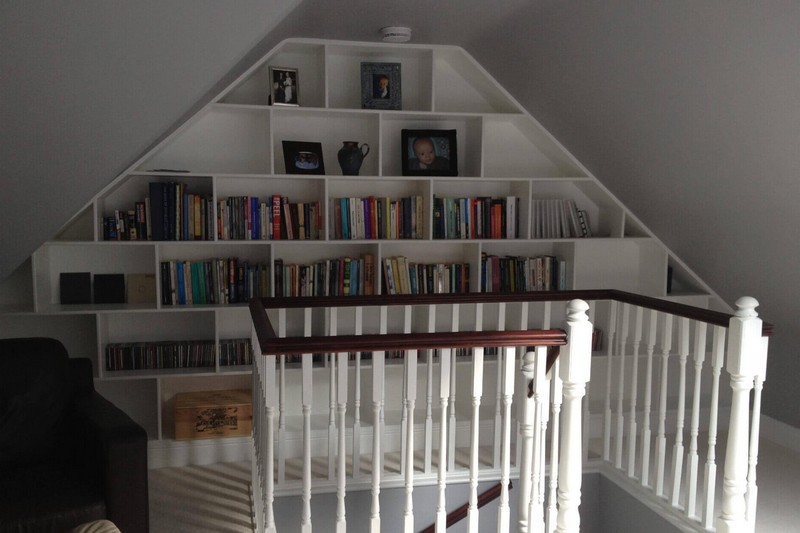 This customer wanted to convert the loft into a reading snug.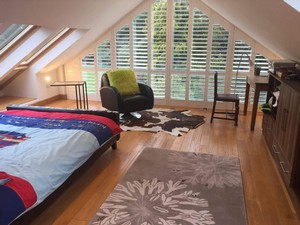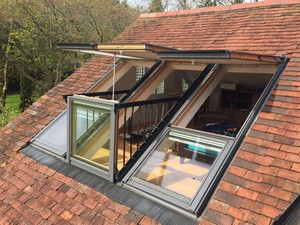 This loft conversion was required for an extra bedroom but amount of natural light, space and the stunning views available from the glazed gable end would make it ideal for an extra living room.
Open out to a balcony area
Adding a touch of grandiose to a loft room by adding a Juliette balcony is a great way to make rooms feel fresh and contemporary.  A balcony allows optimum light to flood through a conversion helping to create a bright and roomy space.  They are particularly invaluable in properties such as barn conversions and country homes where beautiful, hilly landscapes provide a property 'wow' factor.  If you are lucky enough to be surrounded great views you will be keen to keep them, and the beautiful clear glass security barrier of a Juliette balcony with double doors is the perfect way to frame amazing landscape scenes.
Juliette Balcony with double doors
The Juliette Balconies on this huge loft conversion is frameless – another great option when preserving views is paramount.
Create a luxurious master bathroom
En suite bathrooms often means working with sloping ceilings and a modest sized space that can prove difficult to house all the facilities you would like. Even if, with careful en suite planning, you manage to fit everything in, it may still feel cramped and impractical.  For some customers however, a massive bathroom is really important and using your loft space to achieve it is completely possible. By dedicating the entire footprint (or a weighty proportion of it) to creating a luxurious, spa-like retreat means your dreams of walk-in showers or shower room, double basins and stand-alone tube really will come true.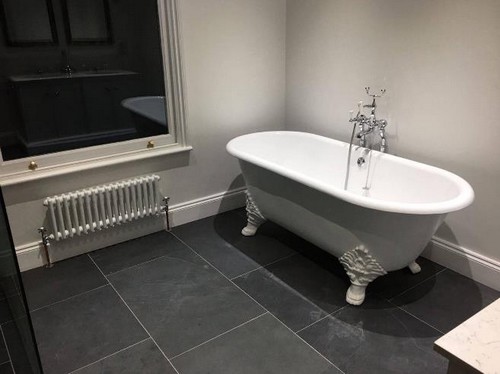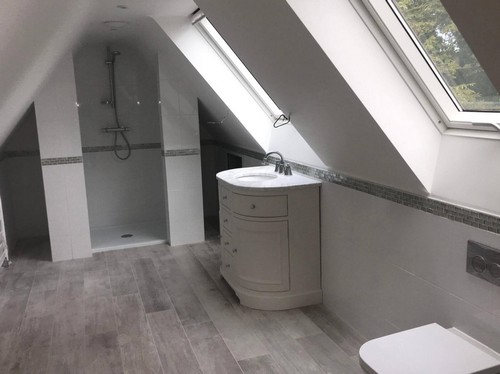 Create zones within open plan spaces
Extending into the loft means you will have a generous sized space to play with and the challenge of sloped roofs often persuades customers to keep the layout as open plan as possible.  However, with clever zoning tactics you can create multifunctional purposes within the space.  Allow the structure of the loft space to determine the different zones. For example, the master bedroom we created below uses a coloured wall, soft furnishings and window layout to highlight and accommodate the main purpose of the room (the bed and relaxation area), and the awkward-shaped corner and purling support is cleverly used to zone off some bespoke storage solutions.  There is even space for a home office area tucked neatly under the sloping ceiling that would not be suited for a standing task.  This is a great example of maximising space within an open plan set up.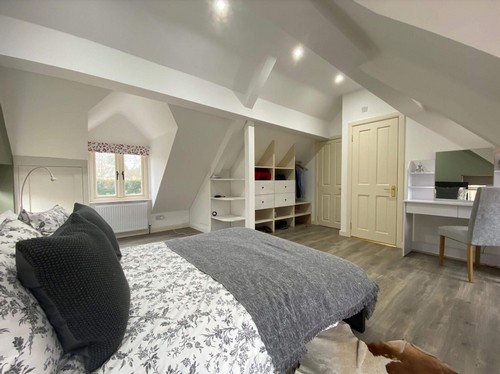 Design a guest room to be proud of
A lot of families with young children choose not to house their master bedroom in their new roof space.  They often choose to use it for a guest bedroom instead.  A place where grandparents and friends can come and spend some time and enjoy a peaceful night's sleep after a hard day playing and caring for the junior members of the family!  An extra bedroom can always be reclaimed for another purpose when you find yourself with an empty nest.  With careful interior design planning, you can create a useful yet tranquil loft bedroom for when visitors come to stay.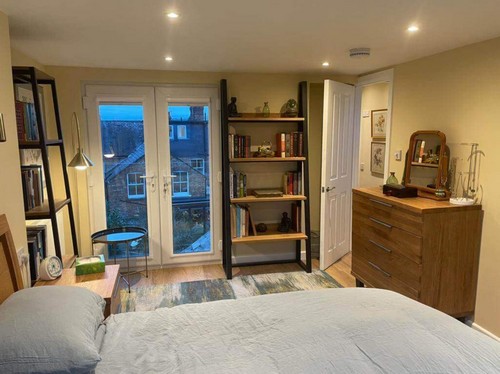 Incorporate low level storage
Converted lofts are renowned for the tricky low spaces between the slope of the roof and the floor.  However, the following conversions are great examples of how we have used custom-made storage solutions to perfection.  Whether it's with drawers, cupboards or shelves, we will work with you to find out what you need storage space for.  From there we will create the best solution for your requirements.