Specialist loft conversion company in Camden, Touchstone Lofts
Hip To Gable Conversion
Hip to Gable conversions are popular among Camden homeowners with semi-detached or detached properties, end of terraces, and bungalows. The existing sloping roof is turned into a flat gable to increase available space. Depending on various factors, a hip to gable extension may or may not require planning permission. We can help you with this and apply on your behalf.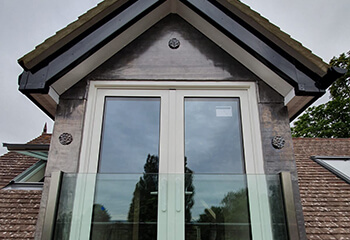 Dormer Conversion
Dormer loft conversions are the most common type requested by Camden residents. With a dormer conversion we extend the existing roof vertically to create extra floor space and headroom. To achieve this, it is important that at least half of the current floor space has a ceiling height of at least two metres or higher. Dormers usually do not require planning permission.
Velux Conversion
A Velux, or roof light loft conversion in Camden is the most simple and economical type available. With a Velux, the roof remains unchanged, other than the installation of attractive flush Velux windows to give plenty of natural light. Typically, a Velux attic conversion does not need planning permission as the roof structure remains unchanged. This is the perfect solution if you want minimal outlay and disruption.
Known for its eclectic mix of bars, restaurants and shopping facilities, Camden is home to a vibrant community of artists, professionals and young entrepreneurs.
Situated in the heart of London, Camden boasts a rich cultural and literary heritage and, as a result, has become the playground of wealthy professionals, celebrities, and the privileged youth, who are attracted to the lively, vibrant atmosphere that the area has to offer.
Considered to be a desirable area of London in which to both live and work, houses in the area very rarely come onto the market but, when they do, prices are significantly higher than other parts of the capital.
Here, you'll expect to find rows upon rows of old terraced houses bursting with character, as well as a host of newer council houses and contemporary, privately owned flats.
With its cosmopolitan feel, the area is overflowing with fancy bars, clubs and pubs – making it one of the most popular places to enjoy the city's infamous nightlife.
Offering a diverse range of live music venues, the area has become the popular, ever evolving stomping ground of punks, goths, and techno and indie kids.
Camden also attracts a large student community who are keen to soak up the vibrant nature of the area. With rooms and housing limited due to the area's popularity, many home owners and landlords have resorted to expanding their properties by investing in loft conversions, in order to accommodate a growing demand for space and accommodation throughout the area.
If you are thinking about converting your loft in Camden, please do not hesitate to contact us to find out how we can help you. Our highly experienced team is always on hand to answer and deal with any queries you may have.
Why Choose Us?
We are a highly dedicated and experienced team and have worked on an extensive range of projects in London and beyond.
We believe in delivering the highest standard of customer service throughout every stage of the production process and, as a result, we ensure that you deal with the same project manager from start to finish.
With over 32 year's experience in loft conversions, our specialist design team is perfectly equipped to help you to transform your loft into a space that meets the needs and expectations of you and your family.
Using only the highest quality materials, we manage every step of the project – from design in the early stages, through to full execution of the loft conversion, our specialist team can accommodate your every need.
Trust Us – You're in Safe Hands
We believe in excellence, value, and quality, and we constantly go above and beyond to ensure that each project we work on is delivered.
Our highly skilled team is also qualified in every type of conversion, enabling them to complete each project to the highest standard, no matter how big or small.
We are experts in optimising space, turning even the smallest lofts into functional, stylish and versatile rooms that have been designed to meet your exact requirements. We also work hard to optimise your budget, providing as much as we can at the best possible price.
Where Can You Find Us?
We're a family run business based in Chiswick, London, employing more than 50 members of staff, all of whom are highly skilled in transforming your loft space into functional, versatile and stylish living spaces.
Operating in London, we have extensive experience in working on conversion projects in all areas of the city and beyond, no project is ever to big or small.
If you're looking for loft conversion specialists in London, please do not hesitate to get in touch. Our highly experienced and skilled team is always on hand to answer any questions that you may have.
Specialists in home extensions
Are you considering extending your property, look no further, whether you are looking for a ground floor rear extension, side return extensions or even a double storey extensions, our 30+ years' experience in the property conversion business with service you well, take a look at our extension options here.