Specialist loft conversion company in Stratford upon Avon, Touchstone Lofts
Over 1,000 lofts converted since 1989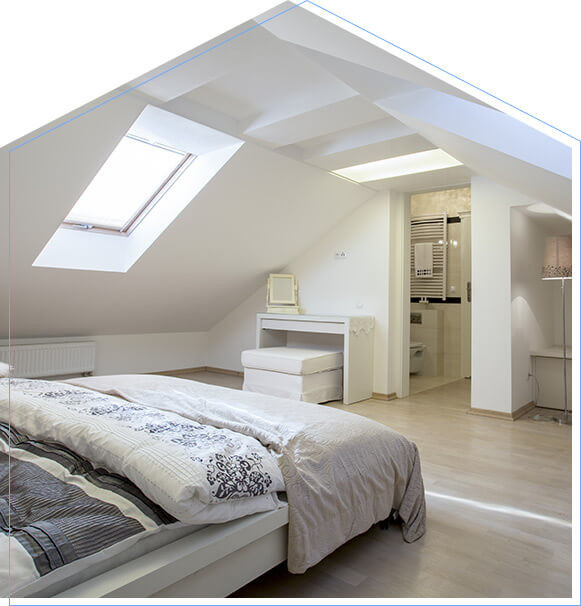 To extend or not to extend? This is a difficult question, but with Touchstone Lofts it doesn't have to be. We complete custom loft conversions in Stratford-upon-Avon, giving you a new space and adding value to your home. Our team have been converting lofts for over three decades now and have won awards for their work. From Seven Meadows Road to Bishopston Hill, we work all over Stratford-upon-Avon delivering conversions that delight and impress our customers. We offer a huge range of different options and always take the time to tailor our projects to ensure we're perfectly meeting our customers' needs. So, no matter what you want from your loft conversion, Touchstone Lofts can deliver. We are the team to trust to transform your home and create the space you and your family need.
Join our 1,000+ delighted customers by choosing us for your loft conversion. We help homeowners just like you expand their properties to create vibrant new living spaces. Each of our customers receives unique treatment to ensure that their project is tailored to them, and they receive the exact result they're looking for. To find out more about how to transform your property with a loft conversion, call 0800 881 8194 or email sales@touchstonelofts.co.uk.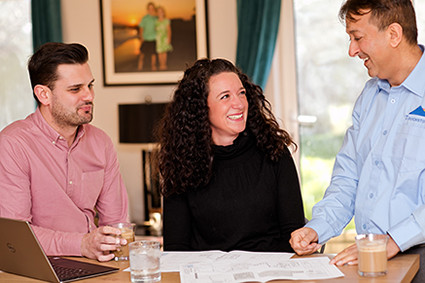 Award-winning loft conversions
Our company has been acknowledged by the Federation of Master Builders Awards for our exceptional work in loft conversions. We were finalists in the 'Best Loft Conversion' category of the 2020 Homebuilding & Renovating Awards, so you know you're getting the best of the best when you choose us. We're proud to be recognised for the good work we do and the exceptional skills and craftsmanship that goes into our projects.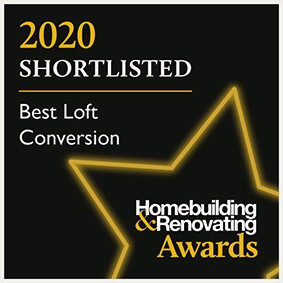 Get your free loft design consultation
We're currently offering our consultation and full design service, which usually costs £600, free of charge. That means you can get a professional consultation and a proper design to help picture your new space.
To learn more about this opportunity, please call us at 0800 881 8194 or email sales@touchstonelofts.co.uk or fill out our contact form and we will get back to you as soon possible with details on how to apply!
Transform your home with an excellent loft conversion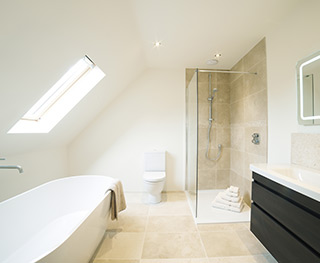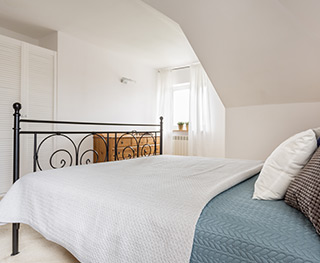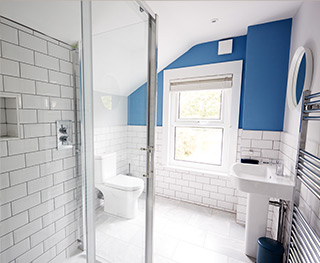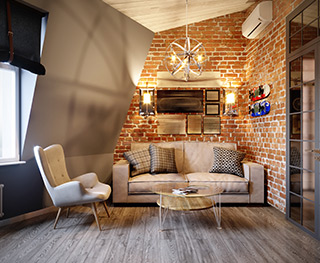 Why you should choose Touchstone Lofts for your loft conversion
Logical preparation
We're a professional contracting company with years of experience in the industry. We take building regulations, insulation, safety, and any other necessary precautions into account when planning your project.
Perfect planning
From surveying your property and designing your project, to the final touches, we can plan your project from beginning to end. We can even help with planning permission – our 98% approval rate means that you're more likely to get the go ahead for your development, saving you time and hassle.
Talented team
We have a talented team of skilled professionals who are dedicated to bringing your vision for your home to life. We'll take care of every aspect of the project, from plumbing and electrics to painting and decorating, so you can step back and watch your dream home come together.
Extensive experience
We have more than 30 years of experience in converting lofts, so we know how to get the most out of your space. Our team will work with you every step of the way to ensure that your dream loft becomes a reality.
An in-person preview
We offer an in-person preview because we want you to feel confident about your decision. We believe that this is the best way for us to understand your requirements and for you to see what Touchstone Lofts can do.
Start your project
Our team can't wait to begin your project. We've got the expertise to answer all your questions and the professional skill to bring your perfect loft conversion to life. It all starts once you get in touch with us and book that initial free consultation. You'll be well on your way to a professionally designed and constructed loft conversion that you'll love.
Contact Touchstone Lofts
We're here to help you with all of your design needs. You can contact us by phone 0800 881 8194, email sales@touchstonelofts.co.uk, or fill out this form and one of our experts will get back in touch as soon possible.
Storage ideas and inspiration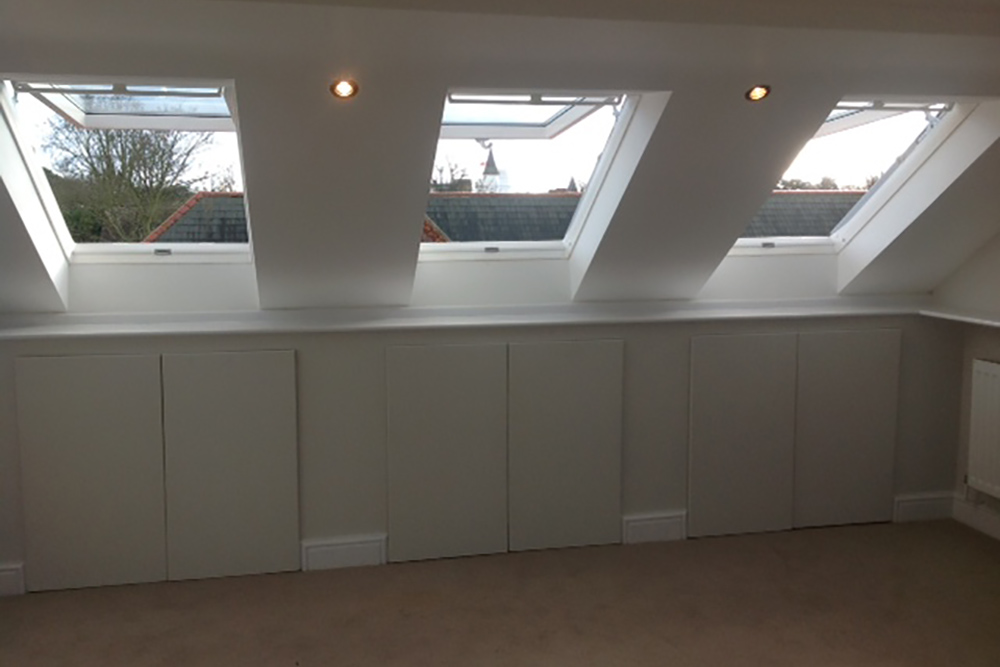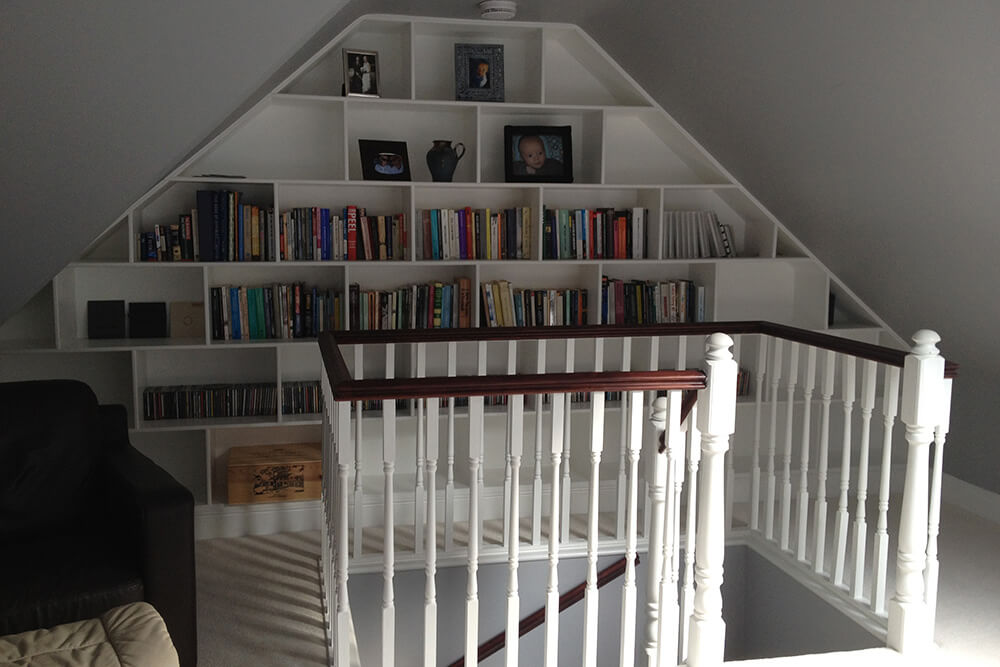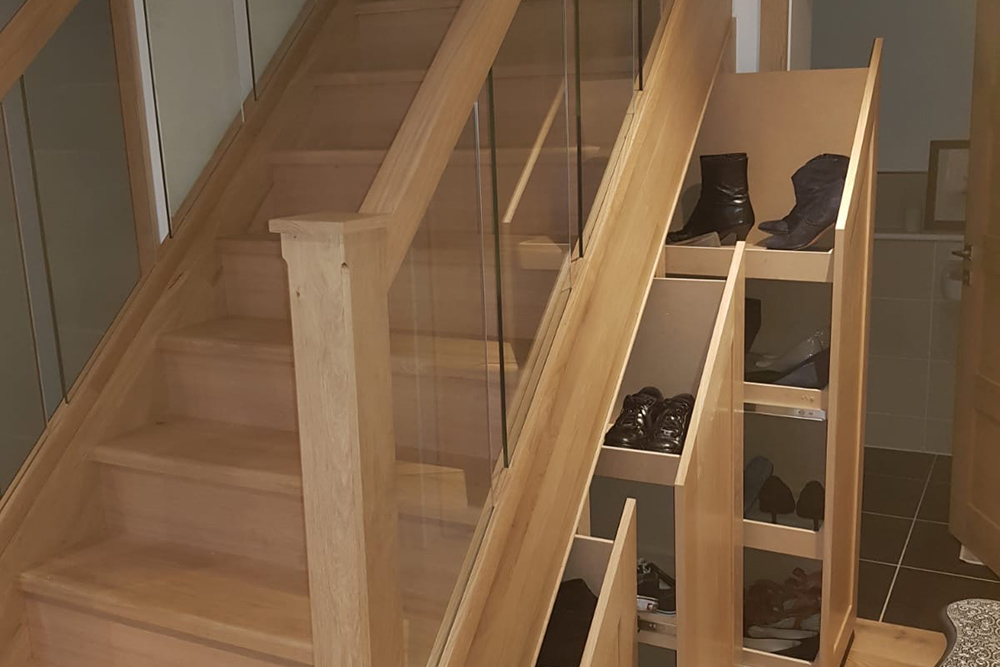 View your options at our show home
A loft conversion can be a fantastic way to add more living space to your home, but it's important to choose the right company and design for your needs. You can view your options at our show home. With over 2,000ft² of space to explore, you're sure to find the perfect layout, style, and build for your needs. Our professional team are here to help you find the perfect conversion for your home and budget.
What our customers want to know
Find out more about our incredible range of services by taking a look at our customers' most frequently asked questions.
How long does a loft conversion take?
The amount of time it takes to convert your loft will depend on its size and type, but usually these conversions take about 12 weeks.
Will I need to move out during the project?
You can continue living in your property during the project; however, there may be some noise disturbance as a result of our work. We apologize for any inconvenience this may cause.
Where will you place our new staircase?
Ideally, we'll always place your new staircase over the existing one. However, if this is not possible for whatever reason we will work with you to find an alternative.
Do I need planning permission for a loft conversion?
This will depend on a few different factors. Flats always require planning permission. Some houses, however, are in areas where loft conversions fall under permitted development. We can help check if your property falls in this category. If it does not our team are always on hand to support you through the application process to make sure everything goes to plan.
How much does a loft conversion cost?
This depends on many factors including the size and complexity of the project. But in general, you can expect to pay between £30,000 and £50,000 for a quality conversion.
What is a party wall agreement, and do I need one for a loft conversion?
A party wall agreement is needed for any type of construction work that takes place near your neighbour's boundary. Our surveyor can visit you and provide advice on whether or not you need a PWA. We have years of experience in this field and will be able to help you through the process.
Does a loft conversion add value to your home?
A well-executed loft conversion can add from 20% to 30% in value to your home, depending on the size, design, and type of conversion. It is also a wonderful way to create more living space without having to move.
How much head height do you need for a loft conversion?
Our surveyor will be able to visit your property to assess if you have sufficient space for a loft conversion. Typically, you will need a minimum of 2 metres for a loft conversion to be feasible

What possibilities can a loft conversion open?
Take a look at some of the amazing uses our customers have found for their new space:
With our new loft conversion, you can have the space of your dreams. To find out more about what we have in store for Stratford upon Avon residents call us on 0800 881 8194 or email sales@touchstonelofts.co.uk!