Specialist loft conversion company in Sutton Coldfield, Touchstone Lofts
Hip To Gable Conversion
Hip to Gable conversions are popular among Sutton Coldfield homeowners with semi-detached or detached properties, end of terraces, and bungalows. The existing sloping roof is turned into a flat gable to increase available space. Depending on various factors, a hip to gable extension may or may not require planning permission. We can help you with this and apply on your behalf.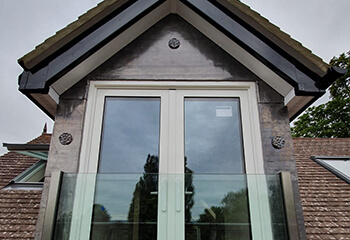 Dormer Conversion
Dormer loft conversions are the most common type requested by Sutton Coldfield residents. With a dormer conversion we extend the existing roof vertically to create extra floor space and headroom. To achieve this, it is important that at least half of the current floor space has a ceiling height of at least two metres or higher. Dormers usually do not require planning permission.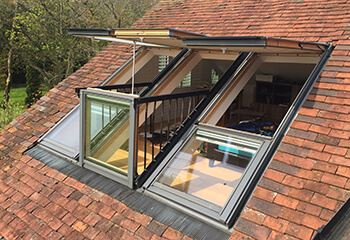 Velux Conversion
A Velux, or roof light loft conversion in Sutton Coldfield is the most simple and economical type available. With a Velux, the roof remains unchanged, other than the installation of attractive flush Velux windows to give plenty of natural light. Typically, a Velux attic conversion does not need planning permission as the roof structure remains unchanged. This is the perfect solution if you want minimal outlay and disruption.
The Royal Town of Sutton Coldfield, more often referred to as Sutton Coldfield, or simply Sutton, is a civil parish in the West Midlands. Previously part of Warwickshire, in 1974 Sutton Coldfield became part of Birmingham and West Midlands county. In 2015, for the first time in modern history, the town voted to have its own Parish Council.
Settlers have lived in Sutton Coldfield for thousands of years – the earliest signs of human existence in the area were discovered in 2001 during the building of the M6 Toll road. Bronze Age burnt mounds were uncovered at Langley Brook. Evidence of a Bronze Age burial mound was also discovered.
Further excavations revealed more fascinating relics in the form of an Iron Age settlement, which archaeologists date to around 400 and 100 BC. This comprises circular houses surrounded by ditches. A similar single circular house was found near to Langley Brook, also dating back to the Iron Age.
Commuter's Paradise
These days, Sutton has a population of around 100,000, a number that has risen steadily during the last 15 years. The town is an ideal place to live for those working in Birmingham who prefer not to live in a hectic city environment.
The town lies just 7 miles (10 km) from Birmingham City Centre, so travelling to and from Sutton Coldfield to work in Birmingham is a straightforward journey that takes less than half an hour depending on traffic.
Housing Stock
Sutton Coldfield was an affluent area in the 19th and 20th centuries, and this led to the construction of several grand halls and manors. Some of these are now hotels, including the New Hall Hotel, the Moor Hall Hotel, Moxhull Hall Hotel, and the Resort Penns Hall.
Peddimore Hall, near Walmley, which originally dates back to the 12th century, is a moated hall and a famous historical building in the area, but is now used as a private residence.
When it comes to housing for more regular folk, much of the Sutton Coldfield housing stock dates back to the 60s. Sutton Coldfield town centre features many three story terraced houses, along with detached bungalows on the outskirts of the town.
Property prices in Sutton Coldfield have risen 4.03% during the last 12 months, with an average property value of £345,403.
If you find yourself in a situation where you need more space in your Sutton property, but do not want the expense and hassle of moving, the most straightforward and cost effective solution is to expand your current living space by utilising that wasted space beneath your roof – the loft.
Why Touchstone for Your Sutton Coldfield Loft Conversion?
During the last three decades, Touchstone lofts have converted many lofts in Sutton Coldfield, giving homeowners that much needed extra living space. Most of our customers come to us as a result of a direct referral, which we are very proud of, as this shows us we are doing a more than acceptable job.
When you get in touch with us, we will ask you the best time for us to call. Once at your property, we will do a comprehensive survey of your loft and ask you questions about what it is you want to achieve with your conversion. When we have this information, we can advise you one the best type of conversion and give you a free quote.
Because we not a firm of builders, but are experts in attic conversions, our in-house staff will task every aspect of the work from design, to plumbing and of course the construction of the conversion. No part of the work is outsourced, which means we can always complete the work to our consistent high standards.
If necessary, we can also sort our planning permission and deal with town hall paperwork on your behalf.
Contact us today on 0800 881 8194 or via our web contact form, and we will arrange a time to visit at your convenience. A loft conversion in Sutton Coldfield will not only give you more living space, but it will also increase the value of your property, giving you a healthy return on your investment.
Specialists in home extensions
Are you considering extending your property, look no further, whether you are looking for a ground floor rear extension, side return extensions or even a double storey extensions, our 30+ years' experience in the property conversion business with service you well, take a look at our extension options here.