Specialist loft conversion company in Islington, Touchstone Lofts
Over 1,000 lofts converted since 1989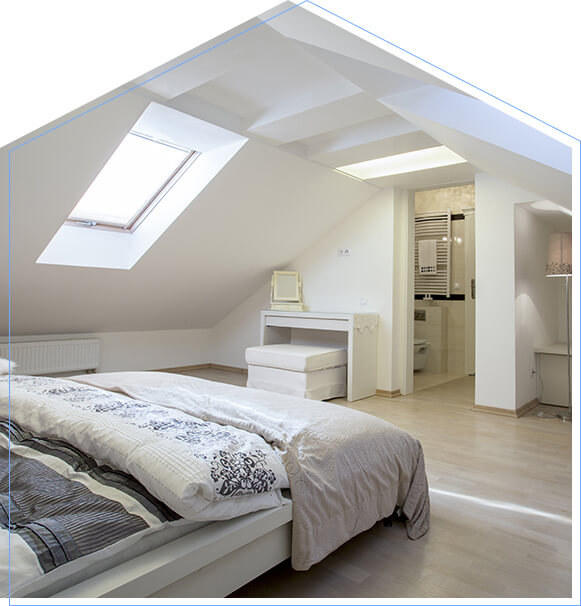 Make sure your Islington property is working to its full potential – choose a bespoke loft conversion that will help adapt your home to your requirements. We have worked on many loft conversations in Islington – we've recently completed projects along the beautiful tree-lined streets of Hemingford Road, Arundel Square, tucked away in the peaceful area behind the o2 Academy. We've also been working on Bride Street N7 in St Mary's ward, and Crossley Street, with its handsome terraced homes. And if you live closer to the Whittington Hospital in the north of the borough, we're very familiar with your area too. We've been working in Islington for many years and know the area inside out.
Do you live in Islington, and do you want to convert your loft? There's no time like the present. Call on 0800 881 8194 to arrange your quote – completely free of charge. We provide a design consultation to ensure your property lives up to its full potential.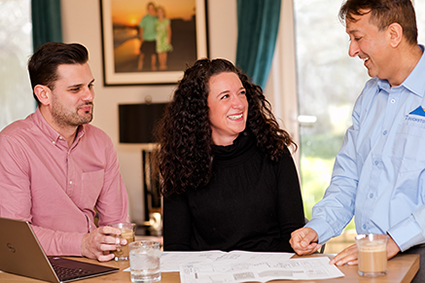 Award-winning loft conversions
We have been recognised for outstanding quality craftsmanship and excellent customer service by the Federation of Master Builders in their Master Builder of the Year Awards, Southern Region.
We are also finalists in the 'Best Loft Conversion' category in the 2020 Homebuilding & Renovating Awards.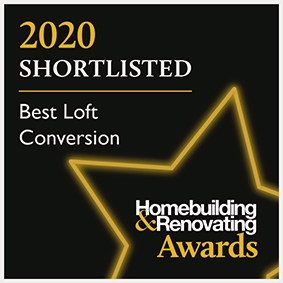 How can we transform your Islington home?
We are the ideal loft conversion company to carry out your project in Islington. We have more than 30 years' experience in the industry, and our reputation precedes us. People are delighted with our work – each conversion is bespoke and designed to the needs of all residents. We will plan your project with you and help you decide on the perfect layout, from the positioning of skylights to the installation of fire alarms. You will know exactly what to expect throughout and we'll keep your conversion on track.
Find out more
If you're interested in a loft conversion in Islington, get in touch with Touchstone Lofts. Call 0800 881 8194, or send a message.
Transform your home with a stunning loft conversion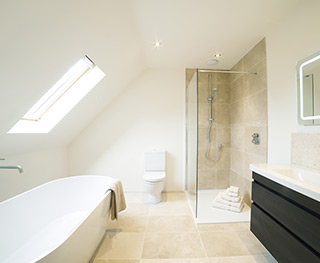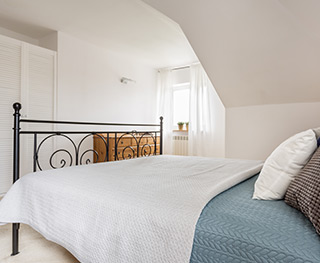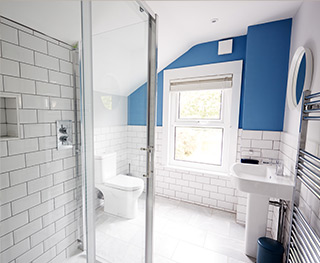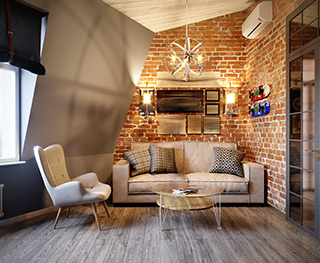 Reasons to convert your loft
These are some of the main reasons why people choose to convert their lofts:

More space.
Every family could benefit from more space. A loft conversion frees up space without you needing an extension, so you can use it however you want. A loft has more to offer than just storage.

Add value to your property.
In general, a loft conversion can add around 20% to the value of a property, so it's not just for the here and now. If you want to sell up in future, you can secure a better price thanks to a valuable loft conversion.

Excellent value for money.
It's much cheaper to convert your current home, rather than moving – estate agents' fees, stamp duty, surveys etc… it all adds up. You can stay in a home and area you love, while still enjoying more space.

So much potential.
Lofts are there within the footprint of your house, just waiting to be used. Your loft space can be anything you want it to be, from an additional bathroom to a peaceful study. And with its vantage point from the top of the house, the loft can offer beautiful views – especially with a Velux skylight.
How can we help you?
Our service is designed to meet your needs at every step of your journey towards a new loft conversion. We use our expertise to put together the perfect plan and design for you, creating a loft conversion that will meet your needs in every way. You can relax throughout the process, knowing that we carry out all work ourselves, with people in-house to take care of everything. From plumbing and electrics, to managing your project, your loft conversion will be a straightforward process.
Some storage inspiration for your loft conversion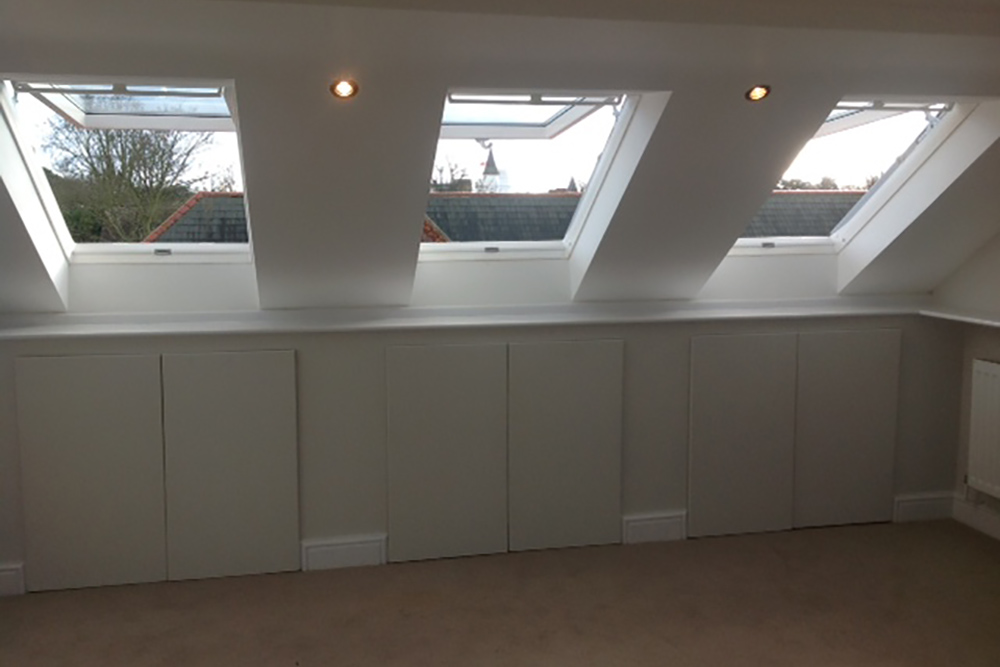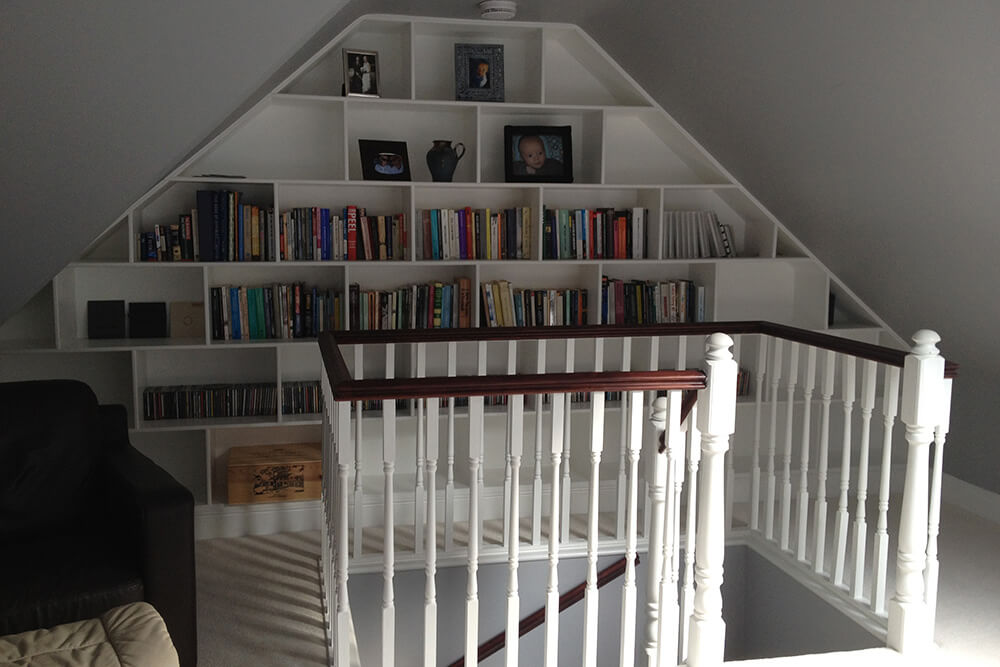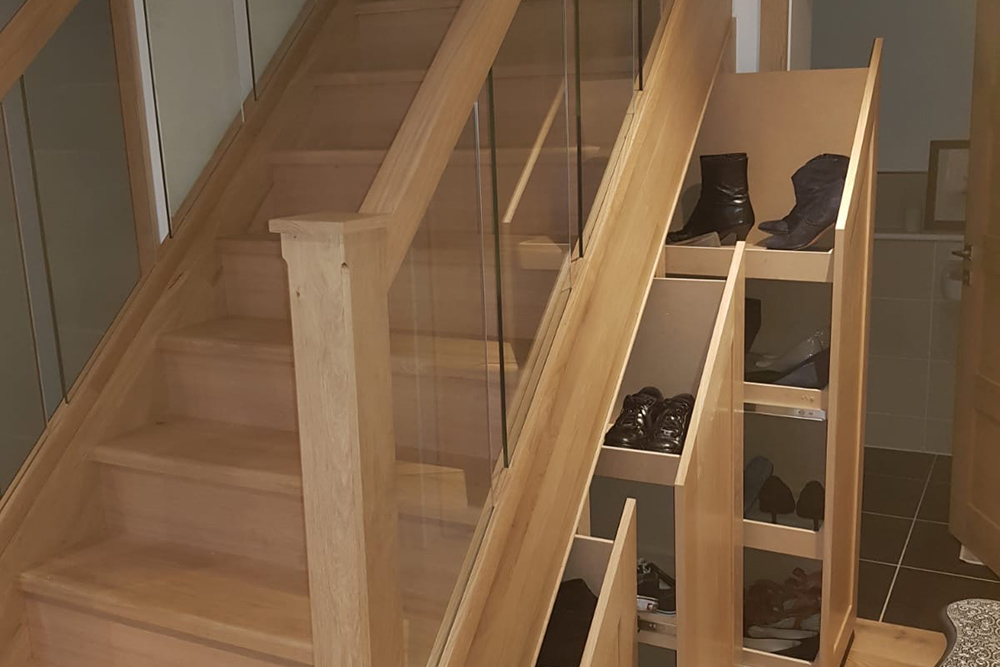 Arrange a quote and design consultation – for free!
We give you full quotations upfront, along with a free design consultation that is usually £600. To get the process started and take advantage of your no obligation consultation, call 0800 881 8194 or send us a message.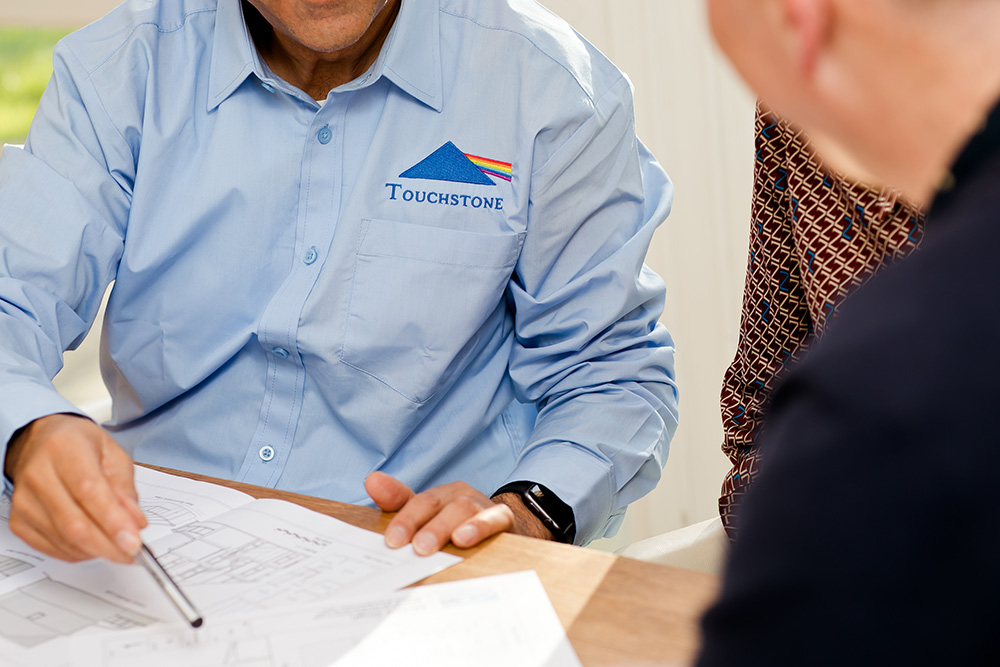 Worried about your low pitch roof? Don't be!
We regularly convert lofts that sit under a low pitch roof, without having to raise the ridge height or lower the floor. Other builders might struggle – not us. We have years of experience and can make your project happen. The processes we use minimise disruption, and the end product is a loft conversion that is fully compliant with building regulations. We've even converted lofts where the ridge height is just 2 metres.
Don't be put off by a low pitch roof. A loft conversion is still perfectly possible. Arrange your free quote and design consultation. Call 0800 881 8194. Every consultation is carried out by a surveyor and will include the production of a design normally valued at £600.
Why choose Touchstone Lofts for your project in Islington?
30+ years' experience.
We are specialists in loft conversions, completing your project to the highest standards. We can work on loft conversions no matter how challenging they might be, and how tight the space is. You can trust in our knowledge.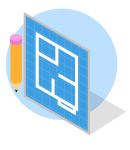 The complete service
We are project managers as well as loft conversion specialists, looking after all work and keeping it on track. We make sure everything lives up to our high standards, and you will have one point of contact with a dedicated project manager.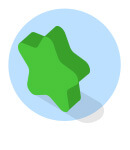 Expertise
We achieve real results. Did you know that we have a 98% success rate with our planning applications? We manage to secure planning permission where less experienced loft conversion companies have failed.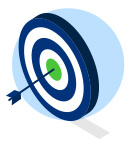 Design focus
The design of your loft conversion is our key concern. We make sure it complements your existing home and contains everything you need it to, working out options for storage and maximising your space.
Explore loft conversions with our show house
Choosing to have a loft conversion built is a big step to take. Come and visit our show house to see how your new conversion could look. There is more than 2,000 square feet of displays, so you can see the different kinds of loft conversion and how they look in real life. Book an appointment – call us on 0800 881 8194.
How long does a loft conversion take?
Depending on the size and type, most loft conversions take around 12 weeks.
Will I need to move out during the project?
No – it's safe to carry on living inside the property. We work from the scaffolding before the stairs go in. Any disruption you experience will mainly come from noise.
Where will you place our new staircase?
We will be able to fit your staircase around your existing layout and will find an option to suit you. If possible, we will try to fit your new staircase over the existing staircase so that it fits seamlessly within your property.
Do I need planning permission for a loft conversion?
This depends on your location and type of property – all flats require planning, but if you live in a house that isn't in a designated area, then permitted development is usually used and no planning is required. There are many other factors to take into account and one of our surveyors can advise further.
How much does a loft conversion cost?
Most cost between £30,000 and £50,000. This depends on the size and type – bigger and more complicated jobs take longer and therefore will cost more. See pricing information for further details.
What is a party wall agreement and do I need one for a loft conversion?
A party wall agreement (PWA) is required if you have a semi-detached or a terraced property and you are working within or near your neighbour's boundary. We can advise when the surveyor visits.
Does a loft conversion add value to a home?
Yes – it will add from 20% to 30% upwards depending on the size, design and type.
How much head height do you need for a loft conversion?
If you have a clear head height of 2m then a loft conversion may be possible. Our surveyor will need to assess this to confirm.

What's possible with your loft conversion?
These are some of the build possibilities you might want to consider for your loft conversion:
What can be achieved with a dormer loft conversion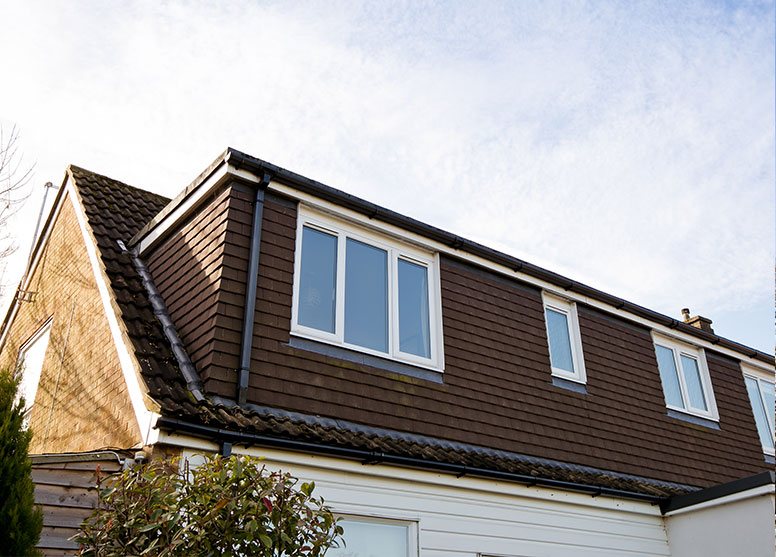 Case study Loft conversion in Islington
The opportunity to create more space
A very interesting and complex loft conversion which required some serious structural works.  A double dormer which is a two-storey dormer loft conversion.
How we can achieve a conversion like this for your home
The customer, Mr Rodrigues, wanted to maximise his available space.  The surveyor came up with an ingenious scheme to add a wonderful master suite to the top conversion and another bedroom with another en-suite on the first floor.
The client was most impressed with this unique design and a fixed price contract was agreed.
This was  a considered a permitted development so a letter of lawful development was gained for the client.
The architect prepared the architectural plans for the client and the structural engineer prepared the drawings for the construction team.
In addition, we added another en-suite to the first floor bedroom taking the whole property to a total number of three en-suite rooms.  A new system boiler and horizontal unvented cylinder was installed in the eaves of the top loft conversion.
A covered scaffold was required to prevent any rain coming into the property, this was a big job and the roof would be off for a while.
As we worked from the scaffold the inconvenience was limited for the customer and they continued to occupy the home while the worked progressed.
The client informed us that the increase in value of the property with the conversion has been 35%, one of the biggest increases we had seen recently with our loft conversions which normally average an increase of around 20 to 30%.
The client was delighted with the designs we had created and the overall increase in floor space was a welcome addition to the home.
Specialists in home extensions
Are you considering extending your property, look no further, whether you are looking for a ground floor rear extension, side return extensions or even a double storey extensions, our 30+ years' experience in the property conversion business with service you well, take a look at our extension options here.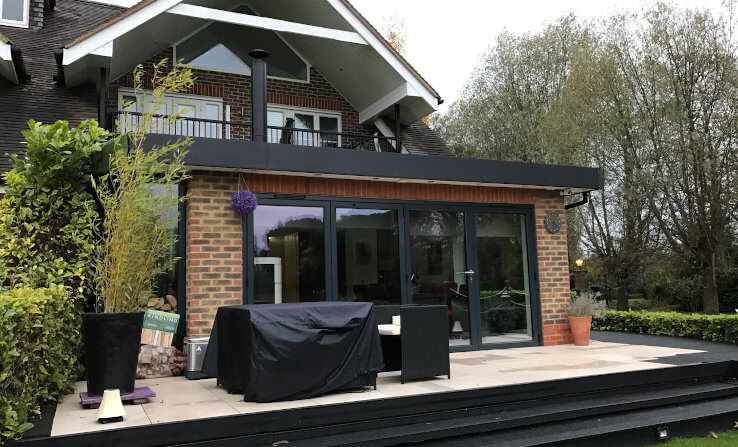 Looking to transform your loft?
Call us on 0800 881 8194 to arrange your free quote and design consultation.