Specialist loft conversion company in Bedfordshire, Touchstone Lofts
Over 1,000 lofts converted since 1989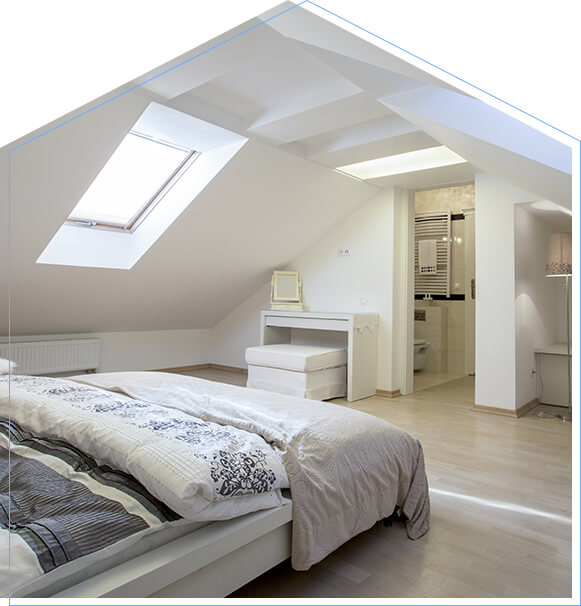 At Touchstone Lofts, we have over 30 years of experience in converting lofts and have transformed homes in over 29 counties. With a team of specialists, we will confidently and efficiently convert your Bedfordshire loft into an additional living space that you will be proud of. From London Luton Airport to The University of Bedfordshire, it will be hard to find an area in which we haven't worked. We don't do 'off the shelf', each conversion is tailored to your requests and needs, which means that every project we complete is entirely unique. Allow us to turn your dreams into a reality and create that additional space you have been looking for from your Bedfordshire home.
If you are considering converting your loft and you are located in the area of Bedfordshire, call us to arrange your free quote and design consultation on 0800 881 8194.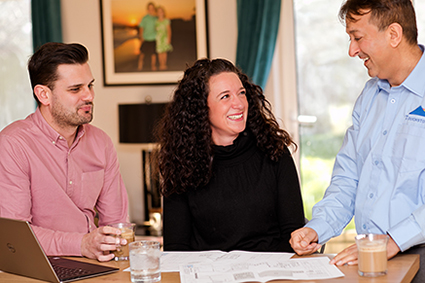 Award-winning loft conversions
We have been recognised for outstanding quality craftsmanship and excellent customer service by the Federation of Master Builders in their Master Builder of the Year Awards, Southern Region.
We are also finalists in the 'Best Loft Conversion' category in the 2020 Homebuilding & Renovating Awards.
Claim your free loft design appointment
Claim your free design appointment – you've got nothing to lose. It's worth £600, but we offer this service free of charge. Discover the possibilities, explore the options and find a loft conversion that will suit your way of life and your Bedfordshire home. Contact us to set up your free appointment.
You can either call us on 0800 881 8194, or complete the form.
Types of loft conversions for Bedfordshire homes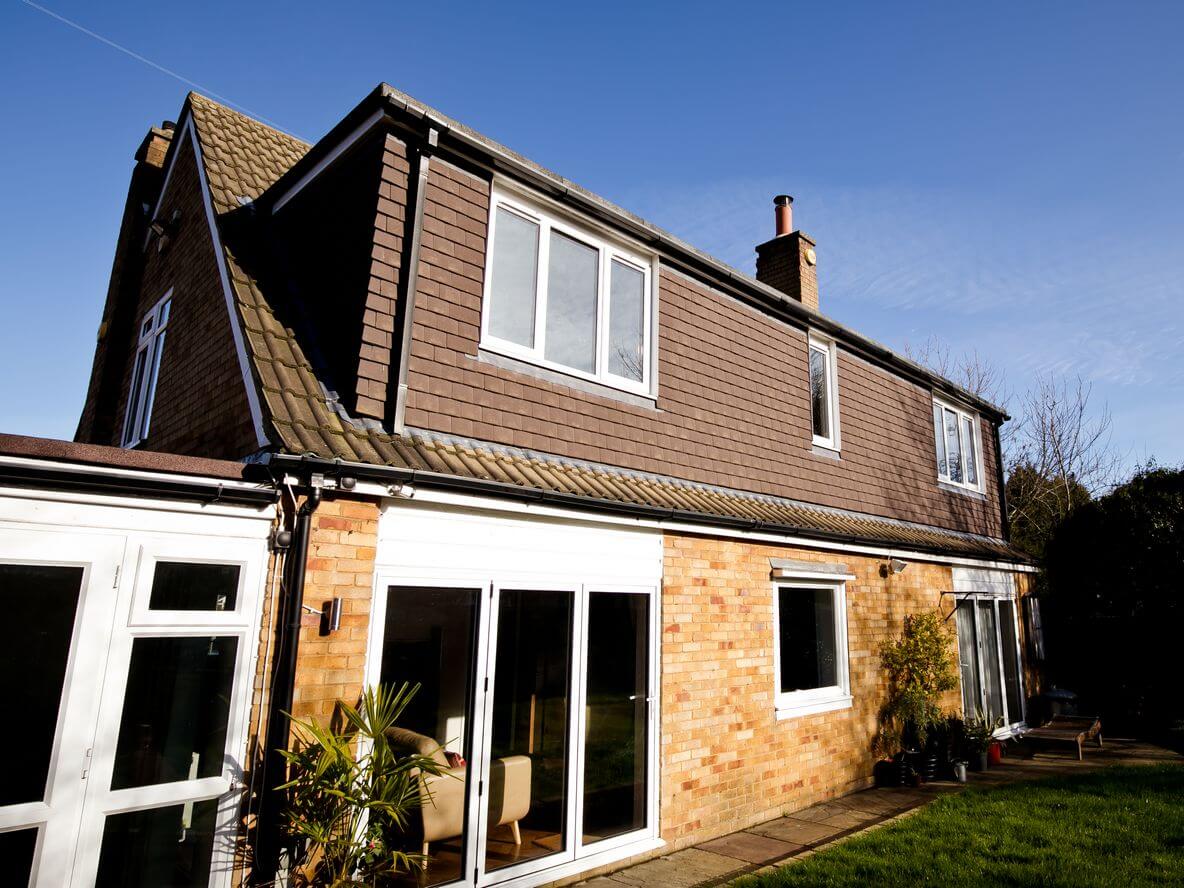 Why choose us to transform your Bedfordshire home?
At Touchstone Lofts, we are here to maximise your space and enhance its appearance. We offer a bespoke service tailored specifically to the client. Forget off the shelf projects, our work is personally suited to each individual customer's needs, creating a unique home improvement for each. As one of the longest standing loft specialists in the UK, we offer a wide range of services from design and build to electrical and heating services. By only creating work of the highest standard, we know you will be left feeling as proud of your loft space as we are. We pride ourselves on creating practical living spaces where others can't. There are next to no limits when it comes to creating that all-important area for your home, whatever the shape, size or height the loft space. From beginning to the end, we will be on hand to answer any queries or work with any last-minute alterations you may require to bring your designs to life. With an expert of all trades on site at any time, you can rest assured that everything will be handled to perfection.
Transform your Bedfordshire home with a stunning loft conversion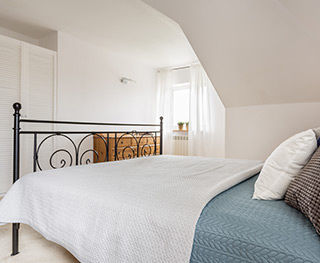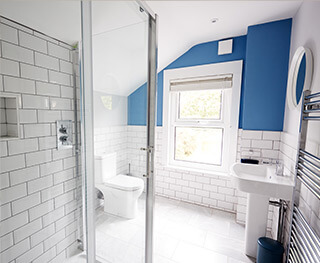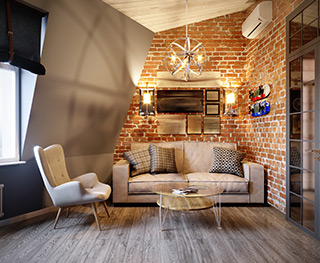 Contact us
Should you have any queries regarding plans for your own Bedfordshire loft conversion, call 0800 881 8194 where our team will be happy to assist.
Storage inspiration for your loft conversion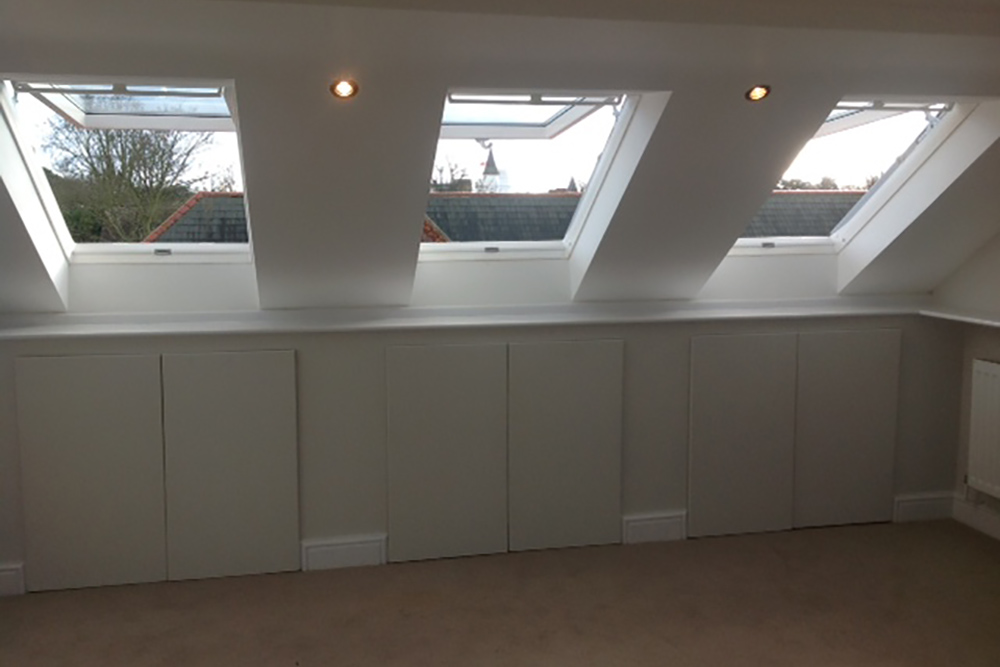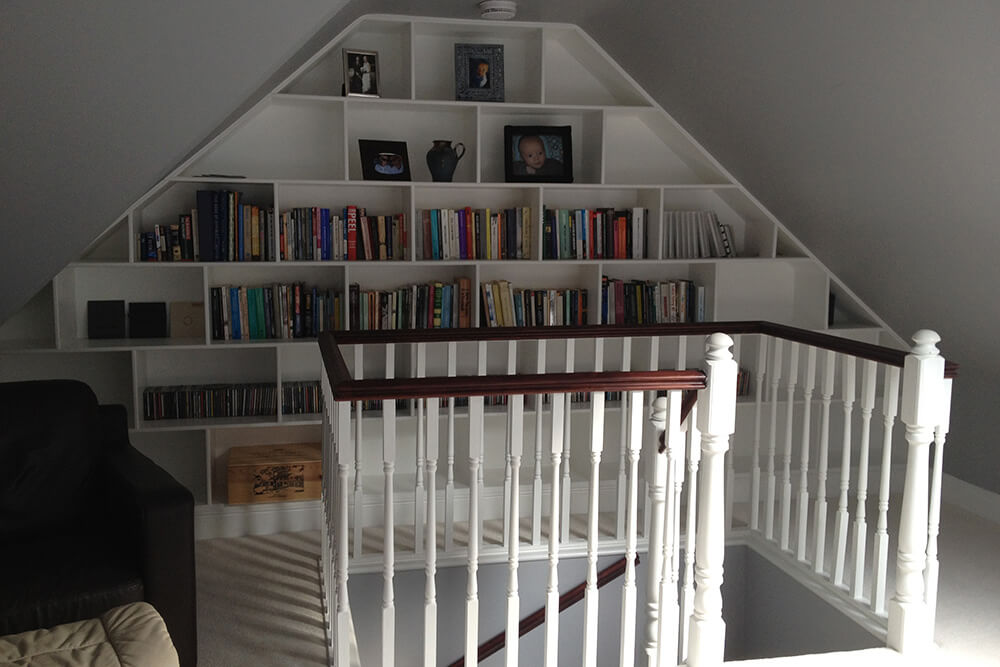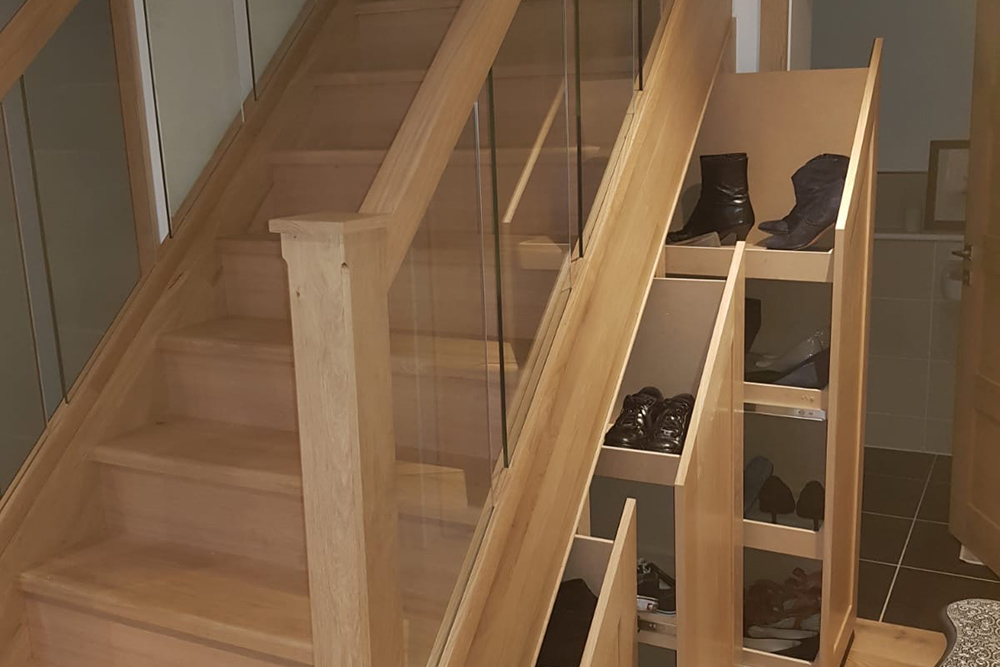 How would the conversion process work for your Bedfordshire loft?
We will initially meet at your home to discuss your personal requirements and get a feel for what you are looking to achieve from the conversion. We will put forward possible suggestions for your home and be upfront and honest about any possible planning issues that we feel may arise. With these factors in mind, we will present a number of relevant examples before drawing up a free design worth £600, along with an initial quote. You can also visit our show home and gain some hands-on experience from a range of demonstrated examples.
The completion time of the conversion itself will vary depending on how complex the design is. We never cut corners and can guarantee that your loft space will be completed to the highest standards. With no need to relocate whilst the construction takes place, we will ensure that the work will be carried out with minimum disruption, allowing your daily lives to continue as normal. Aware of the fact that we will be working in the space of your home, there will be a maximum of 5 members of our team on site at any given time to protect your environment from overcrowding.
Our team consist of a range of specialist trades, from drawing and design, to project management and customer service. There will be a specialist available at any time throughout the process to ensure each step runs smoothly. As we are a gas registered company, you can also rely on our full plumbing and heating service.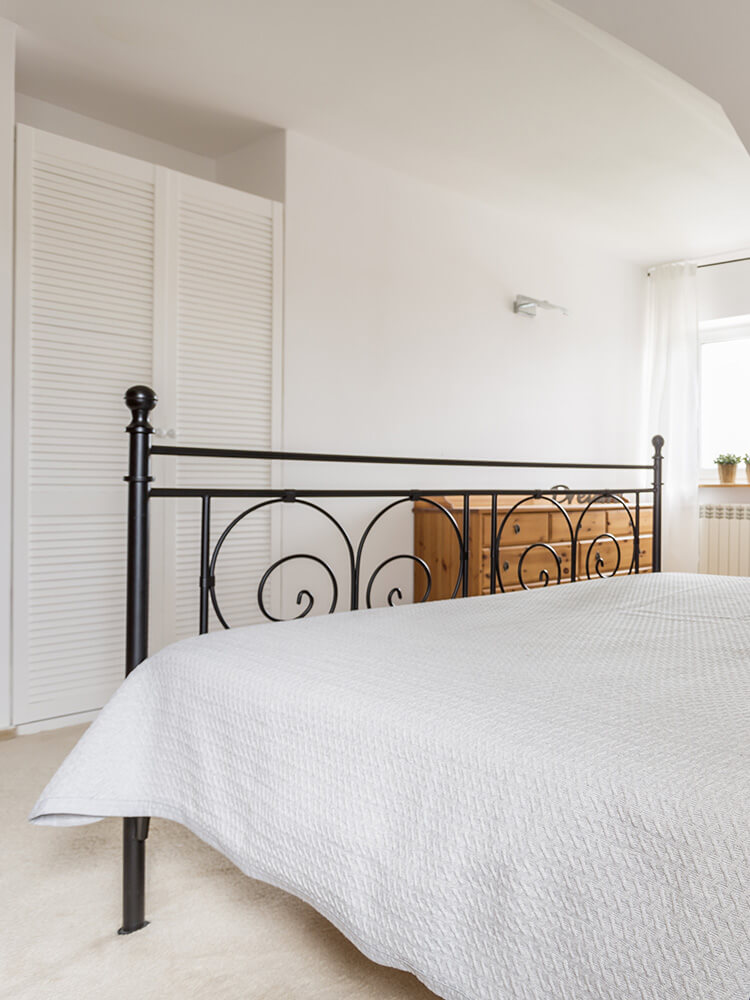 How can you change your Bedfordshire loft into a living space?
More often than not, loft spaces are occupied by nothing other than the household belongings that no one knows where else to store. Look past the clutter and you will see a wide area of space which is able to fit a large bedroom, a children's playroom, a teenager's den or a chill-out zone for the adults to unwind away from the hustle and bustle of life downstairs. The options are endless. Allow us to work with you to create a unique and bespoke design suited to you and your home.
Not every home is the same which means that there are multiple types of loft conversions to consider. We will discover the one that is right for you and your home during our initial visit.
Due to their suitability to many house types and lack of planning permission complications, Dormers, in all varieties, are the most common type of conversion currently requested. Dormers work by extending the original roof vertically and creating extra headroom as well as added floor space. A Single Flat Roof Dormer can create enough space for a bedroom and en-suite while L Shaped or a Full Width Double Flat Roof Dormers can create two bedrooms along with a main bathroom. For a simpler and more economical loft conversion, there is the Velux. Without altering the existing roof, Velux windows are simply installed and therefore should not typically require planning permission. Available in a variety of shapes, sizes and colours, we can design these to be as distinctive or discreet as you wish.
We also offer a range of extras to make all the difference to your new space. If the idea of bright, natural lighting is something you prefer, why not fit include French doors to your Dormer to create a Juliette balcony. These balconies are usually made of glass, allowing them to take advantage of the levels of light being reached from the top of your home and let in maximum brightness. If you prefer the idea of mechanical lighting, our electricians will fit dimmable downlighters that change from warm to cool tones at the turn of a switch, spotlights to fill every corner of the additional space with bright lighting, or backlit mirrors to brighten up your face as much as your home on those gloomy mornings.
A frequent concern that homeowners have about creating a living space in the loft, is the loss of storage. Whilst building into the loft can result in angled or slanted walls and ceilings with awkward often underutilised space, we are experts in creating innovative and efficient storage solutions to fit into the smallest of crevices and maximise available space in the remainder of the room, as well as leaving you with that much needed space to store your suitcases, Christmas trees and family belongings.
Touchstone Lofts also have the team on hand to fit fully functioning bathrooms or wet rooms into your loft space. These come with the additional option of underfloor heating which will be sure to warm up those cold winter nights. Examples of these extras and many more are all available at our show house.
How long does a loft conversion take?
Depending on the size and type, most loft conversions take around 12 weeks.
Will I need to move out during the project?
No – it's safe to carry on living inside the property. We work from the scaffolding before the stairs go in. Any disruption you experience will mainly come from noise.
Where will you place our new staircase?
We will be able to fit your staircase around your existing layout and will find an option to suit you. If possible, we will try to fit your new staircase over the existing staircase so that it fits seamlessly within your property.
Do I need planning permission for a loft conversion?
This depends on your location and type of property – all flats require planning, but if you live in a house that isn't in a designated area, then permitted development is usually used and no planning is required. There are many other factors to take into account and one of our surveyors can advise further.
How much does a loft conversion cost?
Most cost between £30,000 and £50,000. This depends on the size and type – bigger and more complicated jobs take longer and therefore will cost more. See pricing information for further details.
What is a party wall agreement and do I need one for a loft conversion?
A party wall agreement (PWA) is required if you have a semi-detached or a terraced property and you are working within or near your neighbour's boundary. We can advise when the surveyor visits.
Does a loft conversion add value to a home?
Yes – it will add from 20% to 30% upwards depending on the size, design and type.
How much head height do you need for a loft conversion?
If you have a clear head height of 2m then a loft conversion may be possible. Our surveyor will need to assess this to confirm.

What's possible with your loft conversion?
These are some of the build possibilities you might want to consider for your loft conversion:
Explore our 2,000 square foot showhome
If you are curious to see how a loft conversion could work for you, visit our showhome and spark your imagination. With 2,000 square feet of display space filled with a variety of useful examples, such as staircases, bathrooms and our range of Velux windows, you will be leaving with a mind full of ideas to put into a plan for your own bespoke loft conversion. To find out more, or to book an appointment with us, call 0800 881 8194.
What can be achieved with a dormer loft conversion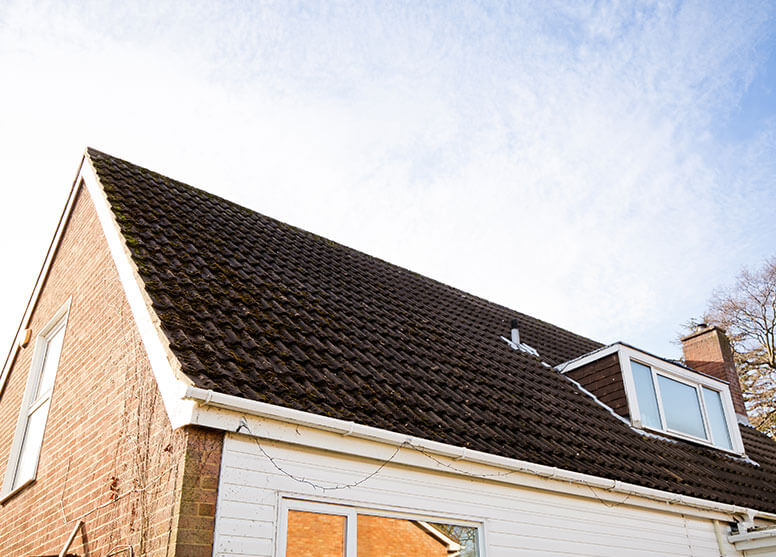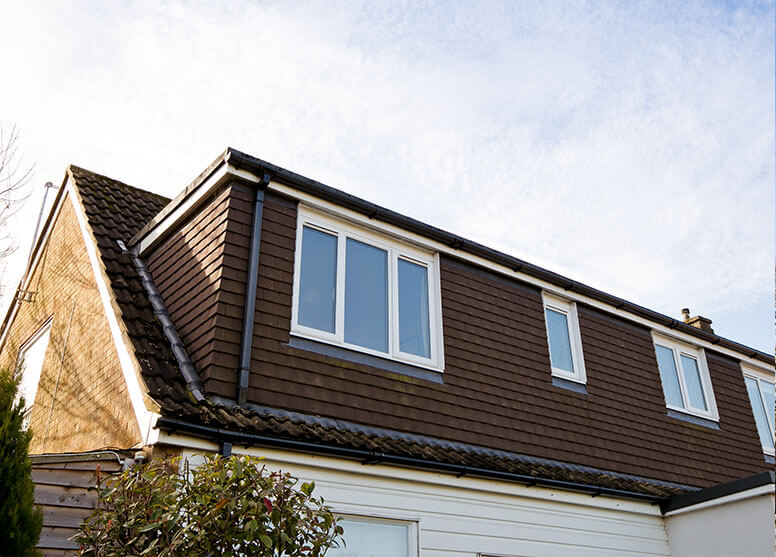 Specialists in home extensions
Are you considering extending your property, look no further, whether you are looking for a ground floor rear extension, side return extensions or even a double storey extensions, our 30+ years' experience in the property conversion business with service you well, take a look at our extension options here.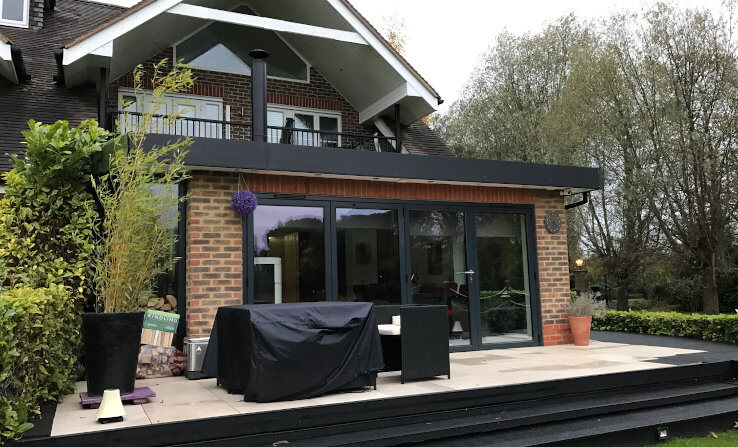 Looking to transform your loft?
Call us on 0800 881 8194 to arrange your free quote and design consultation.
We cover all of these areas in Bedfordshire
Ampthill
Flitwick
Leighton Buzzard
Bedford
Houghton Regis
Luton
Dunstable
Kempston
Stotfold