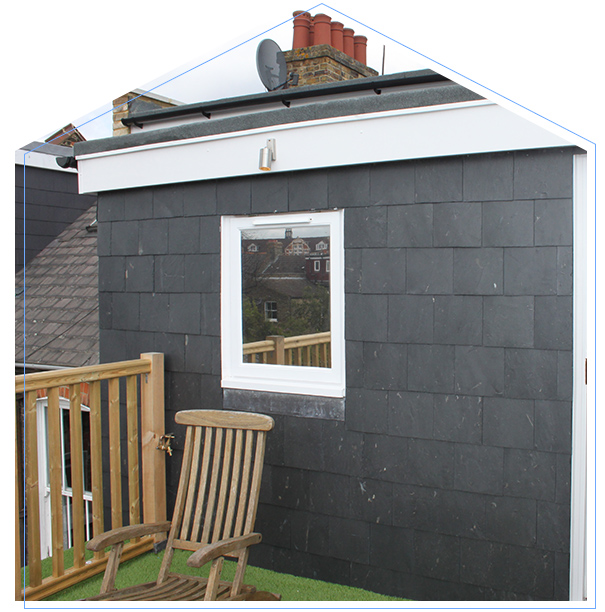 Many of our clients want to know more about terraces for loft conversions, and whether they'll be able to have one. We can offer bespoke advice, ensuring you have all the required knowledge to make the right decision for your home. A terrace can give you access to the outdoors, provide ventilation, and allow natural light to stream in – they're popular and highly desirable. See if a terrace could be right for your home.
Want to talk to the experts about loft conversions and terraces?
Call 0800 881 8194
Enhancing your home with a terrace
Terraces are a lovely addition to your home and are especially popular in bedrooms. A set of French doors or patio doors will lead directly out onto your terrace, allowing you to take in the view.
There are two main decisions you will have to make in terms of appearance:
Balustrades.
They can be glass, wrought iron or wooden – this depends on your tastes, but also on building regulations.
Flooring.
GRP is the most popular option – this is a hardwearing, non-slip, long-lasting fibreglass product.
Get inspired
Find out if a terrace could be right for your loft conversion. Ask the experts at Touchstone Lofts. We can tell you about the different options that could suit your space and give you further information regarding planning permission or building regulations.
We are happy to offer you a free design appointment – this is worth £600, but it's complimentary with us. We find this is exactly what our clients need in order to feel confident enough to make the right decision about whether a loft conversion is for them. And if it's not, that's no problem at all – this appointment is no obligation.
Claim your free design appointment today and discuss the potential of a new terrace with us.
Is it possible to add a terrace to your loft conversion?
Sometimes it's easy to add a terrace, and many boroughs are very relaxed in their regulations. Others are stricter, so it largely depends where you're based.
From a technical point of view, the terrace floor structure must be structurally sound, and there must be good drainage (especially in poor weather conditions). The barrier or balustrade must also be structurally sound and have anti-climb properties for safety. The balustrade height and material must be compliant with building regulations, protecting the privacy of neighbours.
Do be aware that planning permission will usually be required if you want to add a terrace. You will need to position your terrace correctly to satisfy planning officers and ensure your neighbours' privacy is respected.