Specialist loft conversion company in Orpington, Touchstone Lofts
Over 1,000 lofts converted since 1989
We are skilled, experienced experts in loft conversion in Orpington, and we've been working in this area for more than 30 years. It's safe to say that after this amount of time, we know the area very well; some favourite spots include the white homes lining Southcroft Road, the semi detached houses on Felstead Road, and tree-lined Crofton Avenue. If you want to improve your current home, we can help, providing you with an expert loft conversion service that will really help you to make the most of all your space. We regularly meet families who love the area, from the Orpington War Memorial to Crofton Halls, but they feel like their home is just too small for them. If this sounds like you, get in touch and find out more about loft conversion – it could change your way of life.
We have a great knowledge of Orpington – could we add your project to our list of successful loft conversions in the area? We begin the process by providing a consultation and a full design, worth £600. However, we're giving this service away for free – book yours by calling 0800 881 8194. We can improve your home and make it meet your needs.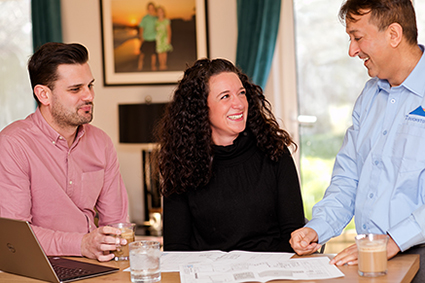 Award-winning loft conversions
We have been recognised for outstanding quality craftsmanship and excellent customer service by the Federation of Master Builders in their Master Builder of the Year Awards, Southern Region.
We are also finalists in the 'Best Loft Conversion' category in the 2020 Homebuilding & Renovating Awards.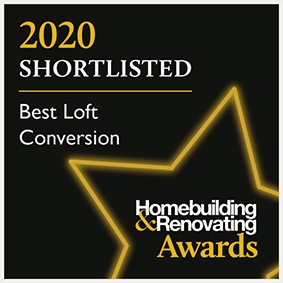 Is a loft conversion the answer?
There are many reasons why people choose to convert their lofts – these are some of the most important:

Additional living space.
A loft conversion gives you valuable space back, reclaiming it from the roof where it's doing little in the way of helping you. A loft conversion lets you use all roof space to its full potential.

Avoid the cost of moving.
If you don't want to move at the moment but you desperately need more space, a loft conversion could be the answer. Turn wasted space into valuable living space, rather than thinking about moving, what with all the expenses, taxes and stamp duty.

Add value to your home.
Should you decide to move in future, you can get more for your house when it has a loft conversion. On average, you'll be able to get 20% more for a house that has a converted loft.
Types of loft conversions
We know that a loft conversion isn't a one-size-fits-all type of project. Each person we meet has different requirements, whether they have children, or they've just downsized and are adjusting to a new space. We design loft conversions around you and we can carry out all work in house, including electrical work, plumbing and heating. Our strict standards are always met as we don't routinely outsource work. We can convert the most awkward of spaces, even if the ridge height is only around 2m.
We're your project managers as well as your designers and builders, offering you the full service when you choose to work with us. You will have one point of contact for simplicity, and we keep your project running efficiently and to a tight schedule.
Transform your home with a stunning loft conversion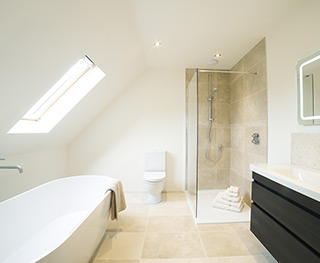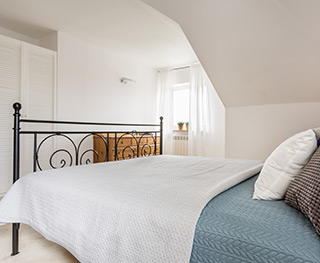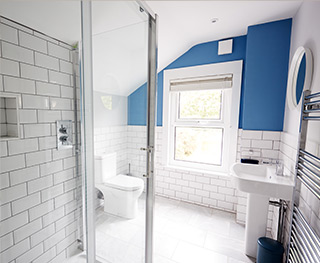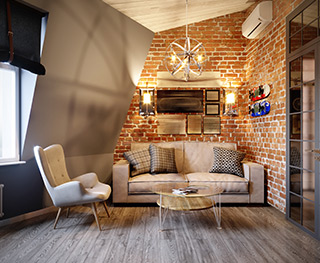 Get a free design appointment worth £600
Call 0800 881 8194, or send us a message and we will create a free design for you. Our surveyor will ensure your loft design fully meets your needs, and you won't pay a penny.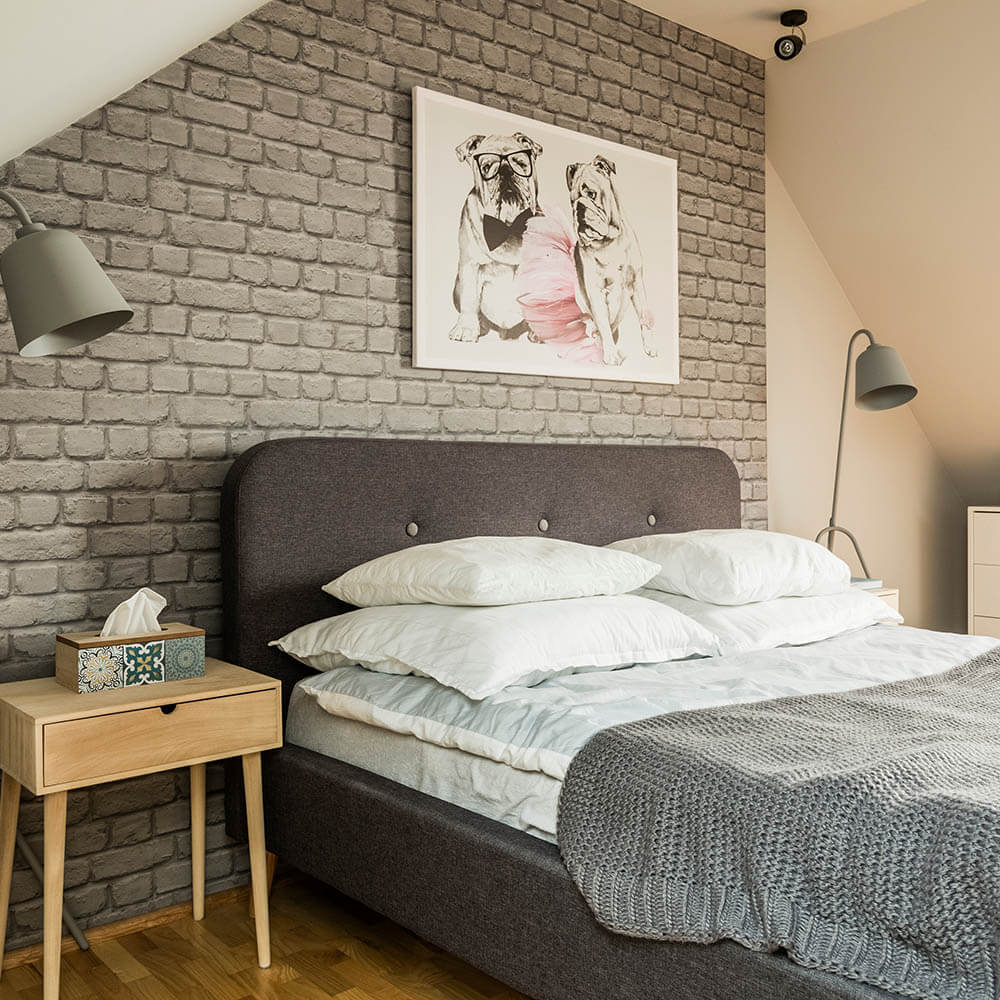 Why choose Touchstone Lofts?
We have 30+ years' experience in loft conversions
Our standards are high, and it shows in our work
We have a show house for you to explore the different loft conversion types
We have the capacity and capability to complete all work in house
Our team can offer you a full planning, design and build service
The designers who work for us like a challenge and can convert the most difficult spaces
We are experts in technical issues and will be happy to advise on building regulations, insulation, fire safety and health and safety
We can apply for planning permission on your behalf and create designs that are more likely to be approved
The loft conversion process
Every loft conversion begins when you ask us for a free quote and design consultation. This is your chance to pick the brains of our expert surveyor, so you can find out what is actually possible and get a design for your loft conversion – free of charge. We can talk you through anything you need to know, from permitted development to the positioning of guttering.
Book your free design in now.
Contact Touchstone Lofts
Call 0800 881 8194, or send us a message by filling in our form. Your free loft conversion design is just a conversation away.
Storage inspiration – unique ideas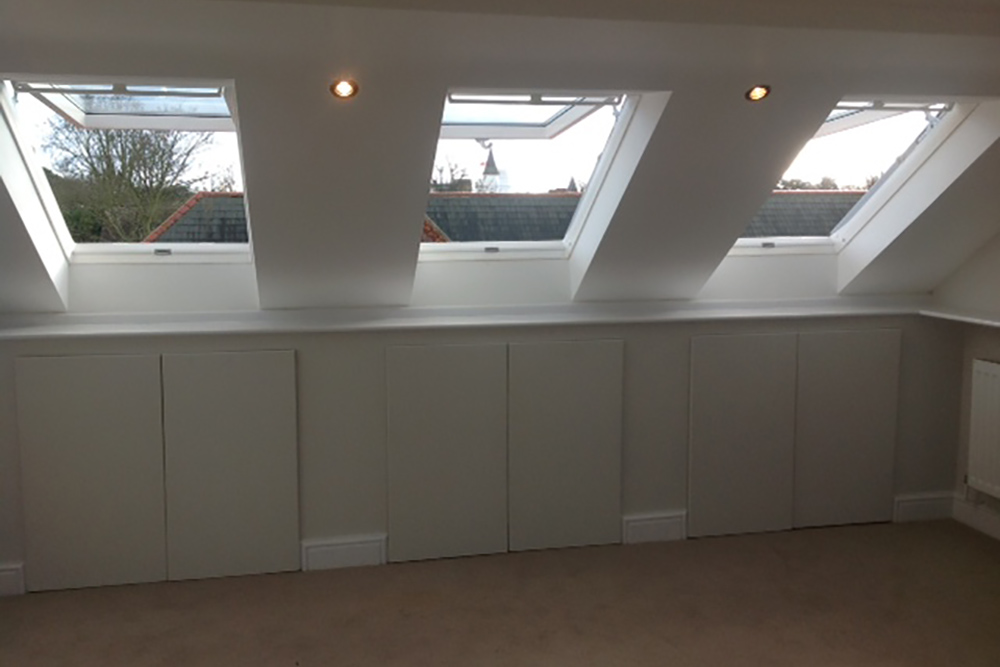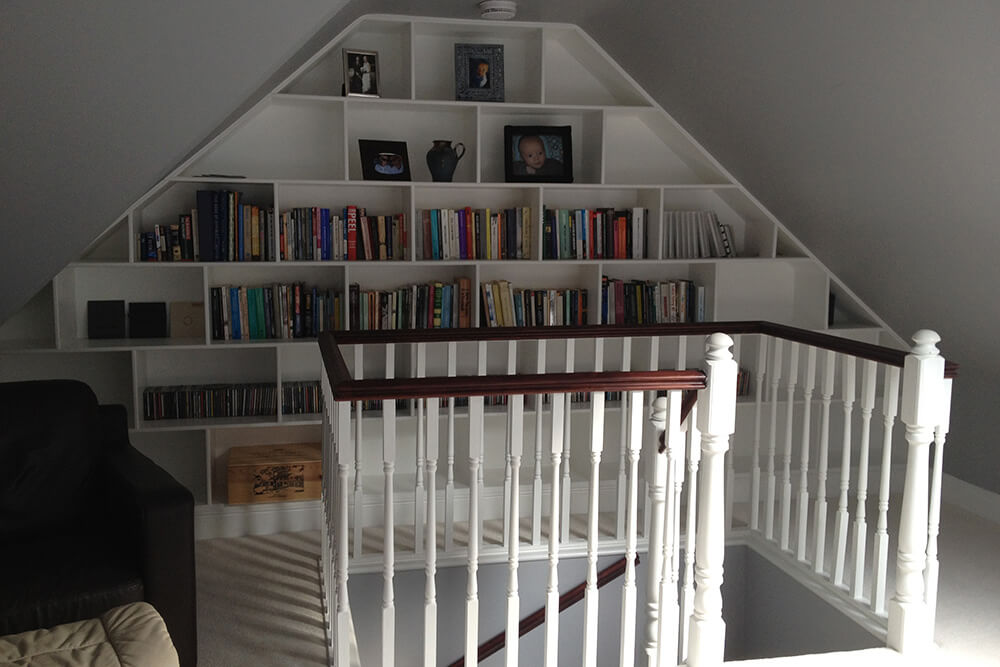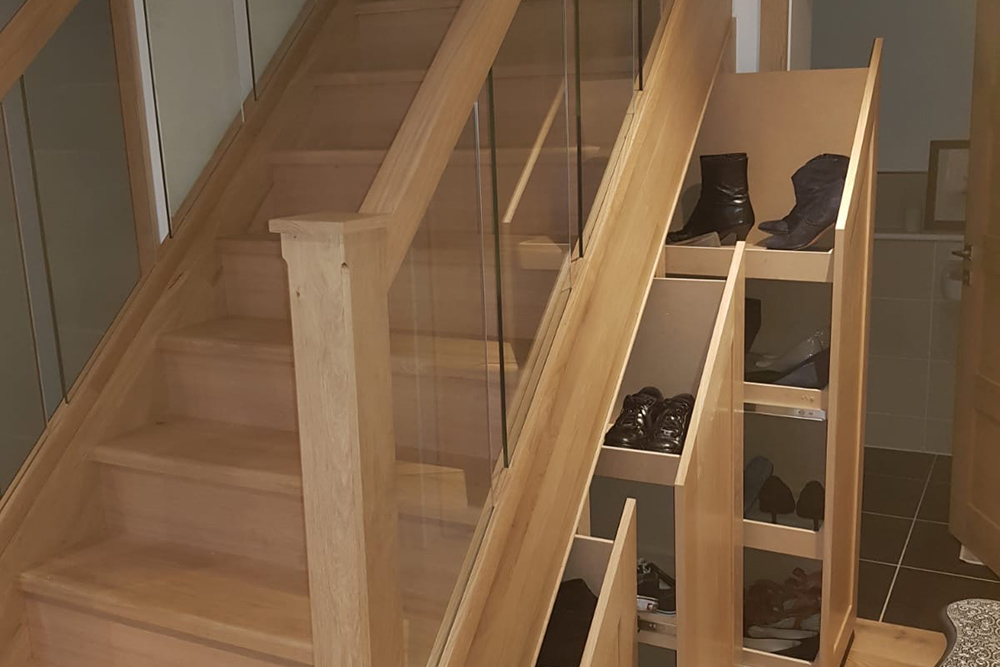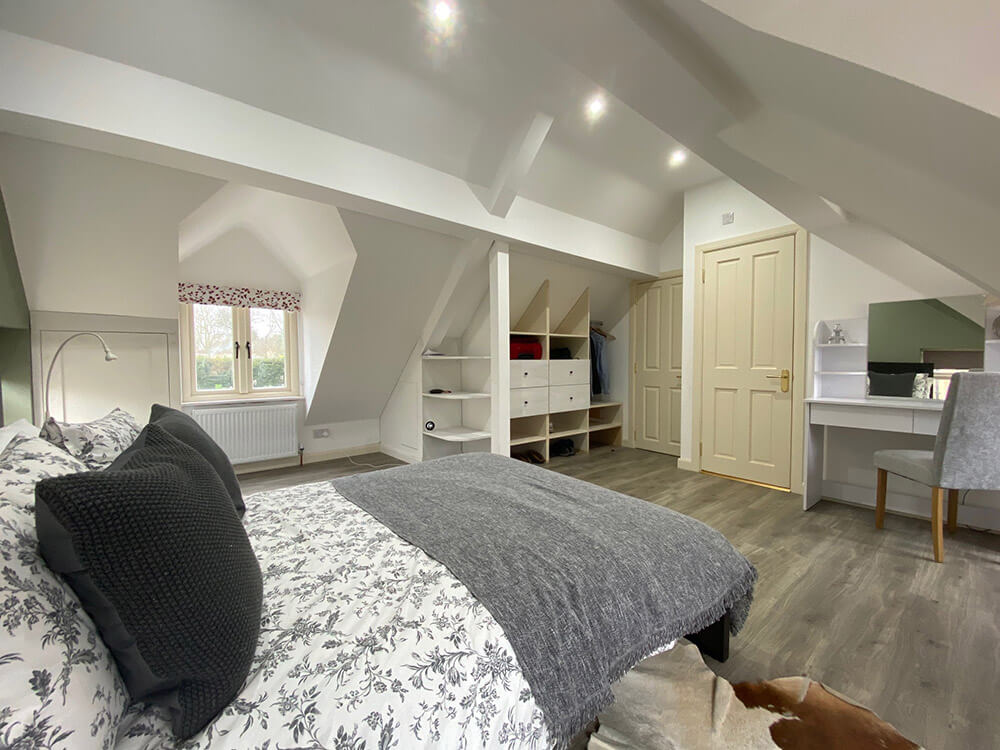 Get some inspiration at our show house
We have a show house with 2,000 square feet of loft conversion displays. Come along and explore it – you'll find out more about your options and will see how you could use your space to its full potential. We have various room types for you to look at, and features including Velux skylights, windows, blinds and insulation.
How long does a loft conversion take?
Depending on the size and type, most loft conversions take around 12 weeks.
Will I need to move out during the project?
No – it's safe to carry on living inside the property. We work from the scaffolding before the stairs go in. Any disruption you experience will mainly come from noise.
Where will you place our new staircase?
We will be able to fit your staircase around your existing layout and will find an option to suit you. If possible, we will try to fit your new staircase over the existing staircase so that it fits seamlessly within your property.
Do I need planning permission for a loft conversion?
This depends on your location and type of property – all flats require planning, but if you live in a house that isn't in a designated area, then permitted development is usually used and no planning is required. There are many other factors to take into account and one of our surveyors can advise further.
How much does a loft conversion cost?
Most cost between £30,000 and £50,000. This depends on the size and type – bigger and more complicated jobs take longer and therefore will cost more. See pricing information for further details.
What is a party wall agreement and do I need one for a loft conversion?
A party wall agreement (PWA) is required if you have a semi-detached or a terraced property and you are working within or near your neighbour's boundary. We can advise when the surveyor visits.
Does a loft conversion add value to a home?
Yes – it will add from 20% to 30% upwards depending on the size, design and type.
How much head height do you need for a loft conversion?
If you have a clear head height of 2m then a loft conversion may be possible. Our surveyor will need to assess this to confirm.

What's possible with your loft conversion?
These are some of the build possibilities you might want to consider for your loft conversion:
What can be achieved with a dormer loft conversion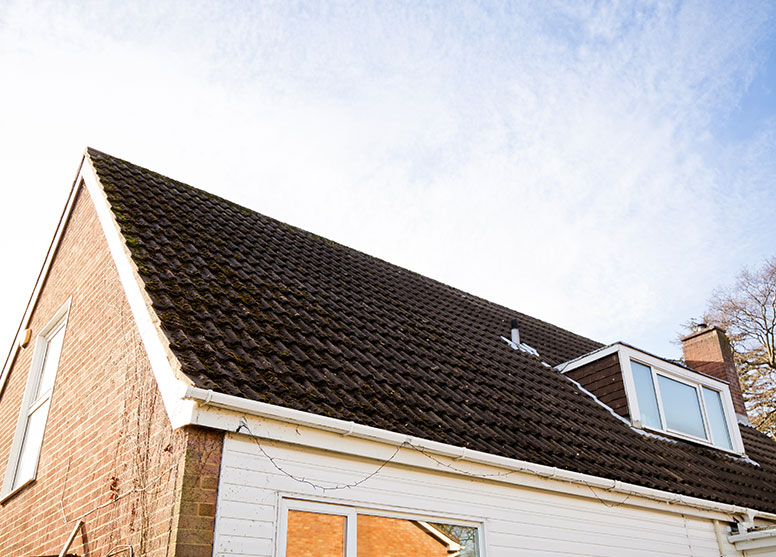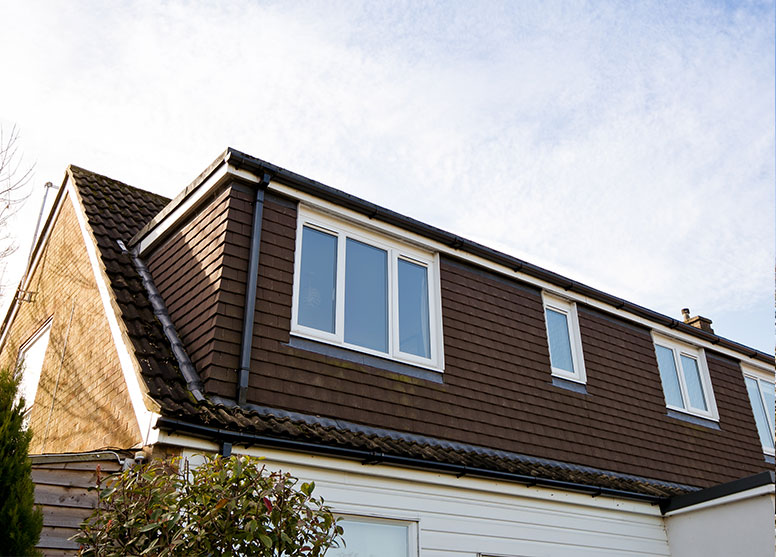 Case study Dormer loft conversion in Orpington
The opportunity to create more space
The brief: Create a bedroom with en-suite to the loft space of a bungalow.
How we can achieve a conversion like this for your home
Felstead Road in Orpington has a variety of house types on it – there are a number of detached bungalows and many semi-detached homes.
The bungalows are ripe for a loft conversion.  They all have permitted development rights, so a loft conversion is possible without the need for planning permission.
Touchstone Lofts can easily convert your loft space into a large bedroom and en-suite by adding a large rear flat roof dormer on the back of the roof.  The stairs will be located from the hallway or planned where required for the conversion.
This is how the process would be conducted and the trades and professionals required for the loft conversion:
Surveyor – to do the quote and survey
Architect – to draw all plans and submit to planning
Structural engineer – calculations for the works
Scaffolders
Loft construction team – build the loft conversion ready for the plastering team
NICEIC qualified electrician
Plumber, gas regs
Quality plastering teams
Building regulation officer – to oversee the build regulations
Carpenters for joinery and second fixing
Roofers for tiling
Skips or licenced rubbish removals
Bespoke stairs manufacturing company
Tiler
Decorator
All these works will be project managed by Touchstone Lofts.
Specialists in home extensions
Are you considering extending your property, look no further, whether you are looking for a ground floor rear extension, side return extensions or even a double storey extensions, our 30+ years' experience in the property conversion business with service you well, take a look at our extension options here.
Looking to transform your loft?
Call us on 0800 881 8194 to arrange your free quote and design consultation.