Specialist loft conversion company in Windsor, Touchstone Lofts
Over 1,000 lofts converted since 1989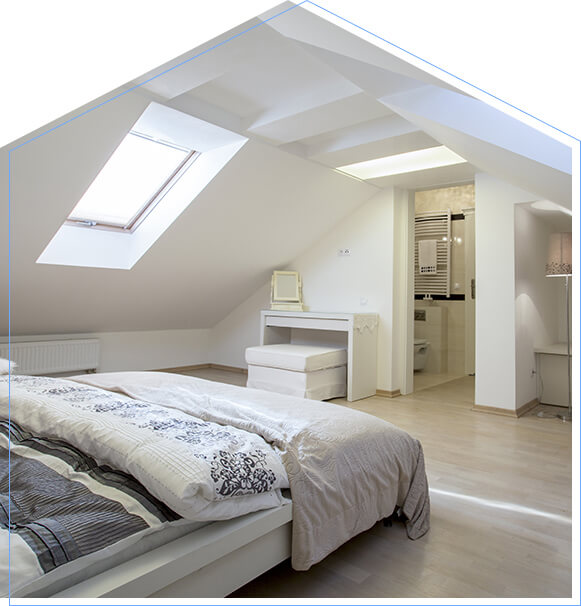 We are experts in designing and building loft conversions in Windsor, helping homeowners to make the most of their space and adding value. We have recently been carrying out lots of work in SL4, and recent project locations include Bell View SL4,  Clarence Rd, and Victor Road. During our many years in the business, we've worked across Windsor and know the area very well, including local landmarks like the Soldiers Statue and Royal Windsor Racecourse. If you want to work with an experienced loft conversion company who have 30 years' experience, look no further. We'll help you make your Windsor home more spacious.
Talk to us about tailoring your home to you. Call 0800 881 8194. We are offering loft conversion designs with our experienced surveyors for free – usually, they cost £600. Don't miss out on this amazing offer. Get a tailored, no obligation loft conversion design.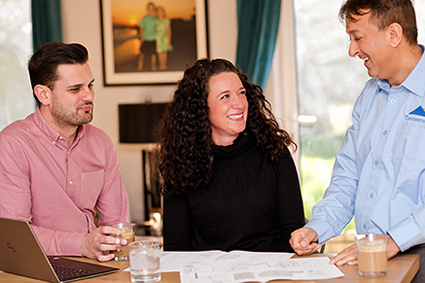 Award-winning loft conversions
We have been recognised for outstanding quality craftsmanship and excellent customer service by the Federation of Master Builders in their Master Builder of the Year Awards, Southern Region.
We are also finalists in the 'Best Loft Conversion' category in the 2020 Homebuilding & Renovating Awards.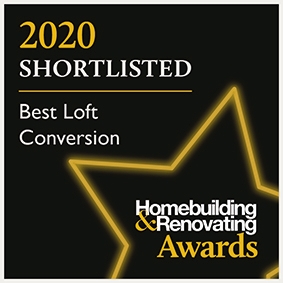 Loft conversions – helping you make the most of your home in Windsor
Loft conversions can be incredibly useful – here are some of the main reasons why.

Additional space.
If you have a growing family, or you simply could benefit from some more usable space, a loft conversion could definitely be the answer.

No need to move.
You can stay exactly where you are in Windsor whilst still benefitting from more space. It's a cheaper option than moving, what with removal costs, estate agents' commission and stamp duty.

A higher value home.
If you do decide to move in future, a loft conversion can push the price of your house up by 20%.

Better living.
You can use your new space in any way you like to improve your way of life, be it a home office, a bedroom, a bathroom, a home cinema, or something else entirely!
A bespoke loft conversion for you in Windsor
We have been creating loft conversions for 30+ years so we're in the perfect position to offer you advice and support. We will begin by putting together a design to make sure your space will fully meet your needs, and we can then give you a quote. Let us know the features you would like, including Juliet balconies, en suite bathrooms and anything else that will make your space an integral part of your home.
What can we do for your Windsor home?
Let's have a chat about how we can help you make your home in Windsor perfect for you. Call 0800 881 8194 to ask us any questions. We can arrange your design appointment and consultation.
Transform your home with a stunning loft conversion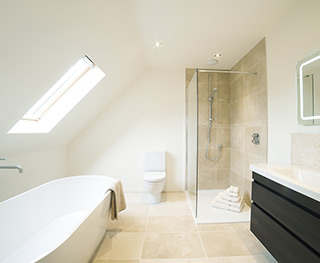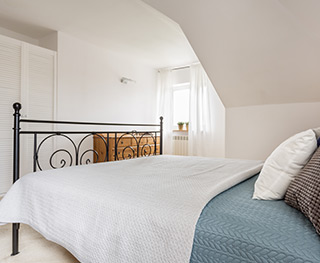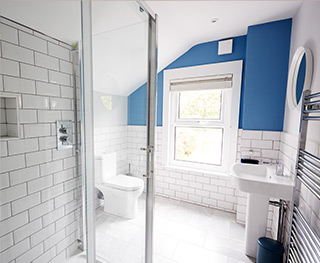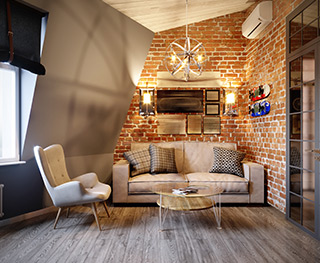 A low pitch roof doesn't need to be a problem
We work with houses and maisonettes of all shapes and sizes, meaning we're highly experienced in finding solutions. If you're concerned about having a low pitch roof, talk to us. We have even found solutions where other loft conversion companies have said there is no way they can help. Our solutions are simple too, and won't involve lowering the floor or raising the ridge height, both of which are complex processes. We even created a loft room where the original ridge height was only 2m. Find out more – call 0800 881 8194.
Managing your loft conversion project
We are designers, project managers and builders all in one, making sure your conversion process is simple, smooth and sticks to a predefined schedule. We can do everything in house, including plumbing work, electrics and heating. Your loft conversion project will be efficiently and proactively managed and you will have one single point of contact if you need to get in touch. We put our 30 years of experience to good use.
Built in storage for your loft conversion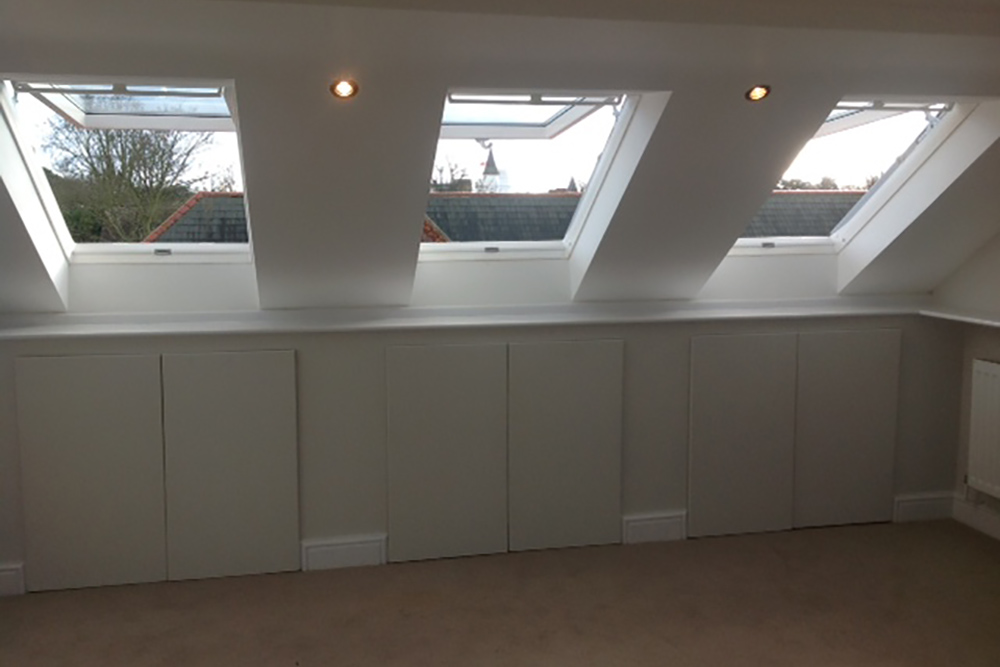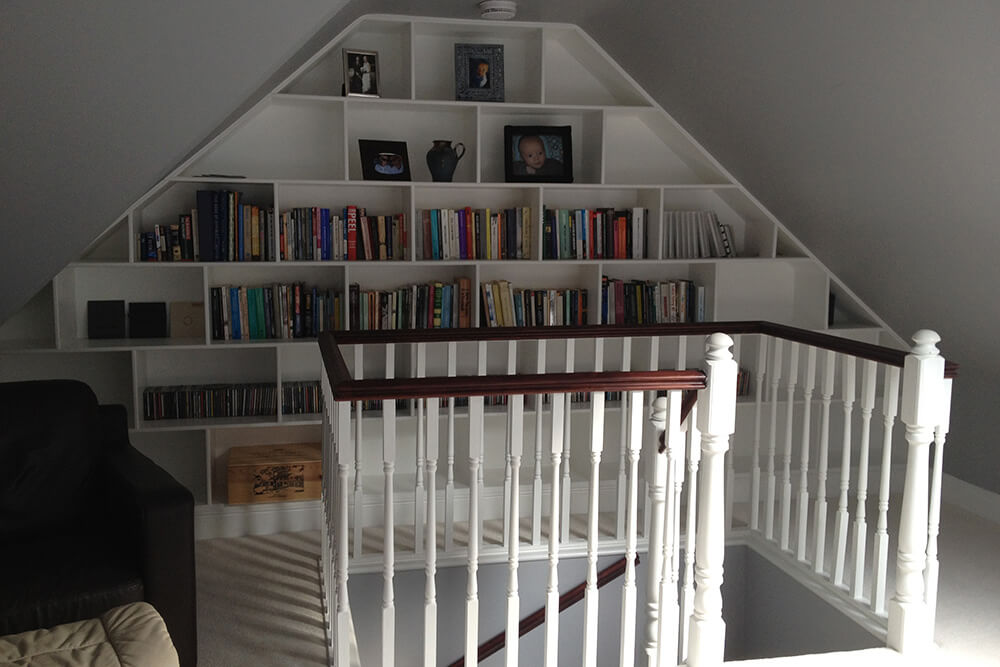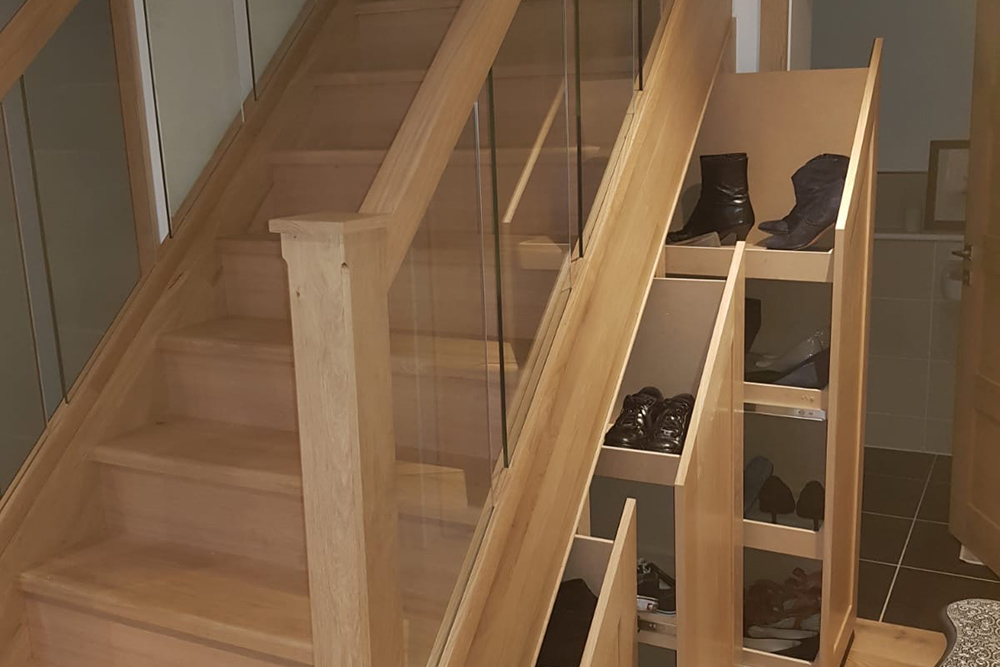 Let's get the process started
Arrange your free design consultation and get your quote. We'll create a full design for you, worth £600. Talk to us on 0800 881 8194, or send us a message.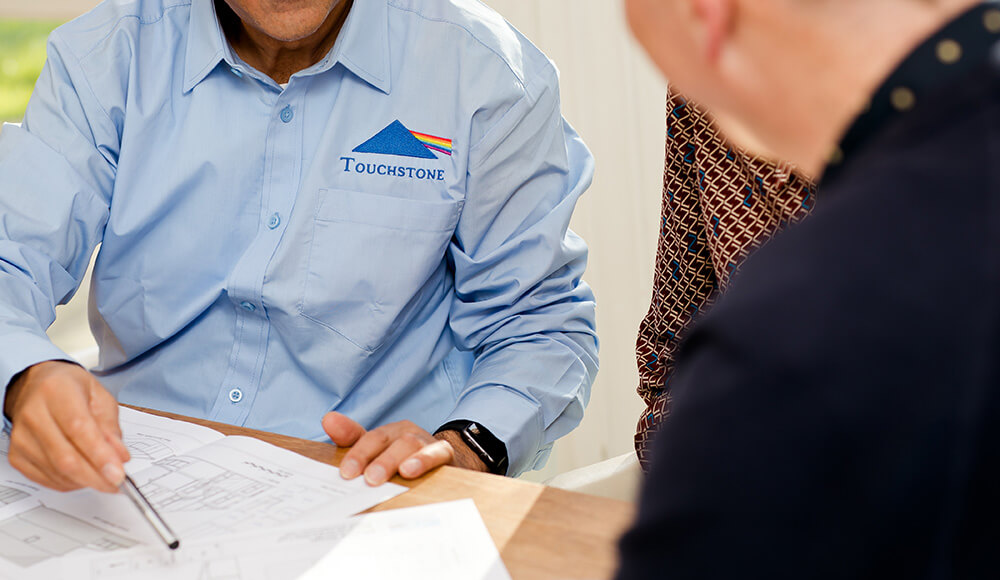 Expertise in planning applications
We can apply for planning consent for your loft conversion – we've been successful in 98% of cases so we have an excellent track record. We begin by discussing permitted development and ascertaining whether you need to go down the planning permission route. If so, we will be happy to help submit plans to your local authority and get your project underway.
Come and look at our show house
We maintain a 2,000 square foot show house with examples of the different loft conversion types. So if you've always wondered how a dormer loft would look, or you want to understand a mansard, come along to see our show house. You will learn all about the design process and the technical requirements too – talk to our team, who will be on hand to discuss your conversion project over a cup of coffee. You can see examples of loft conversions being used in many different ways to help you make your final decision. Please book by calling 0800 881 8194.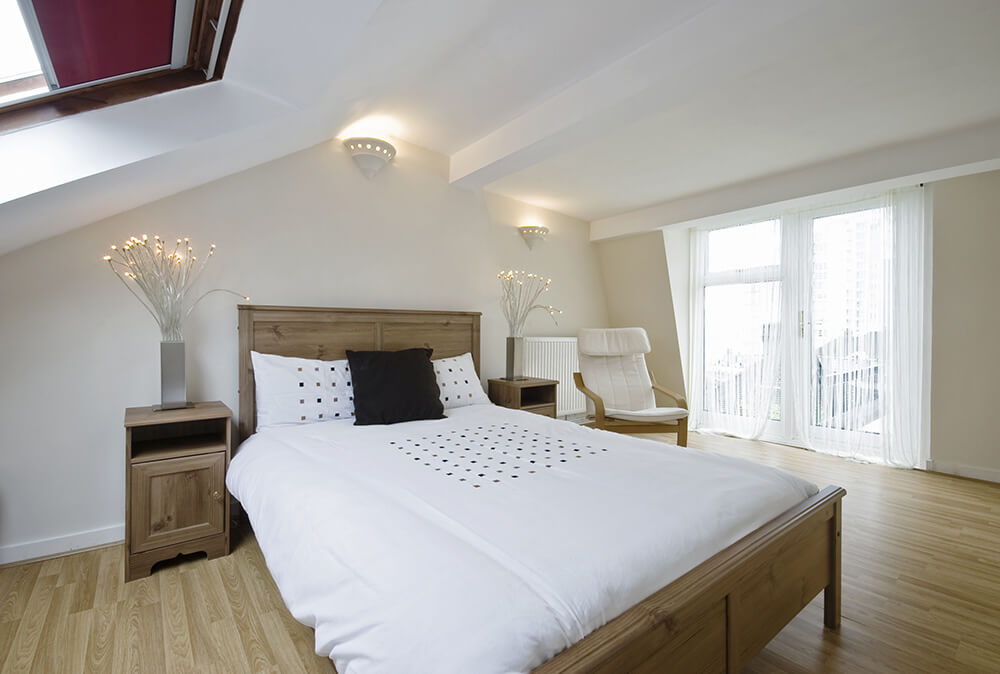 Everyone loves our loft conversions…
…including your neighbours! We think carefully about the placement of windows, about skylights, about the roof tiles we use, and anything else that might be relevant. Considerate designs mean happy neighbours, so projects can move forward on schedule. If required, we can also help you with Party Wall Agreements.
How long does a loft conversion take?
Depending on the size and type, most loft conversions take around 12 weeks.
Will I need to move out during the project?
No – it's safe to carry on living inside the property. We work from the scaffolding before the stairs go in. Any disruption you experience will mainly come from noise.
Where will you place our new staircase?
We will be able to fit your staircase around your existing layout and will find an option to suit you. If possible, we will try to fit your new staircase over the existing staircase so that it fits seamlessly within your property.
Do I need planning permission for a loft conversion?
This depends on your location and type of property – all flats require planning, but if you live in a house that isn't in a designated area, then permitted development is usually used and no planning is required. There are many other factors to take into account and one of our surveyors can advise further.
How much does a loft conversion cost?
Most cost between £30,000 and £50,000. This depends on the size and type – bigger and more complicated jobs take longer and therefore will cost more. See pricing information for further details.
What is a party wall agreement and do I need one for a loft conversion?
A party wall agreement (PWA) is required if you have a semi-detached or a terraced property and you are working within or near your neighbour's boundary. We can advise when the surveyor visits.
Does a loft conversion add value to a home?
Yes – it will add from 20% to 30% upwards depending on the size, design and type.
How much head height do you need for a loft conversion?
If you have a clear head height of 2m then a loft conversion may be possible. Our surveyor will need to assess this to confirm.

What's possible with your loft conversion?
These are some of the build possibilities you might want to consider for your loft conversion:
What can be achieved with a dormer loft conversion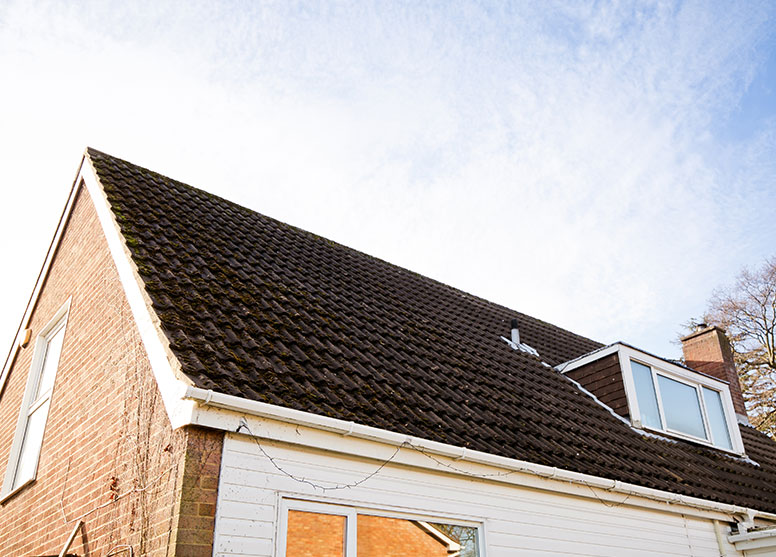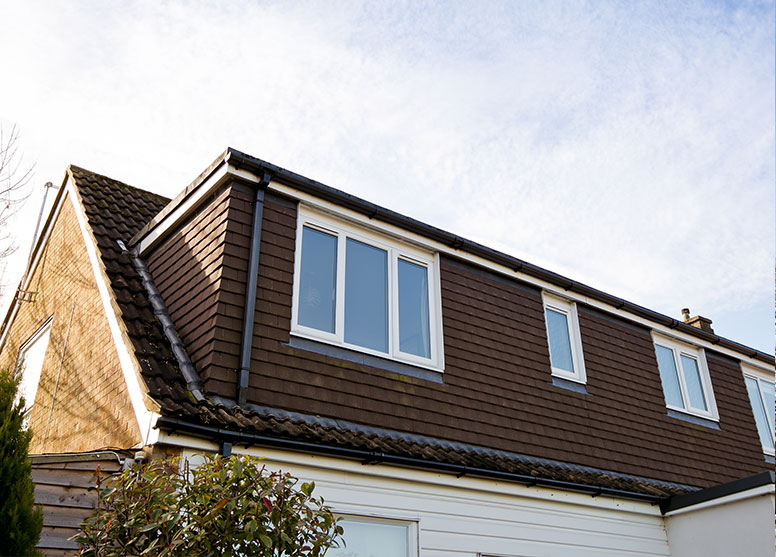 Case study Loft conversion in Windsor
The opportunity to create more space
Brief: Convert the existing loft space to a large bedroom with en-suite to create a master suite.  Sound insulation required to reduce traffic and aeroplane noise pollution.
How we can achieve a conversion like this for your home
This loft conversion was a challenging one in terms of planning as the roof had already been extended.  The surveyor and architect worked out a scheme that the customer was happy with and planning permission was submitted.
Touchstone Lofts have an excellent track record when it comes to gaining planning permission and permitted developments, in fact 98% are granted.  If you have a loft space, Touchstone Lofts can offer planning advice related to the loft conversion at your property.
Planning permission was granted for three pitched roof dormers.
The structural engineer drew up the plans for the structure of the loft conversion.  The home had been extensively extended before, so the engineer was careful to understand the structures in detail.
Headroom was maximised by lowering the steels into the floor and raising the ridge height of the dormers as much as possible within the planning permission attained.
We were also very careful with the insulation we used.  We wanted to maximise the room head height and therefore detailed calculations with the supplier and building control were taken to install the correct type.
The final loft conversion was fabulous from the inside - lots of natural light flooded in the bedroom, the landing and over the stairs. The bathroom which led off the stairs was clean and bright.  Velux rooflights fitted to the front elevation added to the natural light flowing into the loft.
The clients were over the moon with the added space and the pitched roof dormers improved the look of the property.
Specialists in home extensions
Are you considering extending your property, look no further, whether you are looking for a ground floor rear extension, side return extensions or even a double storey extensions, our 30+ years' experience in the property conversion business with service you well, take a look at our extension options here.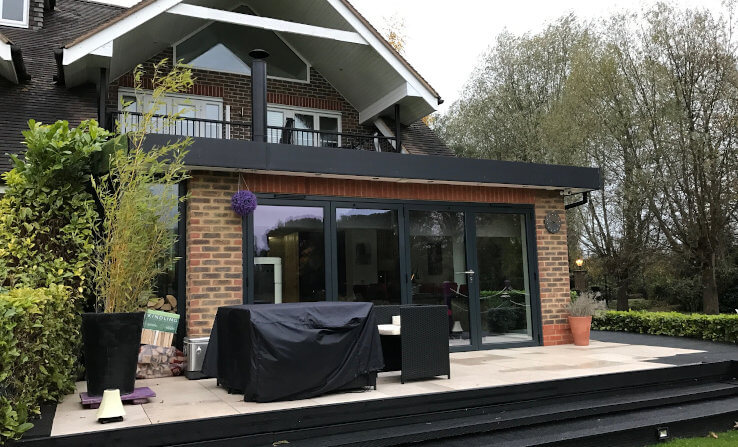 Looking to transform your loft?
Call us on 0800 881 8194 to arrange your free quote and design consultation.