Loft conversion decoration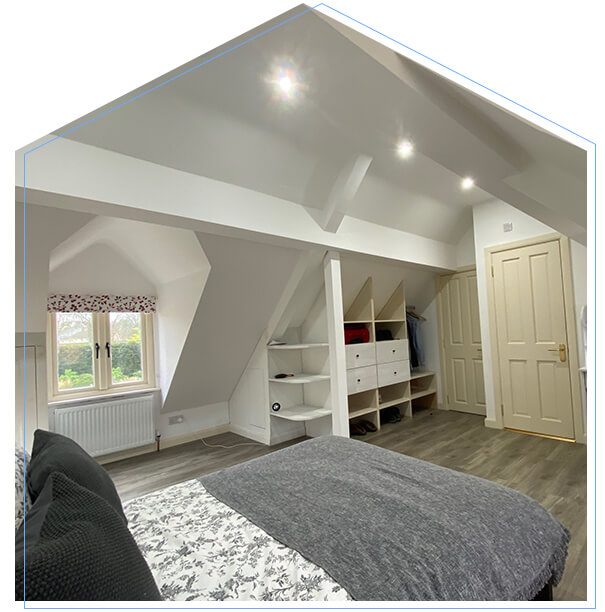 We offer a full design and build loft conversion service, which includes decoration. We create loft spaces that are ready to go, so you can begin using them as soon as we leave. Decorating adds all the final finishing touches, turning your new space into somewhere you love.
Want to talk to the experts about decorating services for your loft conversion?
Call 0800 881 8194
Loft conversion decorating services
We will design and build your loft conversion and decorate it to the highest standard, giving you a space that is perfect for your tastes. These are the decorating services we can offer you:
Wallpaper hanging
Internal painting
External painting
Plastering in preparation for decorating
We regularly complete decorating work for loft conversions – our team knows what works. We can offer you advice on colour palettes that will suit your space and can suggest ways to make it feel light and bright.
Be inspired
a consultative home decorating service
If you're considering a loft conversion, talk to us. We can take care of the process from beginning to end, from design, to build, to decoration. We begin the process with a free design appointment that's worth £600. It's a no obligation appointment, so you have nothing to lose. This is the perfect way to find out more about the process of a loft conversion, what's possible, and what we can offer you.
Claim your free design appointment today.
The most convenient way to decorate your loft space
We offer painting and decorating as part of our full loft conversion service, so you can have everything completed by one company. You can hold us accountable for the quality and finish, as all the decorators working with us have at least five years' experience. We make sure that only the most skilled, professional decorators work on our clients' loft conversions and we monitor quality very closely. You can leave us to it – there's no need to find any other contractors.
Competitively priced painting and decorating services
We always make sure our services offer excellent value for money. Our decorating services are competitively priced, making the highest-quality finish more affordable. Many people want to decorate their own loft conversion, but the truth is, it's a difficult task and you will never achieve the same quality as a professional. We give you access to professional painting and decorating services, without you having to pay over the odds.