Specialist loft conversion company in Richmond, Touchstone Lofts
Over 1,000 lofts converted since 1989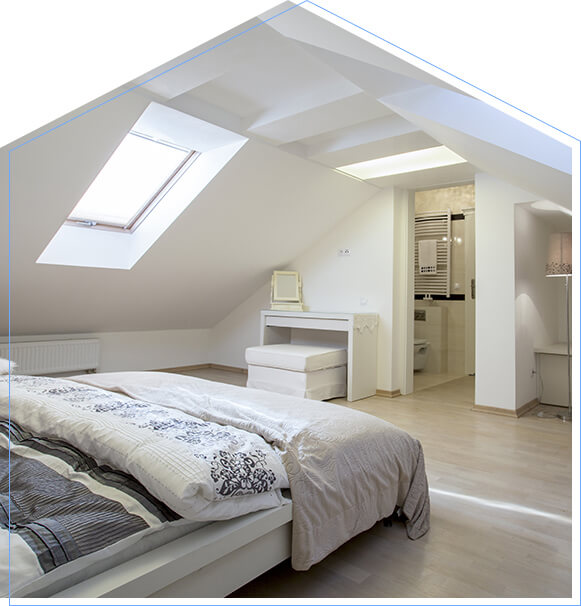 Transform your Richmond property with a bespoke loft conversion that is designed with your property and requirements in mind. We've been working on properties throughout Richmond for years and have covered the entire area from the Richmond Theatre down to the RSPCA Monument. Having spent plenty of time in the area, we've built up a solid understanding of the homes in Richmond and the requirements of their owners. Our loft conversions can be found within homes on a number of local roads, including Lichfield Terrace, Princess Road and Grena Road.
If you live in Richmond and you're interested in converting your loft, call us on 0800 881 8194 to arrange a free quote and design consultation. We are loft conversion specialists who can help your property achieve its full potential.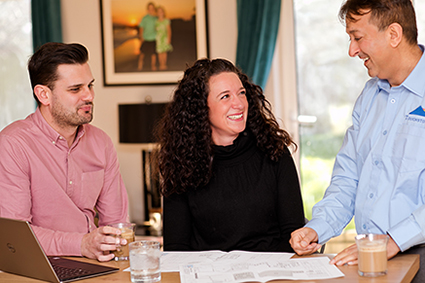 Award-winning loft conversions in Richmond
We have been recognised for outstanding quality craftsmanship and excellent customer service by the Federation of Master Builders in their Master Builder of the Year Awards, Southern Region.
We are also finalists in the 'Best Loft Conversion' category in the 2020 Homebuilding & Renovating Awards.
How can we transform your Richmond home with a loft conversion?
We have more than 30 years' experience in the industry and during that time we have built a reputation for the excellent quality of our work. All our loft conversions in Richmond are bespoke and are designed to fulfil the needs of you and your property. From the outset we'll sit down together to establish all the technical requirements for your loft conversion in Richmond, discussing everything from the location of skylights and storage, through to insulation requirements and fire safety measures. We make sure that everything is clear from the start so that you receive the result that you deserve.
Want to find out more about a loft conversion in Richmond?
If you're interested in a loft conversion in Richmond, get in touch and ask us any questions – we're always happy to help. Call 0800 881 8194 or send us a message.
Transform your Richmond home with a stunning loft conversion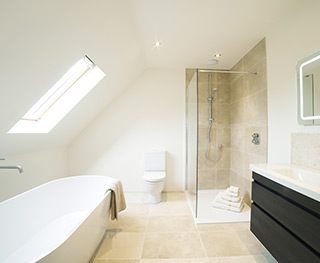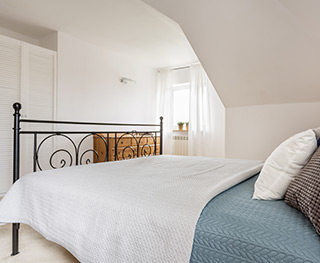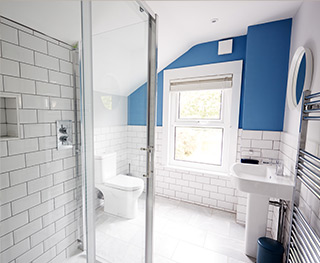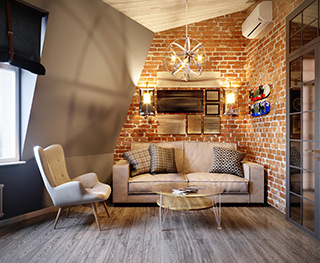 Why should you convert your loft in Richmond?

Maximise your space
Make sure that you're getting the most that you can from your Richmond property. Whether you have a growing family or you've recently downsized and you're adjusting to life in a smaller home – there's always a reason to convert unused space into additional living space with a loft conversion. Your loft has the potential to be used for a lot more than just storing boxes.

Add value to your home
Converting your loft in Richmond allows you to invest in the future of your home and family, creating the living space that you need and making your home a more attractive option for potential buyers. On average, a loft conversion in Richmond adds 20% to the value of a home, meaning that there is a significant financial benefit if you're planning to sell your property in the future.

Cost-effective upgrade
Choosing a loft conversion in Richmond allows you to upgrade your home without incurring the considerable costs that are associated with moving to a new property, such as estate agents, stamp duty, legal costs, or the home improvements that would make your new house into a home. Plus, there's no need to leave the area that you love.

Enhance your home
Creating a new living space within your home is a fantastic opportunity. Transform the wasted space above your head into an office, home cinema, or a guest bedroom for your friends and family. You could even take advantage of the superior views that come from the increased height by giving yourselves the best bedroom in the house.
How can we help with your Richmond loft conversion?
Our one stop loft conversion service in Richmond covers every stage of the process. From planning and design, through to the completion of the build, we'll put our expertise to use when creating the ideal loft conversion for you and your Richmond property. Your project will be managed by us throughout the process, giving you peace of mind that there's an expert hand keeping things on track and providing a convenient point of contact for any questions. And, because all our work is completed in-house, you'll know that all the electrical, plumbing and heating work will be completed to our high standards.
Storage inspiration for loft conversions in Richmond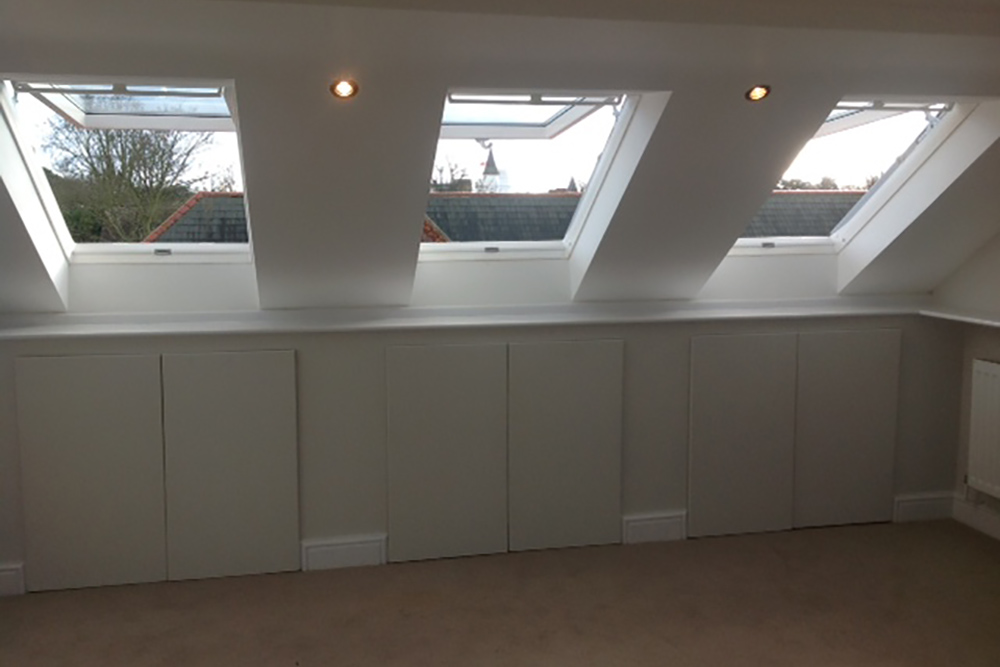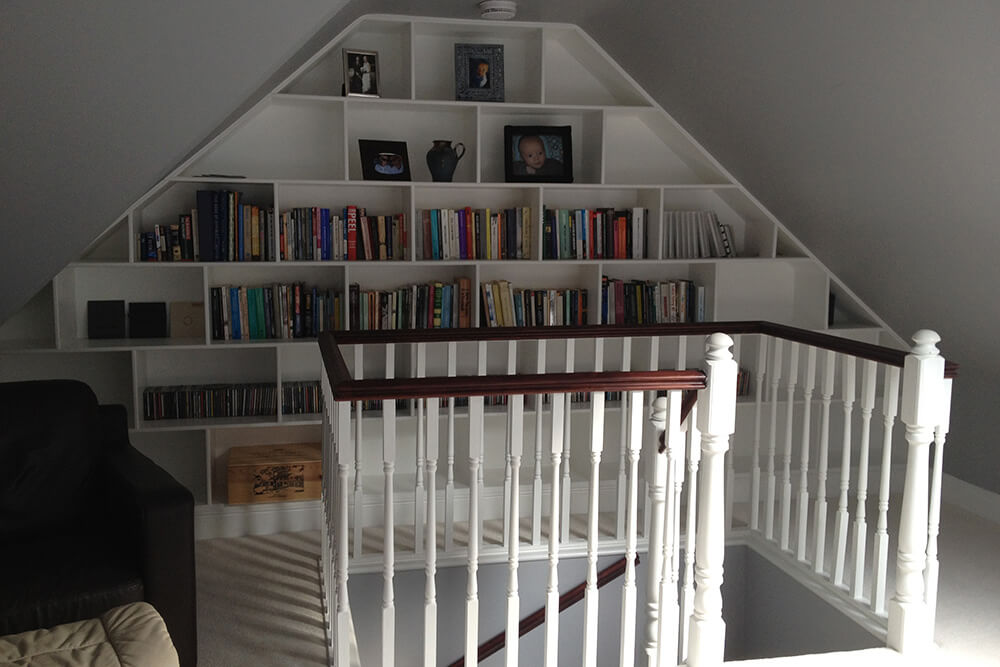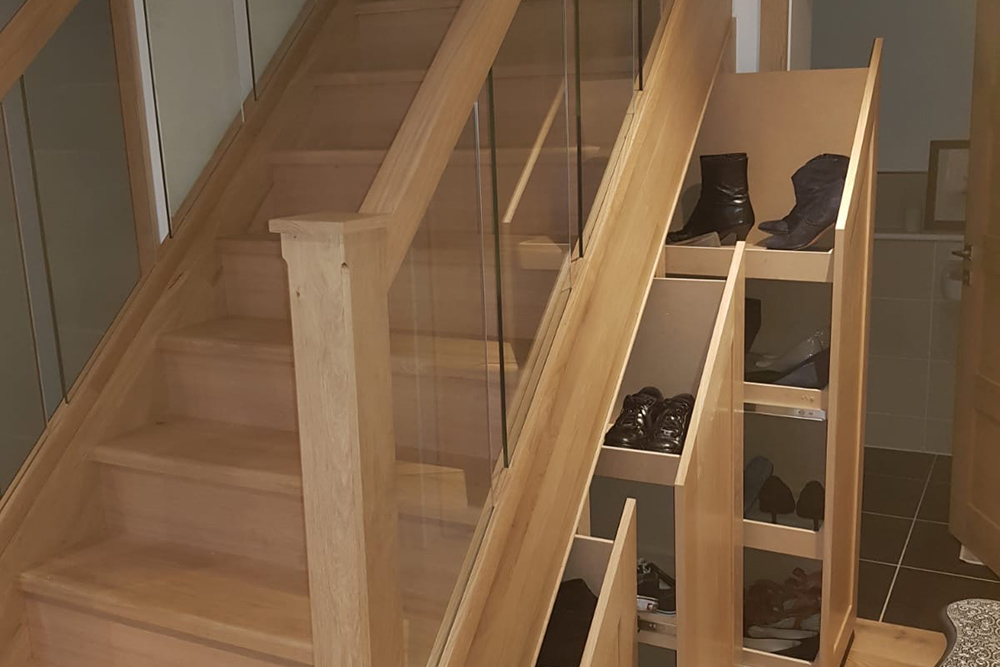 Arrange your free quote and design consultation
We can design and build the perfect loft conversion for your Richmond home. Call 0800 881 8194 or send us a message to get started. Every consultation includes a free, no obligation design for your loft conversion that would normally be valued at £600.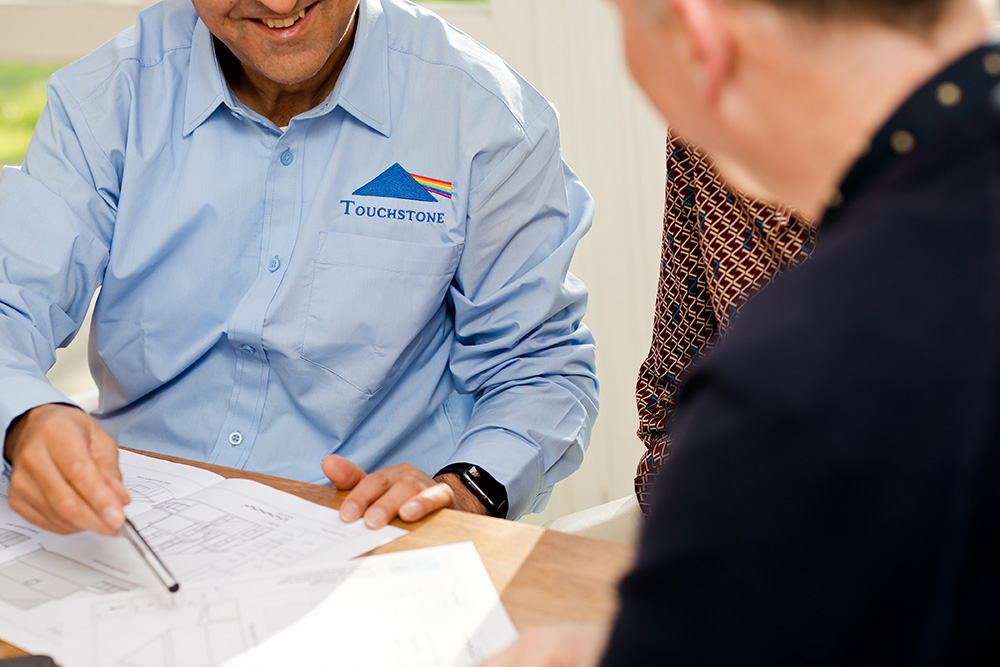 Worried about your low pitch roof in Richmond? We have the answer
Where others can't find a way to create a building regulations compliant living space within the void of your loft, we can. We're experts in converting low pitch roofs in Richmond without resorting to raising the ridge height or lowering your floor. These options are highly disruptive and, depending on your property and the rules of your local council, may not even be possible. Our expertise has allowed us to successfully convert roofs where the initial ridge height was only 2m.
To see what we can do for your low pitch roof in Richmond, arrange your free quote and design consultation by calling 0800 881 8194. Each consultation is carried out by an experienced surveyor and includes a free, no obligation design that would normally be valued at £600.
Why choose Touchstone Lofts to work on your loft conversion in Richmond?
More than 30 years' experience
We are loft conversion specialists in Richmond who will achieve the results that you require. As a team, we have the skills and experience to make a success of projects that other companies would struggle with; we're particularly adept at converting lofts in Richmond that have challenging space restrictions. For more than 30 years we've helped people to transform their lofts into beautiful living spaces – can we help you as well?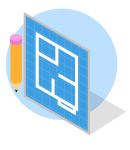 One stop service
Your loft conversion project in Richmond will be overseen by a dedicated project manager who will ensure that all our work progresses smoothly and causes minimal disruption. We're able to carry out all the work in-house, removing the need to worry about finding other trades and guaranteeing that everything will be completed to our high standards.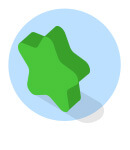 Expertise
We know exactly how to achieve the results that our customers require. Our team has a 98% planning success rate, saving you from the time and stress that planning complications cause. We are industry experts with the skills needed to secure planning permission, assist you with Party Wall Agreements, and make sure that your loft conversion is fully compliant with building regulations.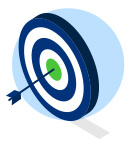 Design focus
We'll make sure that your loft conversion enhances the appearance of your home, inside and out. All our projects are carried out with a focus on design from the very start, guaranteeing that every loft conversion that we build blends seamlessly into its surroundings. You can depend on us to provide a stunning result that impresses your family and keeps your neighbours happy.
Explore our show house
We understand that choosing to convert your loft in Richmond is a major decision, that's why we won't let you go into it blind. Visit our show house and explore the different options that we have available first-hand, including storage, bathrooms, Velux windows, staircases and many more. With 2000 square feet of display space, you'll be able to get up to speed with every aspect of your loft conversion. To find out more details and to enquire about booking an appointment, call us on 0800 881 8194.
How long does a loft conversion in Richmond take?
Depending on the size and type, most loft conversions in Richmond take around 12 weeks.
Will I need to move out during the project?
No – it's safe to carry on living inside your Richmond property. We work from the scaffolding before the stairs go in. Any disruption you experience will mainly come from noise.
Where will you place our new staircase?
We will be able to fit your staircase around your existing layout and will find an option to suit you. If possible, we will try to fit your new staircase over the existing staircase so that it fits seamlessly within your property.
Do I need planning permission for a loft conversion in Richmond?
This depends on your location and type of property – all flats require planning, but if you live in a house that isn't in a designated area, then permitted development is usually used and no planning is required. There are many other factors to take into account and one of our surveyors can advise further.
How much does a loft conversion in Richmond cost?
Most cost between £30,000 and £50,000. This depends on the size and type – bigger and more complicated jobs take longer and therefore will cost more. See pricing information for further details.
What is a party wall agreement and do I need one for a loft conversion in Richmond?
A party wall agreement (PWA) is required if you have a semi-detached or a terraced property and you are working within or near your neighbour's boundary. We can advise when the surveyor visits.
Does a loft conversion in Richmond add value to a home?
Yes – it will add from 20% to 30% upwards depending on the size, design and type.
How much head height do you need for a loft conversion in Richmond?
If you have a clear head height of 2m then a loft conversion may be possible. Our surveyor will need to assess this to confirm.

What's possible with your loft conversion in Richmond?
These are some of the build possibilities you might want to consider for your loft conversion:
What can be achieved with a dormer loft conversion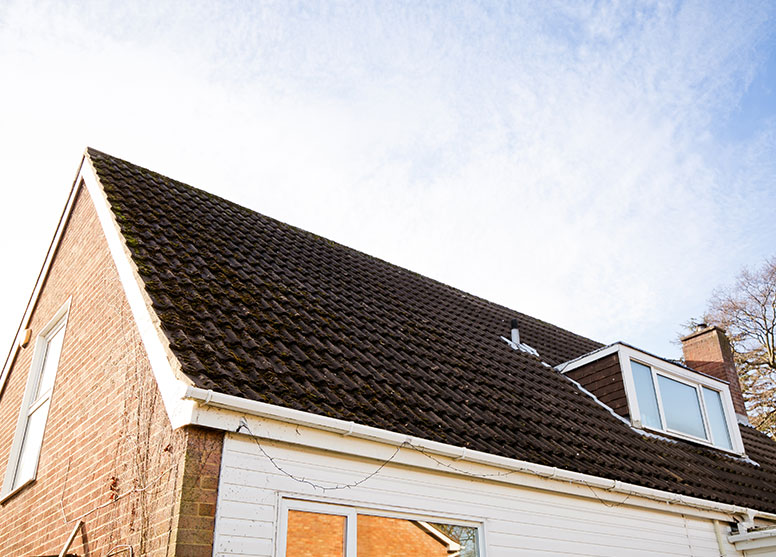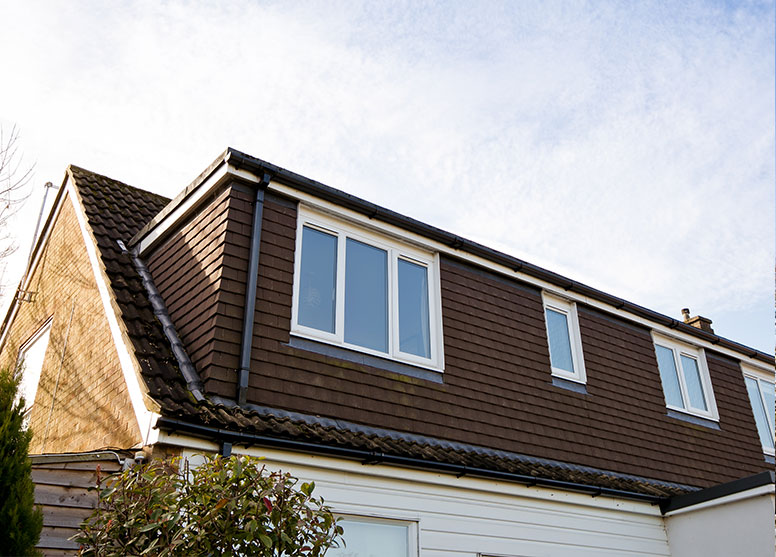 Case study Loft conversion in Richmond
The opportunity to create more space
The brief: the client wanted an L-shaped loft conversion… once we had told him this was possible and he had more space than he thought!
How we can achieve a conversion like this for your home
The surveyor arrived at the home and was asked for a loft conversion and a simple en suite. The surveyor carried out his survey and explained to the client that there was easily room for an L-shaped loft conversion.
The accommodation would be two room and an en suite.
The client was not aware of the possibility for the extra rear loft space that could be added.
The architect sketched out some plans which showed that a staircase and the three rooms was easily achievable.
The other bonus was that this could be built under permitted development.
As this property was not in a conservation area, and the property had all its permitted development rights, the loft conversion could be carried out after submitting a letter or lawful development to the Richmond planning department.
The letter of lawful development arrived eight weeks later confirming that the loft conversion could be built as we had presented it in the plans.
The structural engineer prepared plans and calculations ready for the construction team. Then, the scaffolding was erected, and the materials, including the steels, were delivered by crane, directly onto the scaffold. The construction team arrived and fitted the steels first, then they completed construction on the floor structure.
Following this, they built the rear dormer and cladded it in natural slate. Insulation was then fitted to the walls and ceiling. The materials we used for the installation were called Ecotherm and Recticel, polyisocyanurate or PIR. These have low thermal conductivity and thus little heat is lost from the loft. They also prevent the loft heating up in the summer months, as they reflect the heat from the slates when they get hot. We used Rockwool for the floor as this has insulating, soundproofing and fire-retardant properties.
The stairs were fitted after the design had been agreed with the customer, then plumbing and electrical teams carried out their first fixing. Following this, we fitted Gyproc plaster boards to the walls and ceilings, followed by the plastering team carrying out their work. The second fixing was completed by the electrical, plumbing and carpentry teams, and we also looked after the decorating contract.
The customers were delighted with the L-shaped loft conversion. They had gained the largest master suite with en suite, and had also gained a spare bedroom, 3 metres x 2.5 metres, a room which they never even knew they could have.
Specialists in home extensions
Are you considering extending your property, look no further, whether you are looking for a ground floor rear extension, side return extensions or even a double storey extensions, our 30+ years' experience in the property conversion business with service you well, take a look at our extension options here.