Specialist loft conversion company in Leamington Spa, Touchstone Lofts.
Over 1,000 lofts converted since 1989.
Are you looking for a way to expand upon the space within your Leamington Spa home, but external space allowance just isn't on your side? Here at Touchstone Lofts, we have the perfect solution for your expansion needs.
With over 30 years of specialist experience in loft conversions, we have had the ability to transform homes throughout the UK, including those in and around Leamington Spa, from Cubbington to Tachbrook Mallory.
Our entire team are experts in design and delivery and work by combining your bespoke requirements with our expert tools and techniques, producing an expansive loft conversion within the perimeters of your home.
Whether you opt for a master bedroom with en-suite and dressing area, a games room for the kids, a home cinema for the whole family or the rising popularity of a home office, the options are endless whilst the level of quality will never waver from anything less than exceptional.
No matter the age, shape or size of your Leamington Spa property, allow it the to reach its full potential with the aid of our award-winning Touchstone Lofts conversion team and high-quality end-to-end services.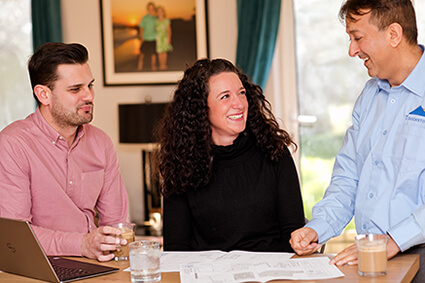 Award-winning loft conversions
We have been recognised for outstanding quality craftsmanship and excellent customer service by the Federation of Master Builders in their Master Builder of the Year Awards, Southern Region.
In addition, we are proud to have been recognised as finalists in the 'Best Loft Conversion' category in the 2020 Homebuilding & Renovating Awards.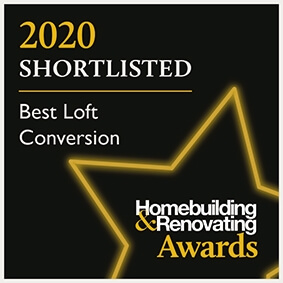 A loft conversion for Mr & Mrs Luigi's Leamington Spa home
Mr and Mrs Luigi were seeking a loft conversion for their detached Leamington Spa property. The floorplan requirement held the request for a large, master-suite bedroom, dressing room and en-suite shower room, pointing us towards a rear dormer loft conversion solution.
The construction took place throughout 2020's first lockdown and so additional safety precautions were taken with external scaffolding erected and a portaloo pitched in the front garden, allowing us to restrict customer contact, whilst face coverings were worn whenever entry into the property was required.
Throughout the entire project, a buildings regulations officer was assigned to oversee the conversion with three separate, sporadic visits, allowing them to confirm that all works carried out were remaining in line with building regulation standards.
The plans for the rear dormer were prepared by the architect before having them sent off for confirmation of planning approval under permitted development guidelines. Once the conversion was certified, the structural engineer prepared plans for the construction team who arrived on site to fit steels (two in the floor and one for the ridge beam), and the dormer's structural flooring.
This allowed the fixture of the front roof supports to take place, before Rockwool insulation was fitted within the internal walls and flooring for sound and fire protection, as well as heat retention.
The insulation laid within the roofing consisted of Ecotherm and Recticel Polyisocyanurate (PIR), ensuring effective internal heat retention took place, whilst also reflecting external heat, preventing the loft conversion from collecting excessive heat throughout the warmer months.
The team of plumbers and electricians carried out their initial fixings before we secured the Gyproc plasterboards which were professionally plastered by the plastering team. The electricians then returned for their secondary fixings, adding recessed, dimmable downlighters in the ceilings and sockets with USB charging points where required.
As a Gas Safe registered company, we were able to complete an entire plumbing system change over to account for a new boiler with an unvented cylinder, whilst the plumbing team added radiators and wooden flooring was laid by the carpenters.
Mr and Mrs's Luigi were "over the moon" with the conversion process and the completion of the high-standard dormer itself and recommended us to their neighbours, one of which who has since hired our services for the conversion of their own Leamington Spa home.
Claim your free loft design appointment
Claim your free design appointment today – you've got nothing to lose! It's worth £600, but we offer this service for free, with no obligation. Discover the possibilities, explore your options and find a loft conversion that will suit your way of life and your Leamington Spa home. Contact us to set up your free appointment.
You can either call us on 0800 881 8194, or complete the form below:
Types of loft conversions Leamington Spa homes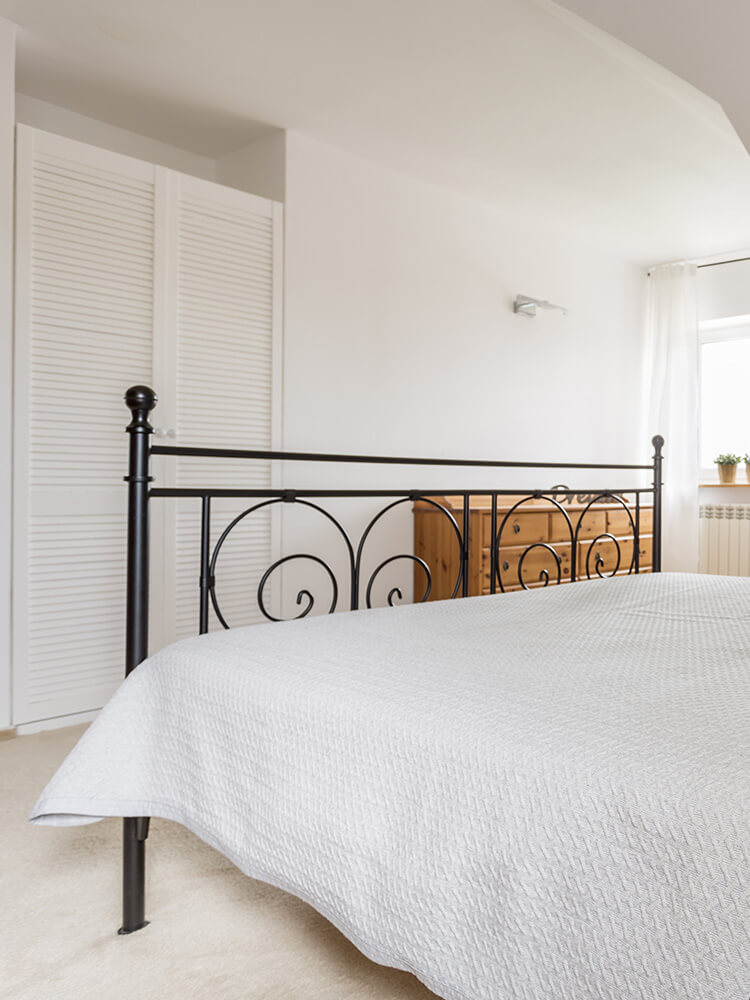 Why should you consider a Touchstone Lofts loft conversion for your Leamington Spa home?
When it comes to expanding upon the space within your Leamington Spa property, choosing the right company with the highest quality skills and knowledge can feel challenging. Here at Touchstone Lofts, we can ease this decision for you. Our all-round team consist only of qualified specialists in all trades, from build and installation through to plumbing and carpentry, so you can depend on us to manage your conversion project end-to-end.
Our level of quality, displayed both throughout the construction and post-completion, is just one of the factors which sets us apart from others in our field. We can guarantee that our team will provide your home with nothing less than exceptional respect and outstanding quality. We even back this confidence up with a 20-year guarantee on all loft conversion styles, allowing you to share the confidence we have in our work.
We don't do 'off-the-shelf'. We devote ourselves to each unique requirement and request to transform dream visualisations into interior realities, so don't hold back on those ideas. Put your trust in our experienced hands and we promise to create a new living space that you will cherish for years to come.
Worries about planning permission
Dreaming of your enlarged home interior can often put pressure on the practical realities which may steer people away from the entire project, such as planning permission, but here at Touchstone Lofts, we mean it when we say that we take all matters into our own hands. Our end-to-end services also include the application for planning permission. Our team withhold the knowledge required to work through any problematic areas involving building regulation requirements, no matter your location or restrictions, and have achieved a 98% success rate in gaining that all important approval.
Transform your Leamington Spa home with a stunning loft conversion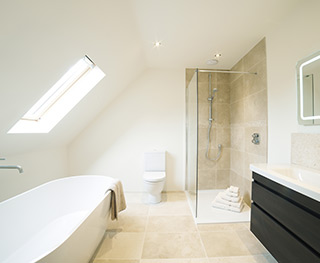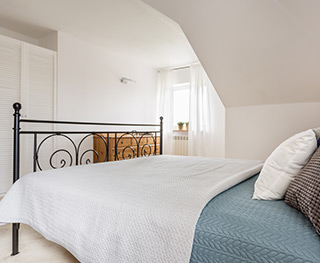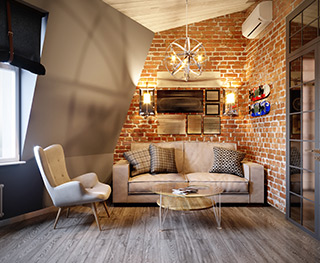 Want to convert your Leamington Spa loft?
If you have made the decision to convert your loft, but don't know where to start, give us a call on 0800 881 8194 where we will be happy to help.
Storage inspiration for your loft conversion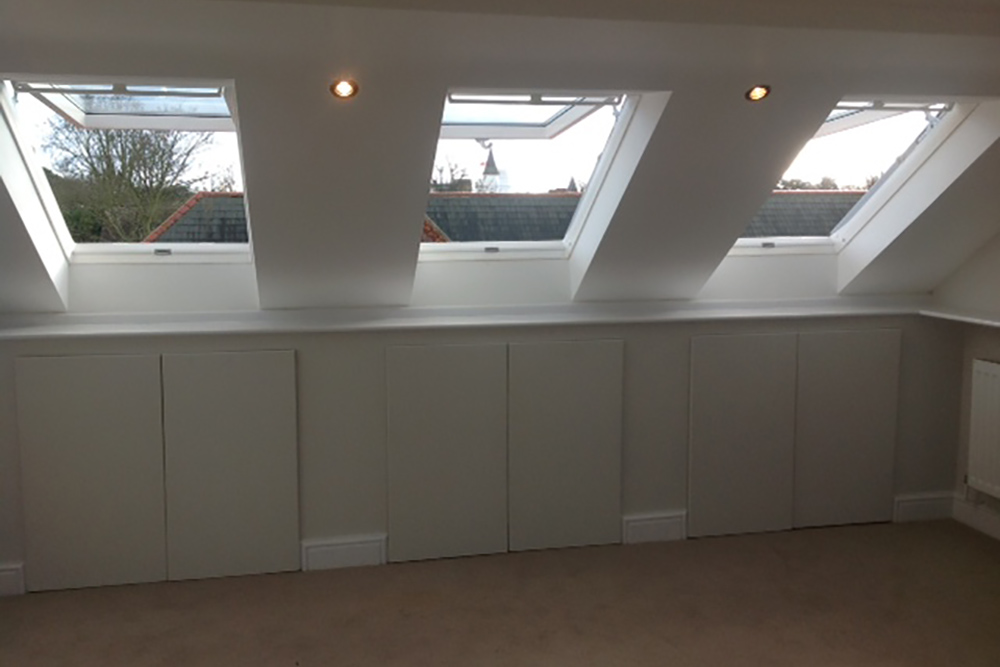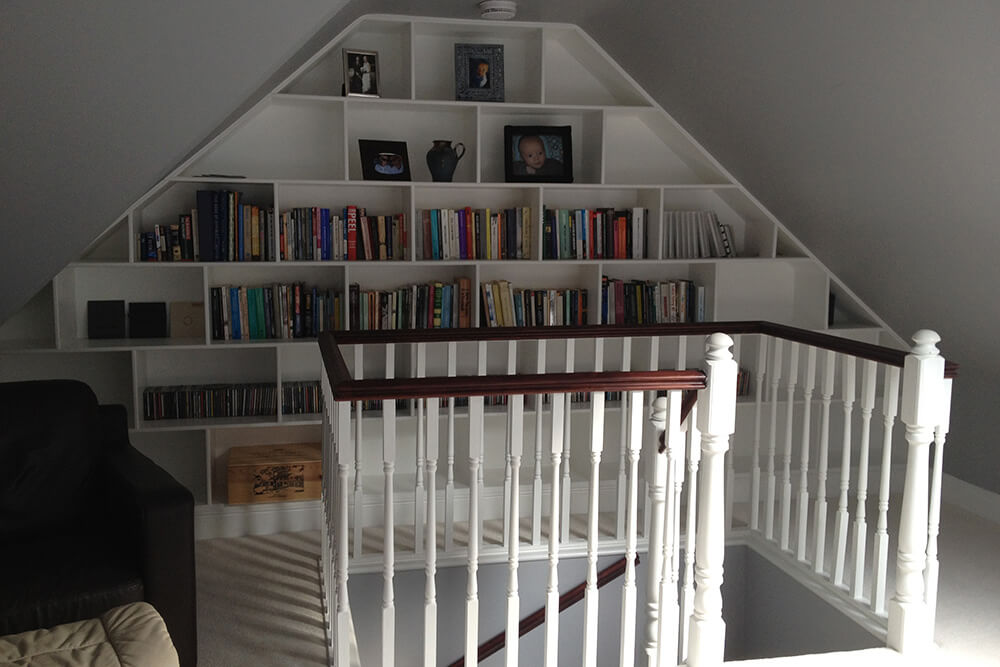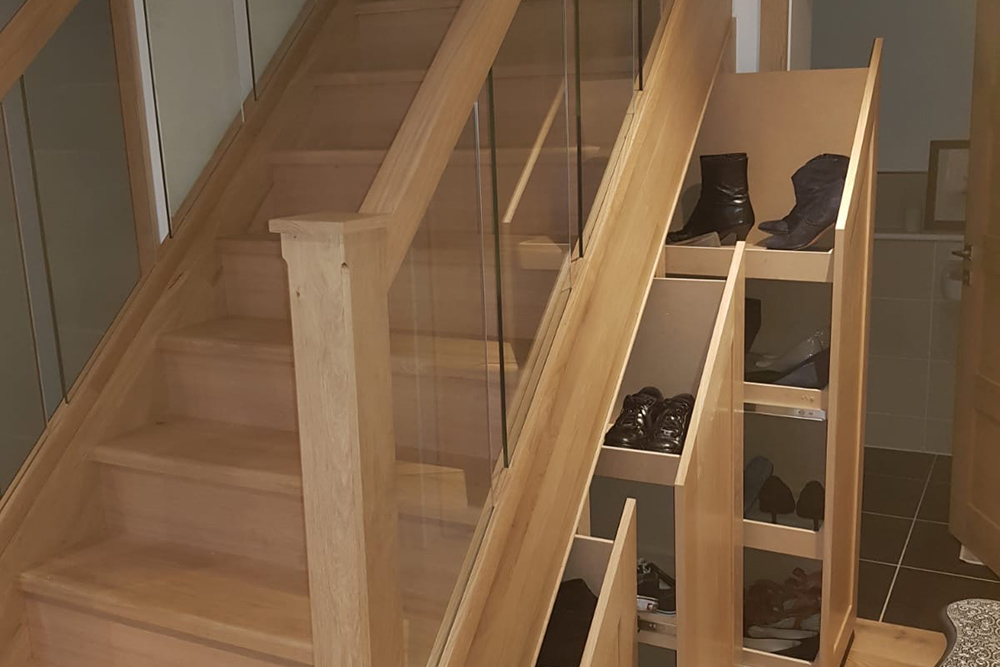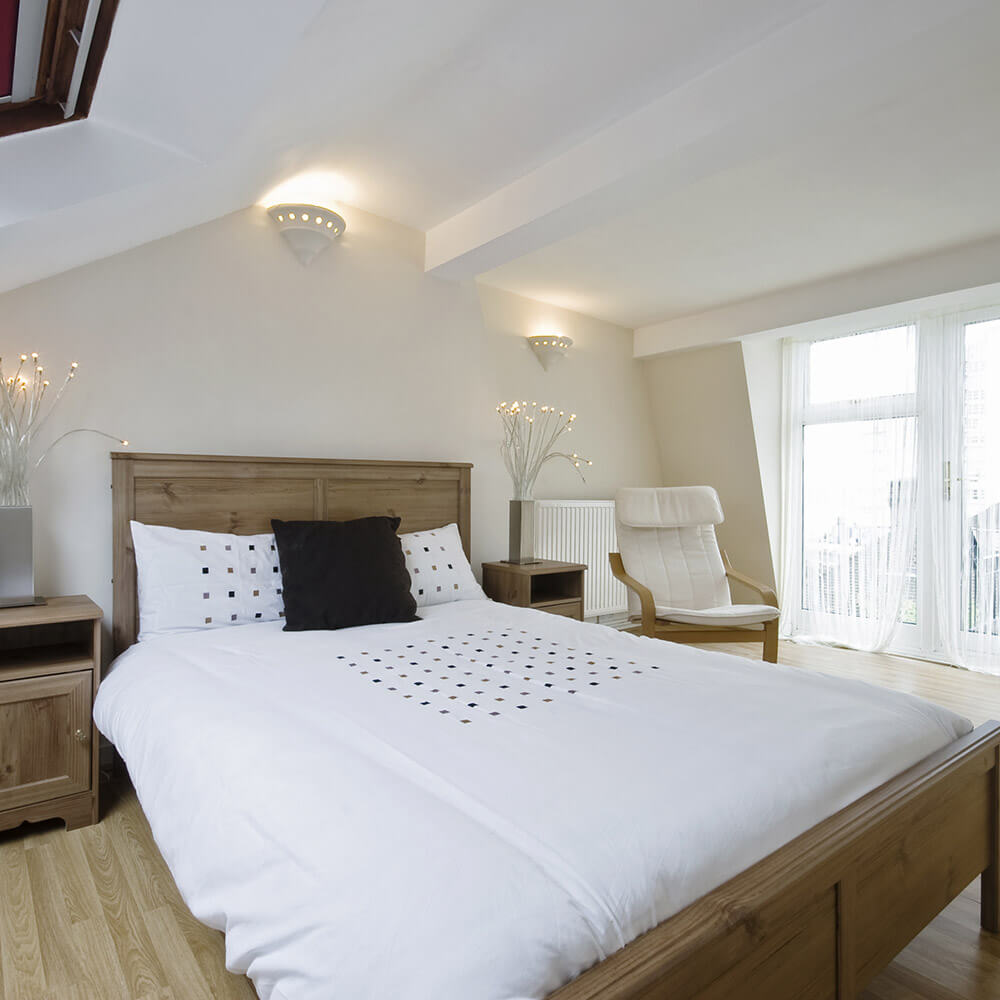 The positives of a Leamington Spa loft conversion
The timeframe to complete a loft conversion is much quicker than that of a ground floor extension as requirements for building work will be minimal due to the shell of your conversion already existing as your current loft space.
There will be minimal disruption caused to the main hub of your home and day-to-day lifestyle as construction work will be taking place on the new, top floor of your Leamington Spa property.
The levels of cleanliness that come alongside a loft conversion have proven to be the highest of al home expansion methods, as well as remaining the fastest and safest way to increase the living space within your property.
There will be no need for the blueprint of your home to be altered as you are simply building into an unused area within your already constructed property – ideal for town houses, homes with small outdoor areas or properties in conservation areas.
How long does a loft conversion take?
Depending on the size and type, most loft conversions take around 12 weeks.
Will I need to move out during the project?
No – it's safe to carry on living inside the property. We work from the scaffolding before the stairs go in. Any disruption you experience will mainly come from noise.
Where will you place our new staircase?
We will be able to fit your staircase around your existing layout and will find an option to suit you. If possible, we will try to fit your new staircase over the existing staircase so that it fits seamlessly within your property.
Do I need planning permission for a loft conversion?
This depends on your location and type of property – all flats require planning, but if you live in a house that isn't in a designated area, then permitted development is usually used and no planning is required. There are many other factors to take into account and one of our surveyors can advise further.
How much does a loft conversion cost?
Most cost between £30,000 and £50,000. This depends on the size and type – bigger and more complicated jobs take longer and therefore will cost more. See pricing information for further details.
What is a party wall agreement and do I need one for a loft conversion?
A party wall agreement (PWA) is required if you have a semi-detached or a terraced property and you are working within or near your neighbour's boundary. We can advise when the surveyor visits.
Does a loft conversion add value to a home?
Yes – it will add from 20% to 30% upwards depending on the size, design and type.
How much head height do you need for a loft conversion?
If you have a clear head height of 2m then a loft conversion may be possible. Our surveyor will need to assess this to confirm.

What's possible with your loft conversion?
These are some of the build possibilities you might want to consider for your loft conversion:
Explore our 2,000 square foot showhome
If you are curious to see how a loft conversion could work for you, visit our showhome and spark your imagination. With 2,000 square feet of display space filled with a variety of useful examples, such as staircases, bathrooms and our range of Velux windows, you will be leaving with a mind full of ideas to put into a plan for your own bespoke loft conversion. To find out more, or to book an appointment with us, call 0800 881 8194.
What can be achieved with a dormer loft conversion
Specialists in home extensions
Are you considering extending your property, look no further, whether you are looking for a ground floor rear extension, side return extensions or even a double storey extensions, our 30+ years' experience in the property conversion business with service you well, take a look at our extension options here.
Since 1989, we have converted lofts all over England, from Leamington Spa to London. To find out how a loft conversion can transform your property, call 0800 881 8194.
Our local office is based at 5 Elmley Lodge, Old Church Rd, Harborne, Birmingham, B17 0BB.