How much head height do you need for a loft conversion?
Adding another room with an en-suite or maybe two rooms to your home will change your lifestyle and allow you to stay in the home you love. If you find your ceiling height is below the required standard, don't worry, Touchstone Lofts are specialists in low ridge height conversion and we may be able to offer you a solution (even if other houses on your road haven't converted their lofts yet).
If you have been told by other loft companies or builders and particularly architects that a loft conversion is not possible because the ridge is too low, please read on to find out the minimum height required, and some possible solutions if you find your ceilings  come up short.
Minimum internal head height required
We often get enquiries from customers regarding a potential loft conversion and the ridge height in existing loft spaces. There are many questions regarding the feasibility of a loft conversion when the ridge height is low. Most loft conversions companies or builders will not entertain visiting a customer if their ridge height measures 2.4m or below. Touchstone Lofts will look at the feasibility of a loft conversion even if the ridge height is around two metres or in some cases when the existing head height is below two metres.  In our experience there are numerous options available to ensure your conversions meet the safety standards and the solution is not always lowering or raising the ridge height.
Before we consider some solutions, lets take a look at which types of loft conversions are suitable for low pitch height conversions.
Types of loft conversions suitable for low pitch roofs
If you have a low ridge height, a dormer loft conversion may still be possible and in most cases, this is essential for a good and roomy loft conversion. If the existing head height is low, a dormer will make the room, much bigger and may be essential if you want the stairs to work, or if you require an en-suite.
If the existing head is low then a rooflight dormer may be difficult or in many cases the final built loft conversion is quite small and an en-suite may be difficult to fit in.
Similar to a dormer loft conversion, a mansard loft conversion is easily possible if you have a low ridge height.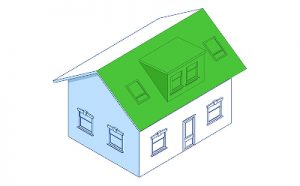 Most trussed roofs are found in new builds, or if your house was built since around the 1970's. Measuring the ridge height is critical here. A loft conversion is possible here if you have a low ridge height although the cost is higher than a non-trussed roof.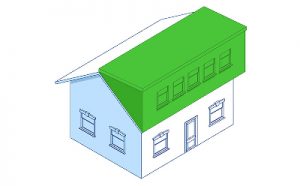 A bungalow is always a special case and these are an easier challenge to tackle if you are converting a low ridge loft space.Planning permission and permitted development
If you have your permitted development (P.D.)  intact,  a low ridge loft conversion is possible without the need for planning permission. You will only need planning permission if you are raising the ridge, that is making your roof higher.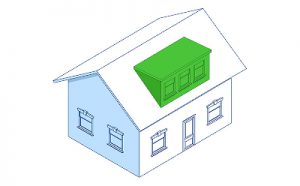 How can I ensure the height of my loft conversion meets with building regulations?
If your ceilings don't measure up to the required 2.4m here are some options to consider:
Lowering ceilings or raising the ridge
If you do have a low ridge height there are three options for you loft conversion. The first, easiest and cheapest is to have the loft conversion done within the existing structure. Touchstone Lofts may be able to do this, and we can tell you the possibility after we have been out and carried out a survey by one of our loft conversion consultants.
However, there are other solutions which include, lowering the first-floor ceiling in order to make the loft conversion ceilings higher. This will be costly and cause some disruption, the costs will depend upon the size of the property.
Another solution is to raise the ridge height of the existing roof, thus creating a much higher roof space. This will require planning permission and is only possible if your planning department allow it.
Insulation
It is vital that the insulation used in loft conversions meets current building regulations, and the right amount is used in the right location to enable the space to be safe, warm and comfortable. Over the years we have developed systems with building control to ensure the insulation we use in low ridge loft conversions complies with building regulations. Thinner insulation may not be the only solution in low ceiling height loft conversions.
Structural engineering
The structural engineer plays a critical role in low ridge loft conversions. We have developed systems together with building control over the years that work well and allow us to create loft conversions in low ridge lofts. Our structural engineer will work with the detailed measurements we take to produce a structural calculation or building control that compies with current building regulations.
Types of property suitable for low ridge loft conversion
All types of property that have low ridge loft space are suitable for a loft conversion. A terraced, semi-detached, detached, bungalow, flat or maisonette can be studied by our highly trained loft conversion consultants. contact us for a free no obligation survey.
Costs
With a low ridge loft conversion there will be slightly different materials used. These will depend on each individual case and depend very much on the type of property we are working on and the height of the loft conversion we are faced with. Different types of property and different loft heights will need appropriate solutions and we can advise on the options available to you and the costs involved for your project.
Next stage
If you have access to your loft and you can get up there safely, please measure, the best you can and, if possible, take a photo of the loft space and some of your house from the front and rear.   Please include both of your next door neighbours and the top of the roof in the shot. These can be uploaded on the online estimate request page.  Once we have this information, we can have a chat through your options.