Specialist loft conversion company in Bromsgrove, Touchstone Lofts
Over 1,000 lofts converted since 1989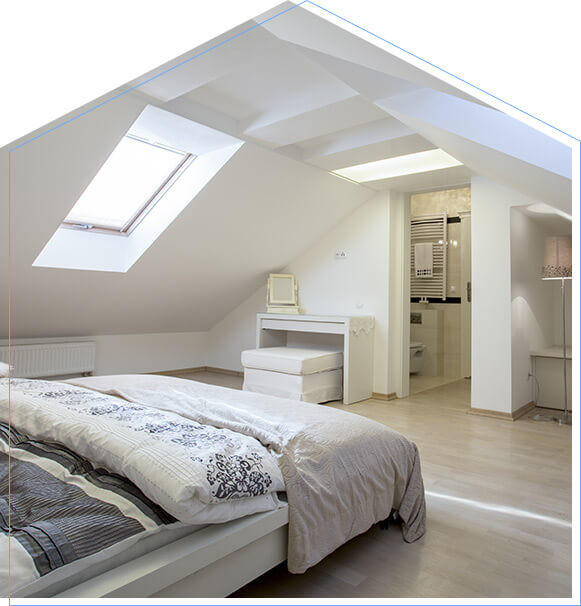 For a loft conversion in Bromsgrove completed by experts, choose Touchstone Lofts. We're a well-established and highly professional team with experience completing loft conversions of every shape and size across Bromsgrove. We have over thirty years of experience in the industry, and a reputation for producing incredible work to an amazing standard. Our customers all over the UK have been delighted with how we've transformed their property, so why not choose us for your Bromsgrove home? We work all over the local area, from Barnsley Hall Road to Redditch Road. We are a dedicated team that specialises in learning and fulfilling the specific requirements of our customers to deliver the best result possible for their home. You'll receive a custom service that will perfectly suit your needs and bring your dream design to life.
You could join our list of over 1,000 happy customers who are currently enjoying their own custom loft conversions. Our team can complete your project to the standard you deserve at a price you'll love. We consistently go above and beyond to exceed the expectations of our customers and ensure they receive the best loft conversion possible. To start your journey with Touchstone Lofts, give us a ring on 0800 881 8194 or email sales@touchstonelofts.co.uk.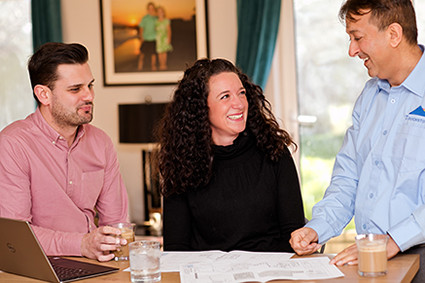 Award-winning loft conversions
We're award-winning loft conversion experts who can carry out the job to the very highest standards. Our conversions are tailored to each and every customer, so you can be sure that your needs will be met. And we always put our customers first, ensuring that they are delighted with the finished product. With a Federation of Master Builders Award under our belt, as well as being finalists at the 2020 Homebuilding & Renovating Industry Awards in the 'Best Loft Conversion' category, you know you're in safe hands with us. Our conversions are top-notch, adding space and value to your home.
Get your free loft design consultation
Our team of professional designers are excited to help you visualize your loft conversion and provide a completely free design consultation. We know that making the decision to convert your loft is a big one, so we want to make sure you have all the information you need before moving forward. Take advantage of our free consultation and full design service – usually costing £600 – and get a sneak peek at how your loft will look after we're done with it.
If you're interested in learning more about our opportunities, give us call at 0800 881 8194 or email us at sales@touchstonelofts.co.uk or fill out your contact form on this page so we can get back with some answers as soon possible!
Transform your home with an excellent loft conversion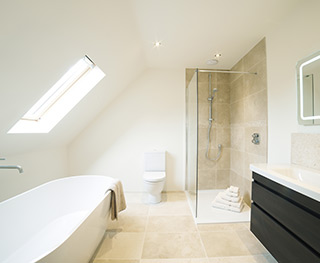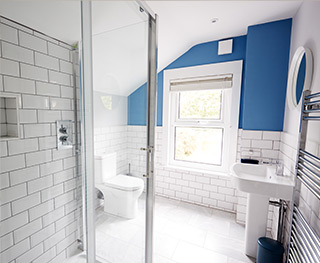 Why you should choose Touchstone Lofts for your loft conversion
Logical preparation
We take all of the guesswork out of loft conversion projects. We'll work with you every step of the way from the most complex design elements to the finishing touches. Our team will ensure that your conversion is not only attractive and functional, but also safe and compliant with all necessary standards.
Perfect planning
We offer a full planning service that takes care of everything for you, from start to finish. Our surveyors will work with you to understand your development rights, then our designers will create plans that have a 98% approval rate. Let us take the stress out of planning permission for you.
Talented team
We have a talented and experienced team who are passionate about bringing your vision to life. We'll take care of every aspect of your project, from plumbing and electrics to design and construction, so you can sit back and relax knowing that your project is in safe hands.
Extensive experience
We have extensive experience in converting lofts. With more than 30 years working in homes just like yours, we're one of the most qualified companies in the industry. Our team has the skill and expertise needed to complete your loft conversion on time and on budget.
An in-person preview
By visiting our show home, you'll be able to browse the options that are available for your loft conversion and see what we can do for you. It is a relaxed environment where you can see for yourself the incredible possibilities for your loft.
Start your project
It can be difficult to know where to start when it comes to home improvement projects. There are so many things to consider – the cost, the time commitment, the level of difficulty. We'll help you every step of the way, from planning and design to construction and completion. We have years of experience in home improvement projects, and we're excited to help you achieve your dream home.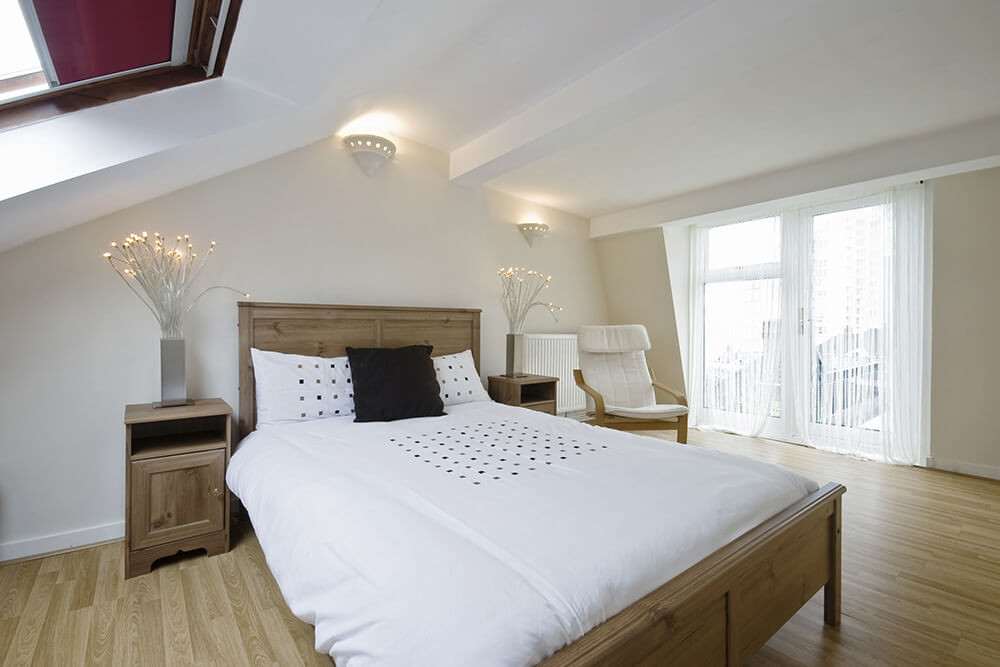 Contact Touchstone Lofts
Contact us to schedule an appointment and we'll get back to you as soon as possible. Call 0800 881 8194, email sales@touchstonelofts.co.uk or fill out our contact form so that one of our team can help guide you through the process.
Storage inspiration for your loft conversion in Bromsgrove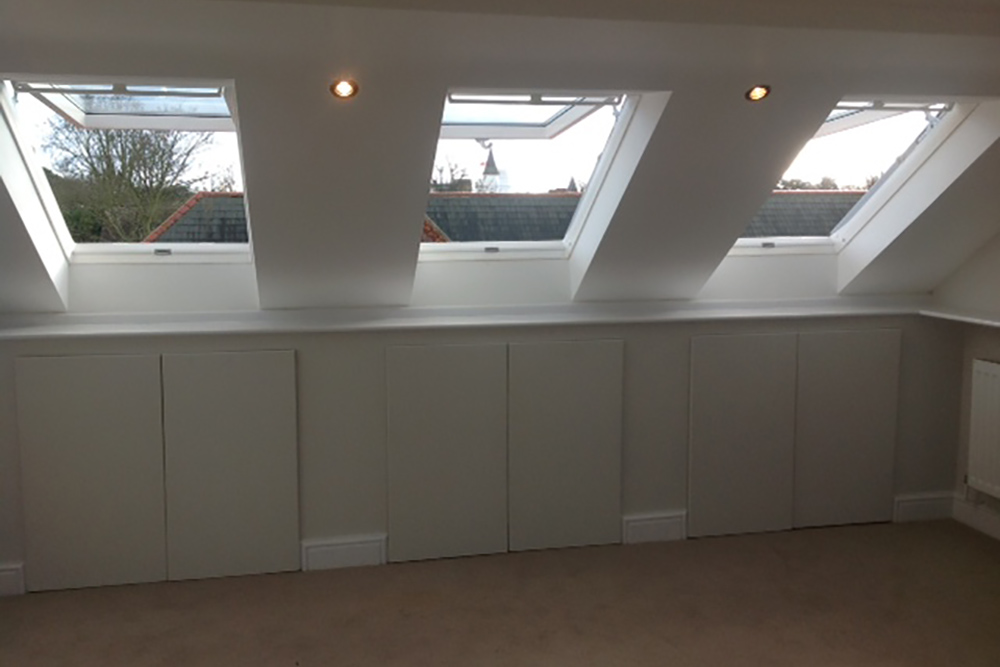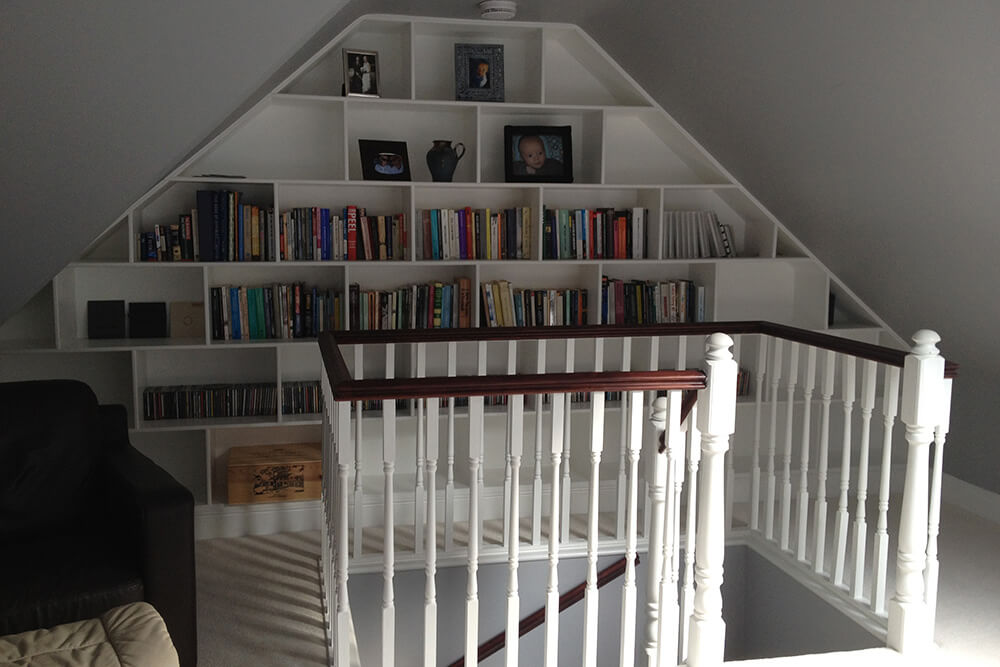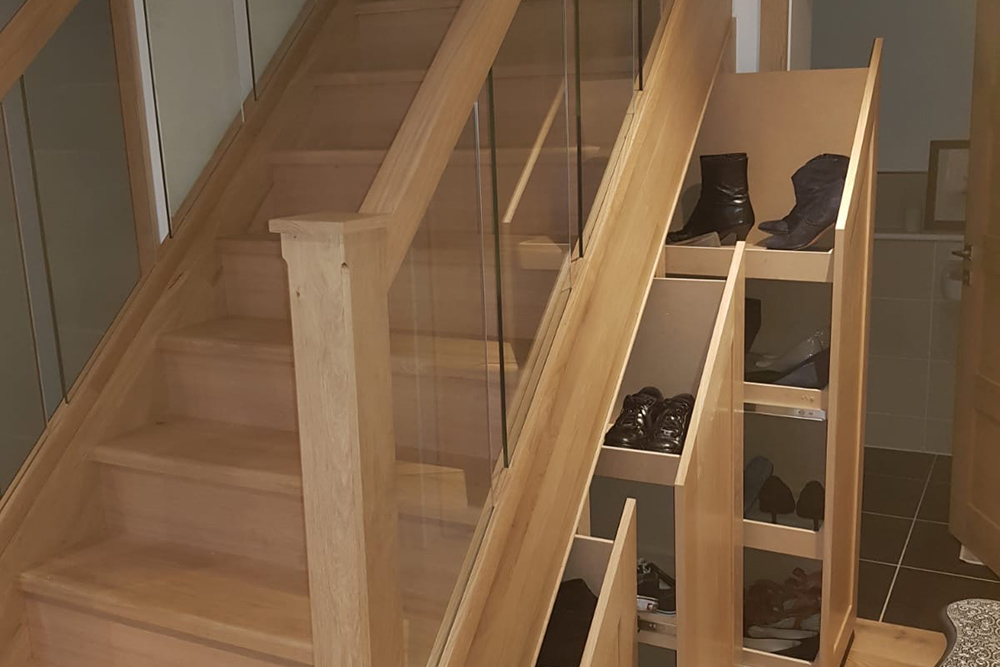 View your options at our show home
A loft conversion can be a wonderful way to add more living space to your home, but it's important to get the right information before you decide. View your options at our show home. Our real-life show home covers 2,000ft² and presents the range of options you have to choose from for your loft conversion. With over 30 years of experience in the industry, we can help you choose the perfect layout and build for your home.
What our customers want to know
Take a look at some of our most frequently asked questions to find out more about the specifics of our services.
How long does a loft conversion take?
It can take 12 weeks to complete a loft conversion. This can change depending on the size of your property and the type of conversion.
Will I need to move out during the project?
You can continue living in your property throughout the project, as long as you are prepared for some noise disturbance from the scaffolding. We will work as quickly and efficiently as possible to minimize any inconvenience.
Where will you place our new staircase?
Wherever possible, we will make sure your new staircase runs above the existing one. If this is not feasible, we'll work with you to find a solution that looks great and works for you.
Do I need planning permission for a loft?
This will depend largely on the type and location of your property. Loft conversions fall under permitted development in certain areas, so planning permission will not be necessary. However, it is always required for flats. Our team are able to help with the planning process to make sure you'll have everything ready to begin your conversion.
How much does a loft conversion cost?
The average cost for a loft conversion falls between £30,000 and £50,000. However, this price can change drastically depending on the size and type of conversion that is done.
What is a party wall agreement, and do I need one for a loft conversion?
A party wall agreement is needed if you are working within or near your neighbour's boundary. If you don't have one in place, it could lead to costly disputes and delays. Our surveyor can visit you and provide advice on whether or not you need a party wall agreement. We can also help with the process of obtaining one, so that your conversion goes as smoothly as possible.
Does a loft conversion add value to your home?
A well-designed and executed loft conversion can add from 20% to 30% in value to your home, depending on the size and type of conversion.
How much head height do you need for a loft conversion?
You will need a minimum head height of 2 metres in order for a loft conversion to be feasible. Our surveyor will be able to assess your home to check this for you.

What possibilities can a loft conversion open?
Just some of the incredible uses for your new space: