Elevate Your Home with a Loft Conversion Ensuite and Luxurious Bathroom
A loft conversion can give you the opportunity to add a new en suite to your home – an additional bathroom is highly desirable, and the vast majority of loft conversions we complete will have one. In most cases, it's a simple process to fit an en suite and you can choose from a variety of options.
Want to talk to the experts about loft conversions and en suites?
Call 0800 881 8194
En suites for convenient, modern living
En suites are versatile and practical, adding real value to your home and making your everyday life more comfortable. Various configurations are available – the bathroom can be at the top of the stairs or contained within the room as a private en suite. It's usually easiest to fit the en suite within the dormer so that there's enough head height.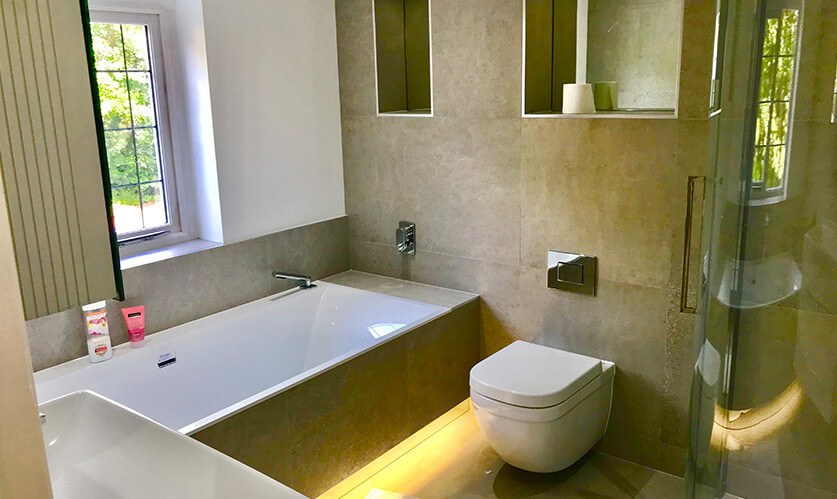 Get inspired –
start dreaming of your perfect property
Contact us today to find out all your options and ask us to add an en suite into your designs. Loft conversion designs are worth £600, but we offer them free of charge. Talk to our expert surveyors for designs, ideas and inspiration.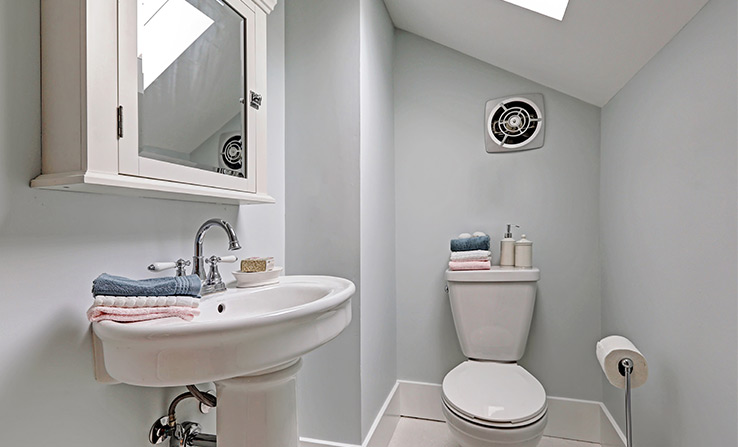 Is an en suite right for you?
An en suite will generally cost around £3,500-£5,000, depending on the size, the complexity of the work, and your chosen finish. It will cost more than a bathroom refit due to the increased plumbing requirements. Usually, we will need to extend the soil pipe and fit a waste for the shower and basin, with hot and cold feeds for the sanitaryware.
These are the minimum requirements for an en suite:
| | |
| --- | --- |
| Minimum size: | 1.2m x 1.4m |
| Minimum head height for shower: | 1.8m-2m |
Creating your perfect en suite
There are many options you can choose from for your new en suite, allowing you to make the space work around your requirements. Most en suites will have a toilet, basin and shower, with the possibility of fitting a bath if there's enough floorspace.
These are some of the key design features and options:
Wall-hung toilets and basins
You can avoid clutter by choosing wall-hung toilets and basins. Metal frames to support them can be installed in the wooden studwork voids that form the walls of the en suite.
Wet rooms
It's simple to create a wet room too – the walls and floor can be waterproofed, or a preformed tray can be used.
Rooflights and windows
In a dormer, we can fit large obscure glass windows that open for ventilation, or Velux windows with clear or obscure glass. Rooflights can also help give 150mm of important headroom above a basin or toilet.
Towel rails and electric under-floor heating mats
These can easily be installed in your en suite, and under-floor mats won't add any additional floor height as they can be positioned in the tile adhesive.
Pocket doors
You can save space by using pocket doors, which slide into pockets on the wall rather than opening inwards or outwards.
Bespoke furniture
If conventional furniture won't fit, you can have bespoke furniture made for your en suite. This is also the best way to include additional storage.
Lighting and ventilation
We use 1 Light LED lighting, which creates a bright, fresh appearance. Even if you have windows, we always recommend that we fit an extractor fan too, removing steam to prevent problems with damp.