Planning your en suite loft conversion
Extending your home upwards into the loft can be an exciting challenge.  If you are planning on throwing an en suite bathroom into the mix too, you will have a few extra decisions to make in order to maximise the space you have available.  Typically, a loft en suite bathroom means you will be working with a slanted ceiling and a modest sized space, so you will need to plan carefully where and how you will fit all your facilities without it feeling cramped and impractical.  We take a look at some of the considerations our customers often need advice on when planning their en suite loft conversion.
Will I have enough room to fit an en suite into my loft conversion?
The minimum requirements for an en suite are:
Minimum size = 1.2m x 1.4m
Minimum head height for a shower = 1.8m-2m
When thinking about the size of your en suite, try to think about it in the context of any other loft rooms which are being created at the same time.  It is common for customers to assume that a loft en suite needs to be made as small as possible, so as not to take space from any other loft rooms being created, but this does not have to be the case.  Space-saving bathrooms are an option but if the space feels too cramped (common when part of the ceiling is sloping) you may want to consider making the space larger if the adjacent room can afford it.  In our experience, many loft en suites tend to be in master bedrooms, and customers are often keen to forego a little extra bedroom space to house a luxury double basin or an oversized shower.
Do I need a new Boiler?
Touchstone Lofts are a gas registered company and can advise you on all aspects of your loft conversion plumbing and heating requirements. If you have existing tanks in your loft-space, it is generally better to have these replaced with a new combination boiler or an unvented cylinder.  The surveyor can advise you on all aspects of the changes required for these systems, if any, for your loft conversion.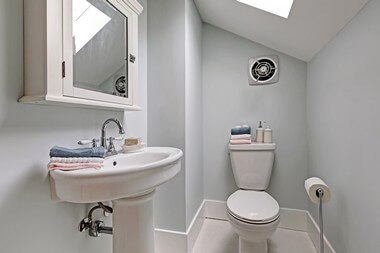 Prioritise plumbing
When considering the layout of your loft en suite, you should be guided by your plumbing.  The bathroom can be located anywhere and does not need to be over your existing bathroom.  The drainage for soil pipes are usually built into the side of the house to serve your existing bathroom.  As loft conversion specialists we explore the plumbing considerations with our customers in detail in order to establish if they will require additional, separate plumbing and waste drainage or whether we can tap into their existing set up. This includes determining if your existing plumbing system will deliver sufficient water pressure for a shower in the loft.  When you have established your plumbing requirements, the layout of your sanitary ware will be a simpler task to arrange.
There is often a general concern that a loft en suite may feel a little dark and dismal.  As loft conversion specialists, we recommend taking any opportunity you can to add natural daylight through dormer and roof windows.  Being so high up, a loft en suite has the added advantage of extra privacy, so we advise making the windows as large as possible too.  Rooflights can help you gain 10 to 15cm of head height, so placing them on a sloping ceiling over a basin or toilet (where more head room is required) is a great use of space and the light from the window will really help open the space up.
Large obscure glass windows that open for ventilation, or Velux windows with clear or obscure glass are great for dormers.
We recommend using Light LED lighting, which creates a bright, fresh appearance and even if you have windows, we always recommend fitting an extractor fan too.  Bathrooms are extremely humid places which can easily become a haven for mould growth and damp problems.  An extractor fan and windows will remove the offending steam with maximum efficiency.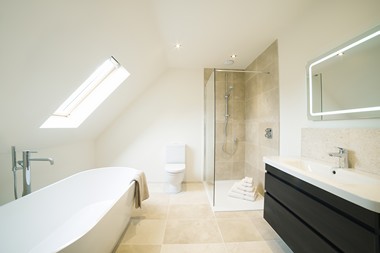 Space saving solutions you may not know exist
You may think you have it all figured out, but the following space saving wonders may just put the cat amongst the pigeons…
Pocket doors – standard doors on your loft bathroom are fine for your new ensuite opening inwards or outwards.  Consider opting for pocket doors which slide into pockets on the wall.
Wet rooms – shower enclosures tend to take up space and box you in.  Consider a wet room instead.  A wet room with a glass panel and hidden drain within the floor tiles (instead of a shower tray with enclosure) will create a bright and airy feel to the en suite and eliminate a 'step' into the shower.  For added luxury, you may want to consider electric underfloor heating which will aid heating the room and will eliminate the need for additional radiator space, which may be hard to find in a wet room.
Wall hung toilet and basins – these have been around for a long while but are often forgotten.  Wall hung toilets and basins are a great way to avoid pipe clutter which gives a very streamlined, modern finish to your loft bathroom.  Metal frames to support them can be installed in the wooden studwork voids that form the walls of the en suite keeping them all hidden away out of sight.
How much does an en suite cost?
There is no one size fits all price for an en suite as it will depend on your requirements, the size, the complexity of the work, and your chosen finish.  As a general guide an en suite will generally cost around £3,500 – £5,000; a great investment when taking into account the further value it will add to your home.  An en suite will cost more than a bathroom refit due to the increased plumbing requirements. Usually, we will need to extend the soil pipe and fit a waste for the shower and basin, with hot and cold feeds for the sanitary ware.
En suites are a versatile and practical addition to a conversion, adding real value to your home and making everyday life more comfortable.  If you are considering an en suite as part of your build please don't hesitate to call us on 0800 881 8194 to chat through your options or browse our gallery  for inspiration.  We are open for business and welcome your call.