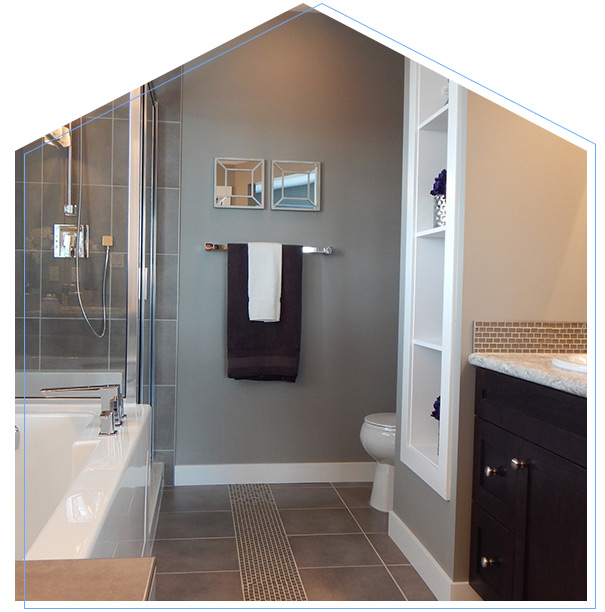 An L-shaped dormer loft conversion (also known as a dog leg dormer) consists of two dormers that are connected at right angles to each other. If you have the right kind of property, this can be an excellent way to add as much space as possible, with good head height as well. Usually, people use this type of loft conversion to create multiple rooms, helping you to maximise the space within your home.
Want to know more about L-shaped dormer loft conversions Contact our team to discuss your options and find out how we can help you.
Call 0800 881 8194
What is an L-shaped dormer loft conversion?
An L-shaped loft conversion uses two dormers, which are joined together to form the distinctive L shape. This is usually carried out on Victorian terraced or semi-detached properties, where there is plenty of space to build the additional dormer. The larger dormer is generally added onto the main roof of the property – it will be around 4.5m x 6m for the average London home. The smaller dormer is usually built onto the rear roof, facing the neighbouring property. It will be at a slightly lower height, so a step down to it is required. This will be around 2.8m x 4.8m in size.
During the construction process, the dormer will be fixed onto the existing roof using wooden beams, and a steel frame where needed. It will usually be finished in concrete or slate tiles, ensuring it blends in with the roof and the property as a whole.
Is an L-shaped dormer loft conversion the perfect option for your property?
If you have a Victorian terraced or semi-detached home, this type of loft conversion will usually be perfect for your property. It's the ideal choice if you are looking to add significant amounts of space to your home – the square footage will be practically the same as that of the first floor.
The use of dormers means that your loft conversion will have good head height, as roof extensions are added onto the roof. Many people choose to have an en suite bathroom built in the rear dormer – the soil pipe is usually located here. There's also the option to add a Juliet balcony to either of the rear-facing dormers, bringing in more natural light and allowing for excellent ventilation.
How much does an L-shaped dormer loft conversion cost?
How long will it take to build?
Prices start from around £45,000 for an L-shaped loft conversion. The build will generally take between six and twelve weeks depending on the complexity.
Find out what's possible with your loft space and get the exact costs of a conversion. We offer free design appointments, usually worth £600 – it's the perfect way to kickstart your project. All appointments are no obligation; our professional surveyor will leave you with the information you need to make your decision. Claim your appointment now.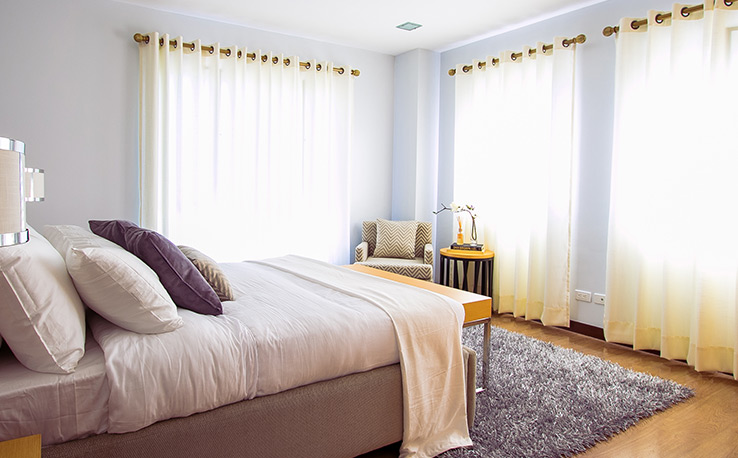 Transforming your home with an L-shaped dormer loft conversion
These are some of the key points to consider if you are thinking that an L-shaped dormer loft conversion might be the right option for you.
Will I need planning permission
for an L-shaped dormer loft conversion?
Under permitted development, you can build a loft conversion with up to 50m³ of added volume if you have a semi-detached home, and 40m³ if you have a terraced home. In most cases, planning permission isn't required for this kind of dormer, but our team can advise you further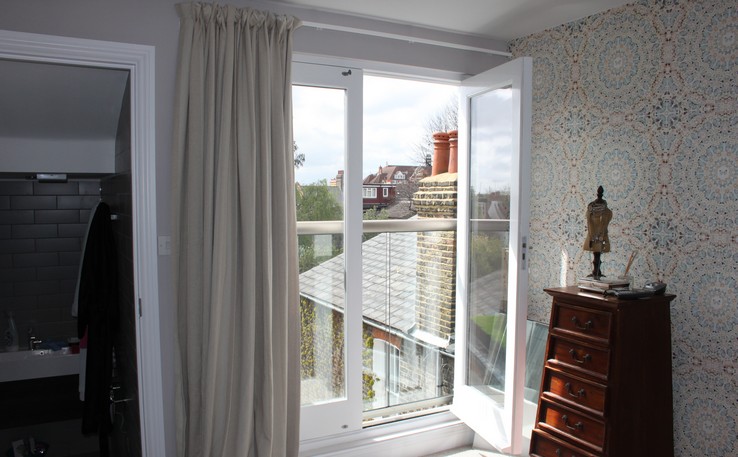 Dormer head height
The usual minimum head height for a dormer is around 2m – 2.2m. Despite this, we've successfully converted lofts with a head height of just 1.9m. In most cases, an L-shaped dormer will be a simple build, but whatever the circumstances might be, we will help you find a solution.
Building regulations for loft conversions
When any loft conversion is complete, it will require building regulations approval.
The following will be examined:
Structural stability
The roof
Headroom
Insulation
Fire safety
Soundproofing
Plumbing and heating
Staircase design and safety
Electrical works
Windows and glass
Flashings around windows and dormer/existing roof
We design and build every loft conversion around building regulations, creating architectural plans that we know will meet all requirements. It pays off to work with an experienced loft conversion company like us – everything will be in hand and approval will be a mere formality.
Inspiration for your L-shaped dormer loft conversion
See some of the options that can help you personalise your loft space:
L-shape loft conversion
– before and after
BEFORE

AFTER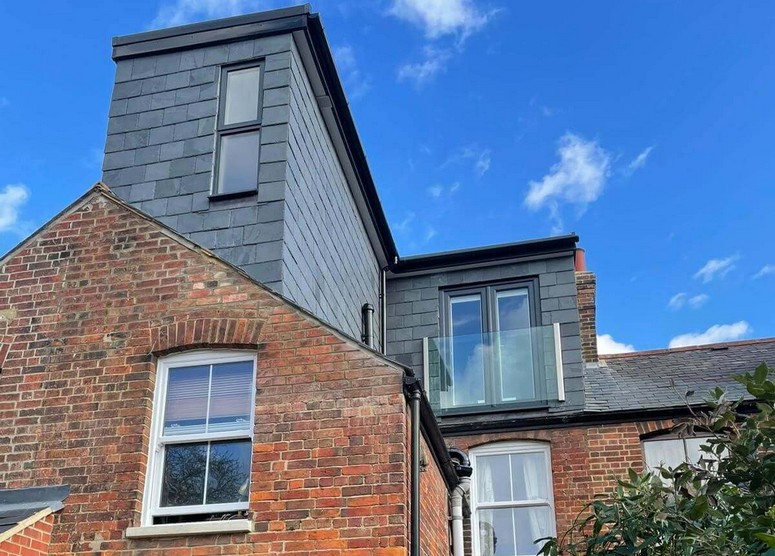 L-shape loft conversion on a terraced house
Find your perfect loft conversion
Explore the different loft conversion types and the additional services we can offer.
Find the option to suit your property and lifestyle.