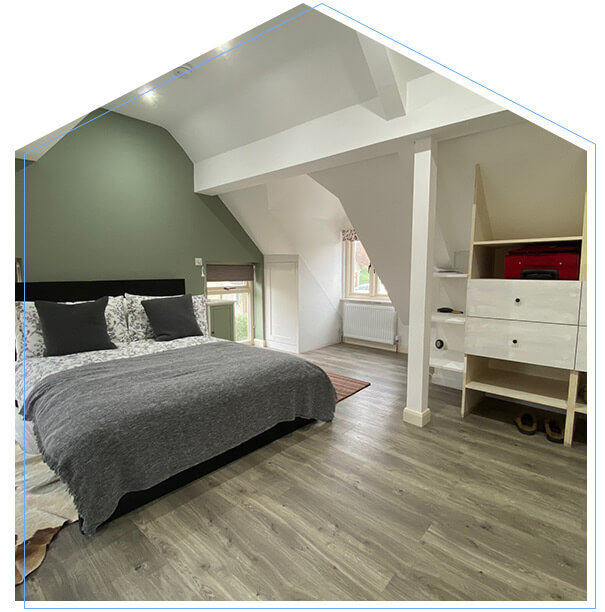 We would be delighted to guide you around our loft conversion showhome! This is where we showcase the different types of loft conversion available, so you can get a real feel for what it would be like to have one in your own home. It's 2,000ft² in total, giving us space to show different rooms, layouts and builds.
Our showhome is open daily by appointment. It's easy to reach, located just three minutes' drive from junction seven of the M40. There's ample parking outside, and there's a cup of coffee waiting for you inside. Come along and find out all you need to know about loft conversions and see them for yourself.
Press play and take a virtual tour around our showhome
Arranging your
showhome visit
First, you will need to arrange your free, no obligation design appointment at your own home. This is your chance to meet with a qualified surveyor, who will be able to tell you what types of loft conversion are possible in your particular property.
If you are thinking about going ahead with a loft conversion after this appointment, we would love to welcome you to our showhome. You'll already know what's possible with your own property, so we can show you the options most relevant to you and ensure you leave with all the information you need.
Book your free design appointment now! Just fill in our form and we'll be in touch to arrange a convenient time.
What will you see at our showhome?
Stand inside the space and experience what it's actually like. You can easily see the difference between the two and decide which is right for you.
Windows, rooflights and sun tunnels
View various window options and sizes, including low level windows. See how much additional light and headroom a rooflight can add and look at top hung and centre pivot roof windows. Explore blinds and accessories for them, too. Interested in sun tunnels? See how much difference they can make to a room.
Staircases
View the structure of the staircases and choose between different spindles and handrails.
See how a shower room or bathroom would look in your loft conversion and see the quality and finish we can achieve. There are various types of bathroom and wet room available – see them in real life to understand how they look.
Lighting and fire safety systems
See lighting and socket types, and begin to understand more about specific safety regulations, including fire detection systems, doors, and exits.
Insulation
We can show you the types of insulation we use and the effects when they are fitted. Understand more about how we can create an energy-efficient space for you.
Flat roofs
View a GRP or rubber flat roof that would go onto a dormer so that you can understand more about the available options.
Storage options
We can show you some of the innovative storage options we can create, giving you plenty of inspiration for your own property.
Flooring
You can view various brands, including prestigious Amtico tiles, and a range of materials and finishes. There's also a four zone, thermostatically controlled, water-based underfloor heating system for you to view and explore.
Boilers and unvented cylinders
You can see different options, including a Nest system that is remote controlled.
What are our clients saying about their visit to our showhome?
"It was amazing to see what you were going to buy and commit to."
"So important to see what we are going to get, going to the showroom sealed the deal for us"
" You wouldn't buy a £50K car without a test drive, the showroom is the test drive"
"It gave me a comfort factor to know I was dealing with a bricks and mortar company, not just a website."
"Very important to make up my mind who to contract the building works with."
"Great to see the quality and finish of your work."