Specialist loft conversion company in Berkhamsted, Touchstone Lofts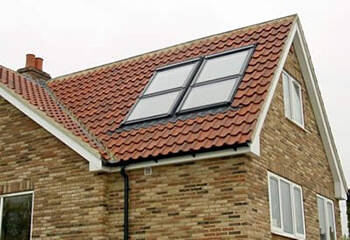 Hip To Gable Conversion
Hip to Gable conversions are popular among Berkhamsted homeowners with semi-detached or detached properties, end of terraces, and bungalows. The existing sloping roof is turned into a flat gable to increase available space. Depending on various factors, a hip to gable extension may or may not require planning permission. We can help you with this and apply on your behalf.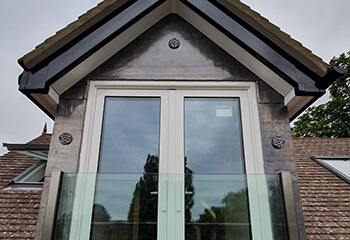 Dormer Conversion
Dormer loft conversions are the most common type requested by Berkhamsted residents. With a dormer conversion we extend the existing roof vertically to create extra floor space and headroom. To achieve this, it is important that at least half of the current floor space has a ceiling height of at least two metres or higher. Dormers usually do not require planning permission.
Velux Conversion
A Velux, or roof light loft conversion in Berkhamsted is the most simple and economical type available. With a Velux, the roof remains unchanged, other than the installation of attractive flush Velux windows to give plenty of natural light. Typically, a Velux attic conversion does not need planning permission as the roof structure remains unchanged. This is the perfect solution if you want minimal outlay and disruption.
Berkhamsted is a market town with a rich cultural history. There is evidence people lived in Berkhamsted as long as 5000 years ago, as remnants of Neolithic flint working and metal working from the Iron Age has been found, along with Roman relics.
Between the years of 1066 and 1495, royalty were frequent visitors to Berkhamsted Castle. The castle is mentioned in many history books related to the lives of Henry II and Edward the Black Prince; as well as important historical figures including Thomas Becket and Geoffrey Chaucer. In 1495 the royals abandoned the castle and as a result the popularity of the town declined, and Berkhamsted lost its borough status in the latter 17th century.
Nevertheless, this state of affairs did not last long and Berkhamsted regained significance following the construction of a canal and railway in the 1800s.
Desirable Living Location
Modern Berkhamsted has been an extremely desirable living location for persons working in London. Located just 26 miles from the centre of the capital, yet surrounded by rolling green hills and classed as an area of outstanding natural beauty, Berkhamsted enjoys an idyllic landscape within easy commuting distance.
Due to the close proximity of Berkhamsted to London, and the charming historical atmosphere of the town, property prices in Berkhamsted are high, and steadily rising. The average Berkhamsted property sold for 42.2% more in 2017 than in 2012.
Combine rising costs with inconvenience, and a loft conversion in Berkhamsted is a no brainer if you are one of the many property owners who needs more space in your home but who does not wish to move.
Alternatively, you might be a person who would love to live in the area, but are unable to make the move right now due to the high property prices. In your situation, buying a smaller house and converting the loft to make the desired number of bedrooms could be an interesting option.
Why Choose Us for a Berhamstead Loft Conversion
Whatever your situation, if you want to make the most of that unused space beneath your roof, we are your solution! Touchstone Lofts have converted numerous lofts of all shapes and sizes in Berkhamsted during the last 30 years, and a large percentage of our customers come to us from a direct referral – a sure sign that we are achieving our goal of always completing the job to an excellent standard.
When you contact us, we prioritise taking the time to find out exactly what you want to gain from your conversion and advise you on the best way to achieve this within your budget. We can also take care of every aspect of the conversion, from the design to the installation of final fixtures, as well as sorting out the annoying paperwork and planning permission (where needed) on your behalf.
Contact us today by phone or via our contact form, and we'll have a chat about converting your loft. A Berkhamsted loft conversion will not only maximise your living space, but will also give you a very healthy return on your investment due to the additional value a conversion will add to your property.
Specialists in home extensions
Are you considering extending your property, look no further, whether you are looking for a ground floor rear extension, side return extensions or even a double storey extensions, our 30+ years' experience in the property conversion business with service you well, take a look at our extension options here.