Specialist loft conversion company in Henley, Touchstone Lofts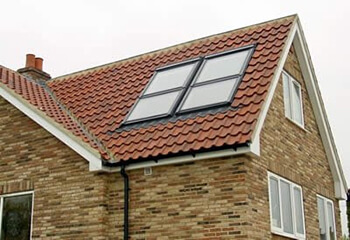 Hip To Gable Conversion
Hip to Gable conversions are popular among Henley-on-Thames homeowners with semi-detached or detached properties, end of terraces, and bungalows. The existing sloping roof is turned into a flat gable to increase available space. Depending on various factors, a hip to gable extension may or may not require planning permission. We can help you with this and apply on your behalf.
Dormer Conversion
Dormer loft conversions are the most common type requested by Henley-on-Thames residents. With a dormer conversion we extend the existing roof vertically to create extra floor space and headroom. To achieve this, it is important that at least half of the current floor space has a ceiling height of at least two metres or higher. Dormers usually do not require planning permission.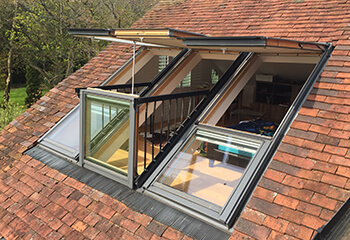 Velux Conversion
A Velux, or roof light loft conversion in Henley-on-Thames is the most simple and economical type available. With a Velux, the roof remains unchanged, other than the installation of attractive flush Velux windows to give plenty of natural light. Typically, a Velux attic conversion does not need planning permission as the roof structure remains unchanged. This is the perfect solution if you want minimal outlay and disruption.
Henley-on-Thames is a picturesque historic market town on the River Thames in Oxfordshire. It lies 9 miles northeast of the nearest large town which is Reading, 7 miles to the west of Maidenhead and 23 miles from Oxford. The parish population of Henley is currently around 12,500.
Steeped in history, Henley has many fascinating buildings from past centuries. A good way to learn the interesting history of Henley is to follow The Henley Trail, a guided walk that takes in the town's historic buildings and streets.
Ass the name suggests, Henley is situated on the Thames, and is host to the Oxford vs Cambridge boat race. A two-week-long party is held in the town each year to celebrate the world's most famous rowing regatta.
Henley is also well known for the rowing museum, its music and arts festival, and lush green parks. For a relatively small town, there is a wide choice of shops, restaurants, pubs and cafes.
Henley to London
Henley is close enough to commute to London, as the average journey time between Henley and Paddington is 1 hour 6 minutes. With 48 trains travelling from Henley-on-Thames to London every day, the town is well connected to the capital as well as to Oxford, Reading and Maidenhead.
A Lloyds Bank's study of house price growth in 125 market towns in 2016 found that Henley was to be the second-most expensive market town in the UK after Beaconsfield. The average property is currently valued at £861,323, a 26.83% rise over the value 5 years ago.
Due to high property prices that continue to rise, moving to a larger property in Henley is an expensive business, and the reason many Henley homeowners choose to stay put and expand their living space with a loft conversion instead of moving.
A Henley Loft Conversion by Touchstone
Touchstone Lofts have completed many loft conversions in Henley during the last three decades, and therefore are local experts with extensive experience of the planning department and requirements in the town.
We are also very familiar with the architectural structure of Henley homes, as we have performed so many conversions, and are aware of potential problems that may arise, and the best solution to fix them.
When you choose us for your project, a dedicated project supervisor is assigned to the job, and will be on hand to make sure the project runs smoothly and to answer any questions you may have throughout the build.
There is no need to go to other companies if we take on your loft conversion, as we have professionals working in-house who can complete every aspect of the work.
Touchstone has won national prestigious awards for our work and service. We always keep our clients informed of the progress at each stage and make sure we meet targets. You will be given a dedicated phone number, should you have any questions during the build.
We have an in-house structural engineer who can design and plan your loft conversion better than a regular architect, as he also knows how things have to work rather than just looking at the conversion from a design point of view.
We are very experienced when it comes to dealing with local building regulations department and knowledgeable about what is and is not required. In 30 years, only 2% of our planning permission applications have been turned down.
Our quotes are 100% free so give us a call on 0800 881 8194 or fill out our online form, and we will arrange to survey your property at a suitable time.
Specialists in home extensions
Are you considering extending your property, look no further, whether you are looking for a ground floor rear extension, side return extensions or even a double storey extensions, our 30+ years' experience in the property conversion business with service you well, take a look at our extension options here.