Specialist loft conversion company in Northampton, Touchstone Lofts
Over 1,000 lofts converted since 1989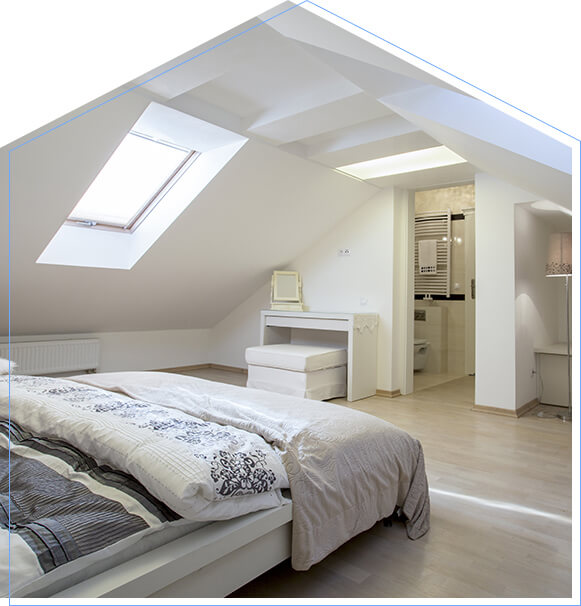 Here at Touchstone Lofts, we are proud to provide excellent loft conversions in Northampton. We can transform dusty, disused attics into vibrant living spaces to expand your home and add value to your property. In a town as storied and idyllic as Northampton we can understand why you'd be reluctant to move away, but when you feel you've outgrown your suburban home what choice do you have? Touchstone Lofts has the solution – expertly undertaken loft conversions. We will be there for every stage of the process, from design and planning permission to the build itself.
For enquiries about our incredible range of services, call 080 0881 8194. Be sure to check the glowing testimonials from our satisfied customers in your neighbourhood. We've built a reputation over the years for our high-quality work and reliability to become one of the most highly recommended loft converters in the UK. Now we'd like to extend our services to you. To ensure your conversion hits the ground running, we're waiving the normal £600 cost of our design services. That means you'll get a consultation with our surveyor and a no-obligation architectural plan free of charge.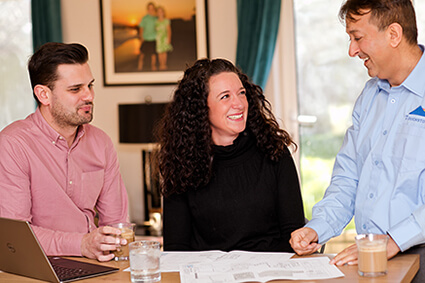 Award-winning loft conversions
Don't just take our word for it. We have been formally recognised for our fantastic work and impeccable customer service by the Federation of Master Builders at their Master Builder of the Year Awards, Southern Region. Additionally, we were finalists for 'Best Loft Conversion' at the Homebuilding and Renovating Awards in 2020.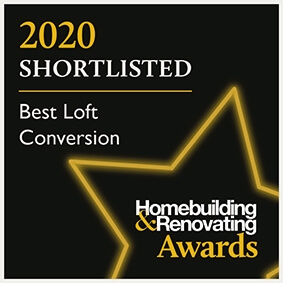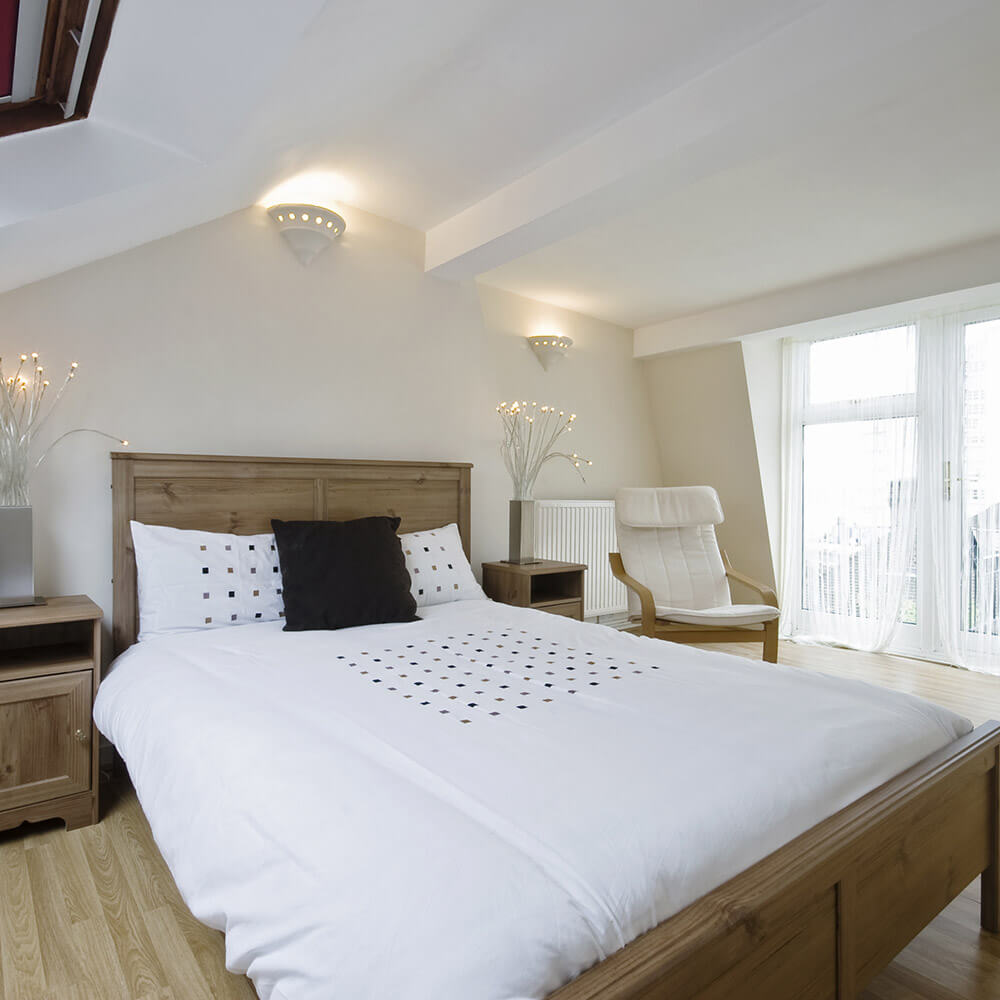 Why a loft conversion could be right for you
Turn wasted space into living space.
Lofts and attics in many cases are dead space at the top of your property. Now we can put that space to use, whether it's to welcome new family members or to accommodate a home office, we at Touchstone Lofts are here to help.
Add value to your home.
If you do come to sell your home, a converted loft on average raises the value of your property by 20%. This makes your loft conversion an investment for the future as well as a practicality for today.
Avoid moving costs.
No one needs the expense and hassle of moving home. We can help you expand and better utilise your current property. The space you need might be right above your head.
Types of loft conversions
Our team here at Touchstone Lofts has over 30 years of experience, making them the undisputed experts of loft conversions in Northampton. We carry out bespoke conversions to your specifications that are tailored to your needs, property, and budget. Every aspect of the job, from carpentry to plumbing, heating, and electrical work, is undertaken in-house by expert technicians in our team. This means everything is completed on schedule to our impeccable standards.
Even if you have been told in the past that a loft conversion isn't possible at your property don't hesitate to give us a call. We specialise in low pitch loft conversions, in one case converting a loft with a ridge height of just 2 metres. We find solutions where other companies can't and have the technical knowledge and practical skill to make your design a reality in all sorts of properties.
Transform your home with a stunning loft conversion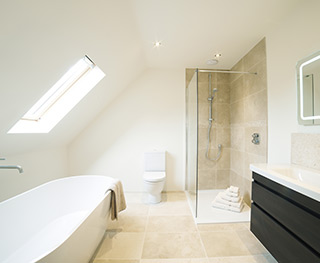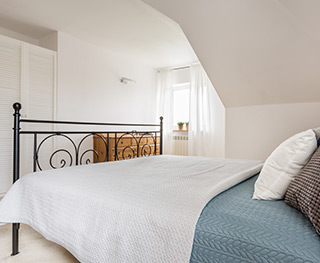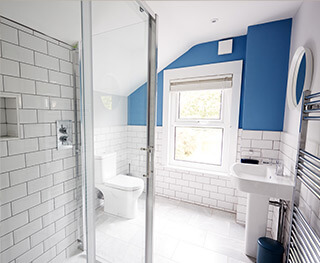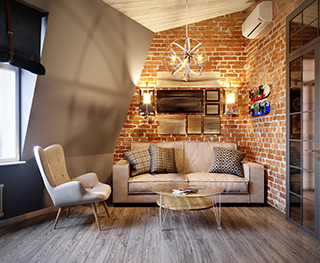 Book your free design appointment
To claim a free design for your loft conversion in Northampton, get in touch today. Call us at 0800 881 8194, or send us a message. We'll organise a meeting with our surveyor for a full consultation. This will talk you through the process and make sure you're getting the best solution to your needs.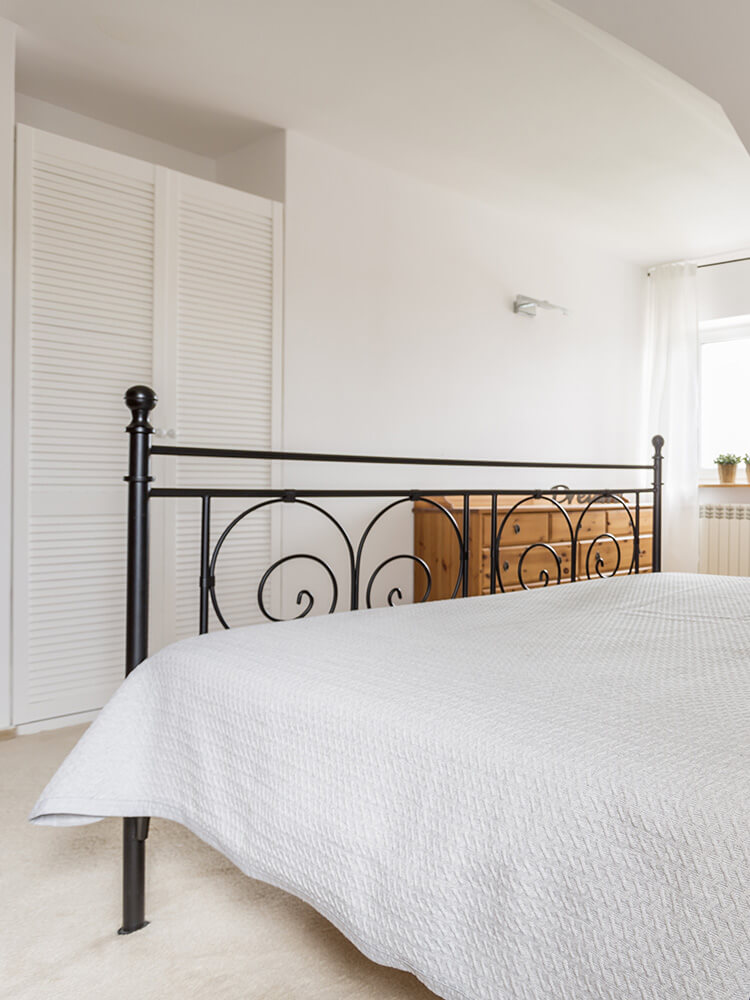 Why choose Touchstone Lofts?
Three decades of experience and over 1,000 lofts converted
Strong reputation for high-quality work across the south-east
Full brick and mortar show house to help you explore your options
All aspects of the design and build process taken care of in-house
Assistance with planning and processes like Party Wall Agreements
Full access to excellent design, planning, and building services
Can convert low-pitchspaces other loft conversion companies can't
Advice on specificslike building regulations, fire safety, and insulation
Impeccable standard of work and many happy customers
The process
You'll start your journey with us with a quote and a design consultation session – free of charge. Our expert survey or will give you all the information you need to make a decision about your home. You can explore our services and their benefits, and we'll explain what you can expect from the finished result. We'll also discuss all manner of technical details such as planning permission, permitted development and design, insulation, and soundproofing. It is an opportunity for you to gather all the knowledge you need to make an informed choice about your loft conversion.
Book a design normally worth £600 for free now. Call 0800 881 8194.
Contact Touchstone Lofts
Get in touch for expert loft conversions in Northampton. Call 0800 881 8194, or fill in our form to message us directly.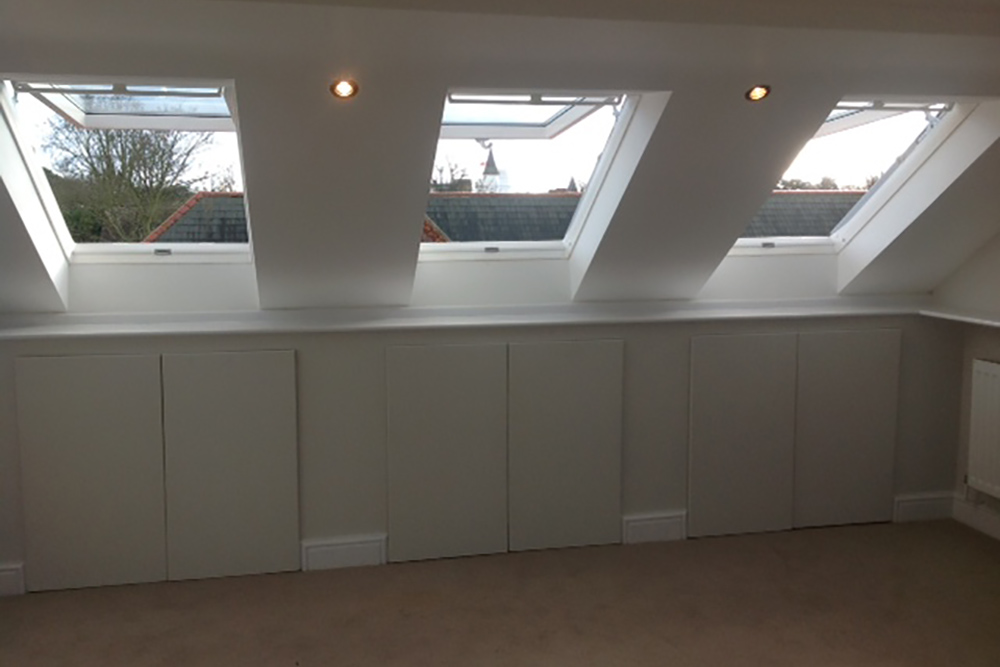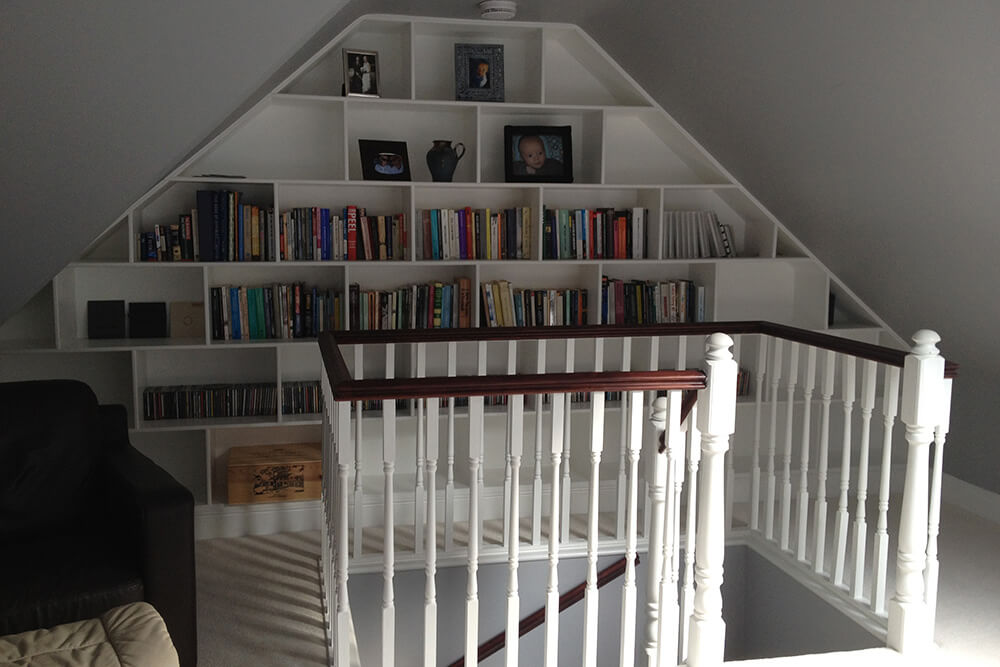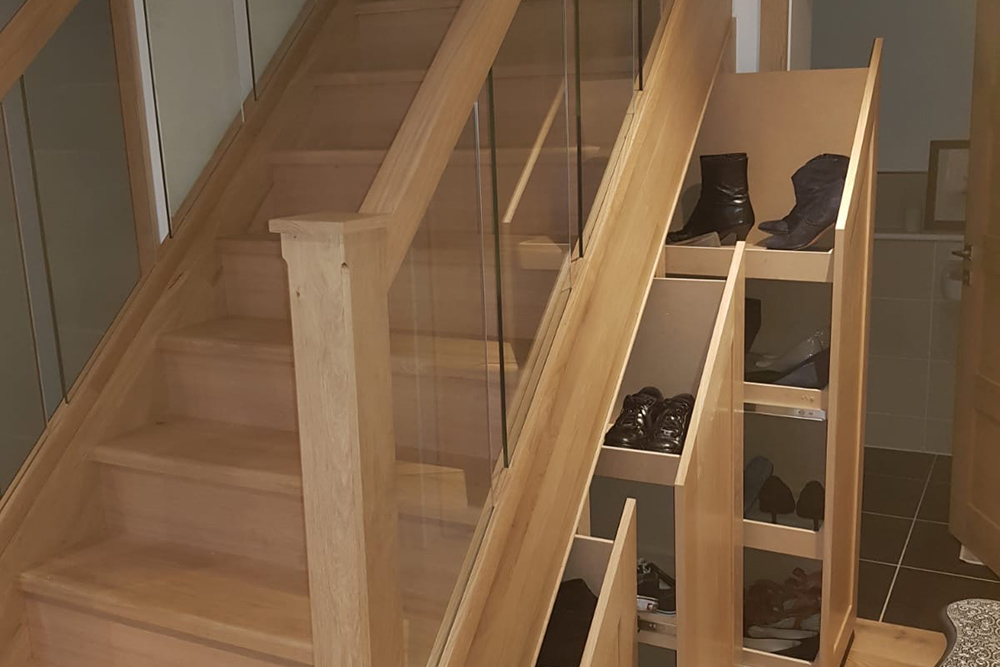 Need some inspiration? Come and see our showhome
Sometimes a change as big as a loft conversion can be hard to visualise. That's why we've set up a 2000 square foot showhome to display the different types of conversions we offer. We have displays for bathrooms, storage options, windows, blinds, and insulation. Our capable staff are always available to help talk through your options and make the decision that's right for you.
How long does a loft conversion take?
This can vary depending on the size and type of the conversion, but most jobs take around 12 weeks.
Will I need to move out during the project?
No. We will minimise disruption to you and your routine. We can work from scaffolding before the staircase is fitted so we don't take up too much room inside your home.
Where will you place our new staircase?
In most cases we will fit the new stairs to run above the existing ones to make for a seamless transition. If this is not possible, we'll work with you to find a place in the existing layout of your property that suits you.
Do I need planning permission for a loft conversion?
This can vary depending on your location and property. Flats will always require planning permission for any sort of conversion. In some areas many houses fall under permitted development so no planning permission is required. However, this can change depending on the scale of the job. There are several factors that affect this process, and our surveyors are happy to advise further.
How much does a loft conversion cost?
Most loft conversions cost between £30,000 and £50,000. The price is affected by the size and type of the conversion. Check our pricing information for more details.
What is a party wall agreement and do I need one for a loft conversion?
If your property is semi-detached or terraced, then you will need a party wall agreement (PWA). Our surveyor can advise you further.
Does a loft conversion add value to a home?
Our loft conversions add 20% to 30% – sometimes more – depending on the size and type.
How much head height do you need for a loft conversion?
The rule of thumb is that a minimum of 2 metres of height is required. Our surveyor will need to assess the height of your loft before proceeding.

What's possible with your loft conversion?
Take into consideration these options we offer for your newfound space.
What can be achieved with
a dormer loft conversion?
BEFORE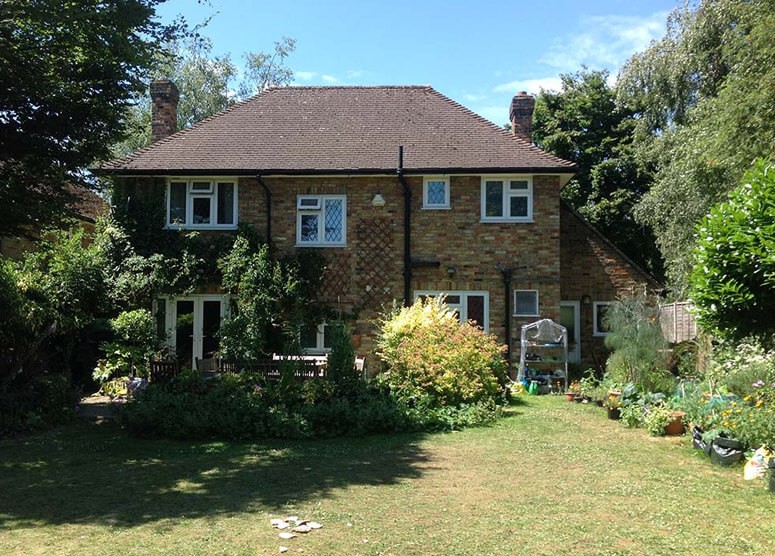 AFTER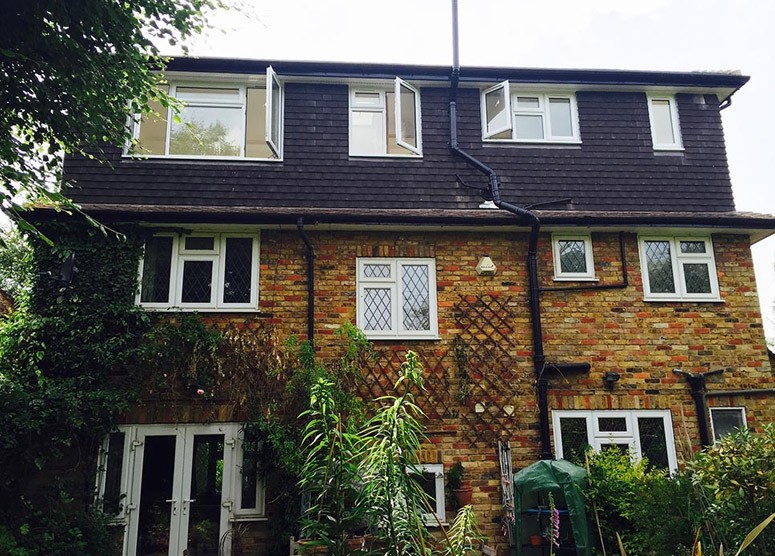 Detached house with dormer loft conversion
Looking to transform your loft? Call us on 0800 881 8194 to arrange your free quote and design consultation.