What is "Permitted Development"?
Permitted development is defined as extension and home improvement and alterations you can make to your home without the need for applying for planning permission. You can be sure that the permitted development is lawful by obtaining a "letter of lawful development". This can be carried out by Touchstone lofts. The letter of lawful development involves an application to the planning department, our architect will send a set of drawings showing what we intend to build. Planning department will issue a letter of lawful development once they have check you intend to comply with all the requirements of permitted development. More details are available on the local council planning portal. Please contact Touchstone lofts sales for further advice on [email protected].
All loft conversion will require Building regulations. Building regulations are controlled by the local council, and the building control officer can work directly for the council or you can hire private building control.
The type of property plays a big part on whether you need planning permission
The question, do I need planning permission for a loft conversion?  depends very much on firstly the type of property the loft conversion is going to be carried out in.
For most homes that are either detached, semi-detached or terraced properties, planning permission is generally not required for a loft conversion. There are however certain conditions which we can discuss later.
Planning permission is required for a loft conversion if the home is a flat or maisonette or if the property is located in a designated area, the permitted development guidelines are list below.
Planning will be required if your property is
A flat or maisonette
Your property is in a conservation area
You live on designated land- Area of outstanding natural beauty, national park
Your permitted development rights have been removed from your property.
The rules of permitted development
The rules of permitted development outline the work that can be carried out without the need to seek planning permission. The limits and conditions of how permitted development applies to loft conversions are outlined in Schedule 2, Part 1, Class B of The Town and Country Planning (General Permitted Development) (England) Order 2015.
To find out whether or not you need planning permission, it's always wise to get a surveyor from Touchstone lofts to confirm it for you.
A loft conversion falls under permitted development and does not require planning permission as long as it meets the following guidelines are met:
The new loft conversion won't be larger than 40 cubic metres for terraced houses and 50 cubic metres for detached and semi-detached houses.
The loft conversion will not extend beyond the plane of the existing roof slope at the front of the house, principle elevation or that front the highway.
The loft conversion does not extend higher than ant part of the highest part of the existing roof.
The loft conversion does not include any terraces, balconies, verandas or raised platforms.
The loft conversion is made using materials that are similar in appearance to the rest of the original house- similar tiles usually used.
Any side-facing windows must be obscure-glazed- privacy level 3 (to stop people seeing in and out).
All side facing opening windows should be at least 1.7m from the finished internal floor level.
Your home is not located in certain designated areas, including national parks, Areas of Outstanding Natural Beauty, conservation areas, World Heritage Sites and national parks.
A roof extension or dormer, with the exception of hip-to-gable extensions, must be set back at least 200mm from the original eaves.
A roof extension must not overhang the outer wall of the original house.
Types of loft conversion and permitted development
Rear dormer loft conversion
This is the most popular type of loft conversion this is where a rear dormer is constructed facing the rear garden.
The original property is normally a terraced or Gable ended house, which could be a semi or detached property.
A large loft conversion is created which is normally enough room for a bedroom and an en-suite. On the front roof slope roof lights are normally fitted and they must not protrude the slope of the roof more than 150MM to comply with permitted development regulations.
The construction involved in this loft conversion is a dormer on the rear of the property and this normally adds the volume of around 25 to 40 cubic metres of volume to the loft space, so it is well within the permitted development guidelines. Building regulations will be required for this conversion.
Hip to gable loft conversion
These are normally loft conversions to semi-detached properties, many these original properties were built in the 1930s. The original property has a hipped roof, there is no existing Gable. The construction all the roof extension here to build the loft conversion is known as a hip to Gable.
This is where the existing ridgeline is extended to form a new Gable therefore the hip is replaced by the Gable. I rear dormer is constructed similar to the conversion above. These loft conversions usually require more volume and can use up to 50 cubic metres of roof space. These are valid still permitted developments. The guidelines in the permitted development that need to be adhered to strictly. Building regulations will be required for this conversion
L shaped loft conversion
The original property is normally a terraced or semi-detached property where the roof is in 2 sections. These are normally Victorian properties and they are in abundance in London.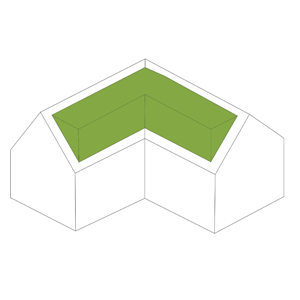 The main part of the roof is the slope facing the highway and the rear garden. The other roof is normally lower and runs at 90 degrees to the existing main roof. Permitted development allows roof extensions to both roof sections.
What is normally built is a L shaped loft conversion. Two large rooms can be constructed and a bathroom. In the rear section of the dormer the side facing window must comply with the permitted development guidelines as outlined above.
These loft conversions are considered to be "Permitted developments" providing they did not exceed volume allowance of 50m3 and they comply with all the other permitted development guidelines.
Customers are normally surprised that so much added living space can be added to their home and no planning permission is required.
Rooflight (Velux) conversion
A roof light or "Velux" loft conversion is where there are no roof alterations required in the roof. The existing properties have a ridge height which is normally quite high and can exceed 2.5 metres. A dormer may not be required for the loft conversion as the existing head height is adequate for my loft conversion to be constructed. These loft conversions are the most cost effective. Planning permission may still be required if the land is designated. The roof lights or "Velux" is must also be fitted in accordance with the permitted development guidelines which is the roof light must not protrude the roof slope more than 150MM.  Building regulations is still required.
Planning permission costs
If you do Live in a flat, in a conservation area or any other reason you cannot do your loft conversion under permitted development, you will need to apply for planning. Touchstone lofts have an excellent track record and are experts at obtaining planning permission. Please email [email protected] for a free no obligation quote.
How long does planning permission take
Once submitted to the planning department and once your application has been fully validated, the planning process will take at least eight weeks.
Often these take longer as planning departments are understaffed and overwhelmed with applications.
What if I have already extended my property?
If you already have extended your existing property you may still have permitted development rights for your roof.
The roof has its own separate permitted development in addition to any other permitted developments for your home. Under these circumstances if your property is not in a conservation area or undesignated land you will still be able to have a loft conversion under permitted development. If you have already had roof extensions on your property you will need our experienced surveyor to visit and assess this carefully and we could advise you accordingly.
Party wall letter
Most loft conversions require a party wall agreement.
If your neighbour is willing to sign a party wall letter this will avoid the expensive costs of a party wall surveyor. If you do need to employ a party wall surveyor you will need to pay the costs for both parties, you and your neighbours party wall surveyor costs.
These could be avoided with careful approach and keeping your neighbour fully informed of the process and details of the loft conversion. Touchtone lofts can help you through this process. Please contact us today for a full free no obligation survey on 020 7870 1117